The top-prize winner of the Golden Lion at the 2021 Venice Film Festival, newcomer writer-director Audrey Diwan has delivered a timely call to action with Happening, a visceral, character-driven, and morally complex yarn that recalls the work of other indie dramas such as Elizabeth Hittman's Never Rarely Sometimes Always and Cristian Mingui's 2007 Romanian masterpiece 4 Months, 3 Weeks, and 2 Days about the agonies and desperation of an unwanted pregnancy. While not as fresh or as aesthetically polished as the preceding films, Diwan's style is still a rich one that's harrowing, emotionally raw, and compassionate. It's the story of a college student named Anne (Anamaria Vartolomei) who discovers she's pregnant while secretly seeking an abortion in 1963.
The film is anchored by a very commanding and fearless performance by Vartolomei in a film that feels potent and equally urgent, especially as women's reproductive rights appear to be in peril in the United States with the near overturn of Roe v. Wade. With essential subject matter and a deeply engaging narrative, it's probable that this film will make numerous critics' best-of-the-year lists and possibly position itself for an Independent Spirit Award for Best International Film depending on how the rest of the competition goes.
After premiering at Venice to a huge sensation and then having its French theatrical release in November, IFC Films has just released the film theatrically in North America, where it's received a limited theatrical release at local art house theaters. While losing out to Neon's 2021 Palme D'Or winner Titane to France's Oscar submission last year to such arbitrary rules on how the Academy Awards nominated films by one country is just an indication of how they pass up so many other accomplished films. The rule should be dictated by North American and United States release dates rather than the dated and illogical rules that currently govern how the Oscars select the best international films.
While the drama is every bit as emotionally resonant as Never Rarely Sometimes Always and 4 Months, 3 Weeks, 2 Days, it's just as distressing, heartbreaking, and also told with a valuable amount of empathy. The bleakness and despair that were found in Cristian Mingui's 4 Months, 3 Weeks, and 2 Days isn't as prevalent in Happening, as is the observational and poetic style that made Eliza Hittman's Never Rarely Sometimes Always such an extraordinary work. Nonetheless, the film is still sharply observed, luminously shot, and a mature yarn that is a fresh reminder of the brutal realities of wanted pregnancies that deliver information about the desperate alternative women inevitably go through when reproduction services aren't attainable in a society. Diwan, along with her fellow female co-writers Marcia Romano and Anne Berest, adapted the screenplay to the 2000 French novel titled L'événement by Annie Ernaux. They deserve credit for not so much making a polemic (while their stance is deeply felt and known), but the film is more interested in exploring its protagonist's emotional and psychological state than just making a didactic lecture.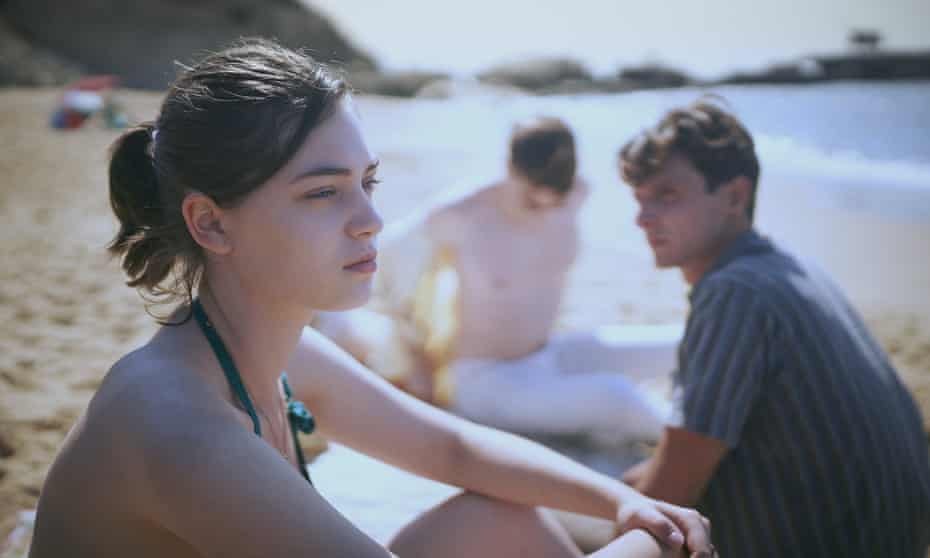 Diwan's and cinematographer Laurent Tangy's staging, and use of the hand-held camera also recalls the work of the Dardenne Bros with tight close-ups, tracking back shots, and some long takes and use of 2-shots that feel tightly staged to capture Anne's emotional confinement and turmoil. During the opening of the film, we begin with Anne at a party, where she meets a young man who begins talking and flirting with her. We jump ahead to later in the story, when Anne discovers that she is pregnant from her summer hook-up.
Once Anne's doctor (Fabrizio Rongione) informs Anne of her pregnancy, he feels sympathetic to her, but ends up lecturing her once she states that she doesn't want to carry it through. Of course, set during the early 60s, even the discussion of an abortion could put someone in jail (much like Texas and Oklahoma now). Even her best friend, Brigitte (Louis Orry-Diguero), isn't too supportive of her plight, while she likes to lecture and show Anne and her other close friend, Olivia (Louise Chevillotte), how to stay in control of men while being in the top position. Anne goes to her guy friend named Jean (Kacey Mottet Klein), who instantly believes she's automatically promiscuous just because she is pregnant.  Of course, she can't tell her stern mother (Sandrine Bonnaire) about who is already displeased with her from not doing well on her college exams. Meanwhile, Anne can't stay concentrated in class due to her fatigue and emotional stress, catching the attention of Professor Bornec (Pio Morami), who ends up scolding her openly in class.
Anne ends up finding herself in a very alienating position in the world of having an unwanted pregnancy where she has no moral or legal support. Structuring the film by the number of weeks into her pregnancy, we feel the desperation and intensity that Anne endures. Not only from Anne's isolation from her friends and everyone around here, but we also see the changes in her body and eating habits. With each day passing while having very limited options, Anne ends up being introduced by Jean to Mis Rivere (Anna Mouglaid), a back-alley abortionist midwife who decides to attempt to carry out an abortion. While never feeling cold or too distressing like the other films mentioned above, Diwan prevents the film from being boxed-in by being too bleak or depressing. While the third act is visceral in nature, there is also grace and hope to be found.
Diwan creates a convincing period piece that captures a specific era—a time when women had no say over their bodies and abortion was unheard of. Like the comparable scenes of Sidney Flanigan enduring emotional uncertainty in Never Rarely, Sometimes Always, Vartolemi's performance also illustrates strong emotional scenes, though under some different circumstances. Vartolemi's performance sees her youth go from feeling energetic, alive, and free to suddenly feeling lonely and detached from everyone around her. There is a deeply affecting characterization of a young woman going through so many transformations-both mentally and psychically—that lead to her desperate measures. While abortion feels like an endless polarizing debate, Diwan's film is another empathetic portrait that at least gives vivid insights into what unwanted pregnancies in women are like. The film puts a humane touch on such a controversial subject.
Happening is now screening in limited theaters and will open May 13th at the Maple Theater in Bloomfield Hills, The State Theater in Ann Arbor, and AMC Livonia.