Hatching is a stylish Finnish body horror film that echoes elements of creature feature films of the 80s merged with a Japanese horror sensation that eventually finds a personality of its own. Utilizing tropes of a slight coming-of-age tale, Tinja (Sirri Solallina) is a young 12-year-old gymnast girl who is trying her hardest to perfect her gymnastic skills all to please her mother, who has a huge social media following on her video blogs of being a "perfect" family, which leads her on a horrifying journey once she finds a mysterious bird's egg, which she decides to bring home. The egg eventually hatches and transforms into a massive bird that she names "Alli" and eventually mutates into an evil doppelganger of Tinja.
With involving characters and effective creepiness, Hatching is a mostly successful horror film that should please horror movie aficionados. Especially viewers who are more drawn into David Cronenberg's body style horror films, European horror films like Goodnight, Mommy and Border, as well as fans of 80s creature features like The Howling, The Fly, and Gremlins, to name a few. The film also holds some similarities with George A. Romero's Monkey Shines as it explores the transformation of one taking their rage out on their loved ones. IFC Midnight could eventually find a cult following and it could certainly make retrospective horror lists in years to come, inevitably finding a wider audience, but is unlikely to spawn huge traction upon release due to more art-house moviegoers returning to theaters with such films as The Northman and Everything Everywhere All at Once.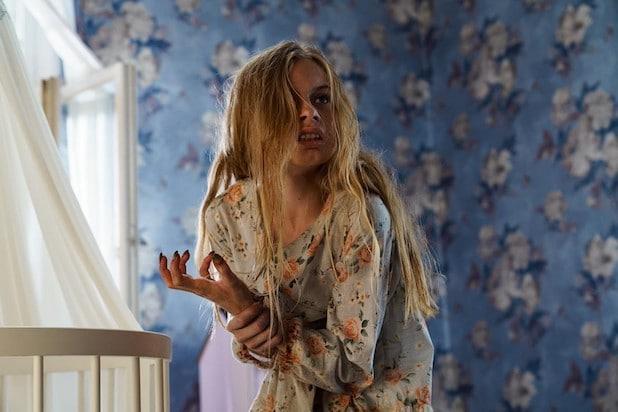 A rather simple tale with just a handful of characters and a few limited settings, directed by Finnish newcomer Hanna Bergholm and written by Ilja Rautsi, has huge potential to make a mark in the horror genre with this film, as well as with other upcoming projects. With an unnerving quality, the body horror elements on display surely deliver some unflinching and grotesque imagery. The film also holds some commentary on the hollowness of self-image, and people's obsession with selling themselves as something grander and more pitch-perfect than what they really are.
These themes build up some effective impulses and tension-building along the way. This mother-daughter movie, part coming-of-age story, and mostly body transformation horror movie certainly grabs the viewers' attention as it covers many different terrains in its short 86-minute running time. Like many other modern horror films, Hatching focuses on the monster more as a metaphor than just being a creature. The saga begins with Tinja finding a wounded bird that keeps flocking to her, but it gets very aggressive, causing Tinja to smash the bird with a rock, only for a mysterious bird egg to reappear. Tinja eventually takes the egg with her to her room, where it grows exponentially. The egg eventually hatches into a large monstrous bird, and it becomes clear the bird is a reflection of Tinja's anxieties and how she is confined to her compulsive, perfectionist mother (Sophia Heikkila).
Tinja, whose mother is credited as Mother in the credits, is that middle-aged mom aiming to maintain an image of success and perfection. She hosts her own video blog about "how lovely life is." Of course, when the cameras aren't on at home, everything is far from perfect. She ends up being unfaithful to her cuckold husband (Jani Volanen), and verbally abuses Tinja about her gymnastics, a sport you can easily sense Tinja only does for her mother.
Later-going, the third act holds many brooding aspects and set-ups as Tinja and her mother visit Tinja's new boyfriend, Tero (Reino Nordin), a recent widower, carpenter, and single father of an infant girl, with whom Tinja's mother is being adulterous behind her husband's back. Tinja's mother tells her that she finally feels fulfilled and happy upon encountering Tinja, and Tinja ends up accepting the relationship and takes a liking to his charm and hard work. However, seeing her mother cheating on her father only brings more uncertain and conflicted emotions, which allows Alli opportunities to create more havoc.
While Rautsi's script makes some sharp allegories in correlating how anxiety creates monsters within, there is some missteps in the third act as the bird creature eventually morphs into Tinja's doppelganger and looks like a more demonic version of herself. The creative decision comes off a little overstated and obvious in its in messaging in how we allow our anxieties and emotions to overtake us. A more mature writer would keep the creature as a bird, and it would have delivered some effective chills and left a more maddening impact with its impressive practical effects. There are so many great opportunities in the third act that Rautsi builds up for but is held back due to its literalism. The picture emerges overall, as it never holds back on shock, gore, craziness, and it invokes a creatively ominous mood throughout. All around Hatching succeeds mostly as a horror film as well as engaging human story.