A Scottish woman who travels to Columbia and is suddenly awoken by a loud sonic boom as she sleeps provides the starting point in the astonishing opening scene of Apichatpong Weerasethakul's hallucinatory mediation Memoria, which is about a woman embarking on a curious odyssey searching for answers to a bizarre experience. Just as opaque and atmospheric as in his past works, Weerasethakul's new film is a mind-blowing and hypnotic cinematic experience that's on par with the same type of hypnotic cinematic experience as Kubrick's 2001: A Space Odyssey, Andrei Tarkovsky's Mirror, David Lynch's Mulholland Drive and INLAND EMPIRE, Terrence Malick's The Tree of Life, and Gaspar Noe's Enter the Void, as each of these films delivers an otherworldly experience that mixes reality, dreams, premonitions, and dream logic, transcending cinematic and visual language to questions on the spiritual realm escaping the chaos of the modern world.
An elliptical, remarkable work of art that challenges viewers to mentally surrender themselves to the film's atmosphere and mood, the film has a niche where film distributor Neon is only releasing this film in theaters, one city at a time, during an art-house road show that's being billed as a "never-ending release" and is proclaimed to never be released on streaming on Blu-Ray or DVD, which is unfortunate because it might take months or even years for Weerasethakul's raving film that consists of ravishing imagery and lush sound design to be discovered. However, watching this film in NYC at the IFC Center was the most suitable place to watch it. Between the film's atmosphere, dreamlike tone, and stunning sound design, all these aspects put me into a deep trance where I felt as if I was hypnotized throughout the film.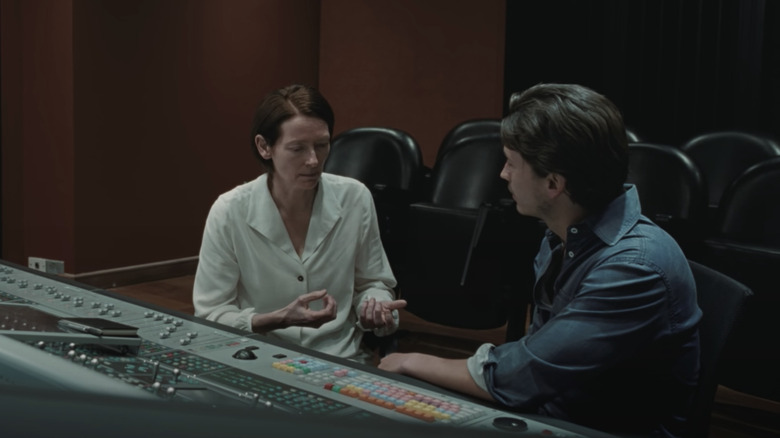 Weerasethakul latest is more than a film, it's an extraordinary experience that is designed to be watched only in a movie theater. Weerasethakul's sensory style is nothing new, each of his films has a transportive quality to them; his films have always cast a hypnotic spell and are also comparable to the styles of Claire Denis and Andrei Tarkovsky. His 2010 masterpiece, Uncle Boonmee Who Can Recall His Past Lives (which made my top 10 list in 2011) was also a visual wonder. Weerasethakul's films like Tropical Malady, Syndromes and a Century,  and Cemetary of Splendour often have tropical locales that mostly take place in jungles and in hot environments. In his latest film, he departed from his homeland of Thailand to shoot in Columbia, mainly in the city of Bogota and on the outskirts, where he's able to explore the contrast between the landscapes of both the modern and natural worlds.
Returning to the Weerasethakul world fold, Tilda Swinton plays Jessica, a gardener and entrepreneur of a flower business, a Scottish native who travels to Columbia for family matters. Swinton displays a minimal performance that certainly carries some anguish and curiosity as she attempts to solve the enigma of the mysterious sound. It leads her on a journey to sound technicians, where she tries to have them design and mimic the earthy, strange sound she keeps hearing. Narratively, there isn't really much more to the plot than this: the film consists of a lot of long takes and is executed with a lot of minimalism, but it's always transfixing.
Weeraskethakul, who also goes by "Joe" to the press at film festivals, fully comprehends what cinema should really be about, an experience that evokes certain feelings, wonders, and emotions in the audience, but not through narratives, arcs, character growth, or resolution, but through the experience of visual medium and sensory tone. The film is quite an advantageous and rewarding experience, especially for the moviegoers willing to go on it. The roadshow experience is warranted, and sadly, it's going to narrow its scope with the audience, but it will be fascinating to see where Neon takes this film. The film will transport you under hypnosis with its calm, relaxed visual state. It pulls you deeply into its world where you might not fully comprehend the experience or state of mind that you are in. Yes, the experience is that extraordinary.
There is certainly a narrative to be found here, though, and there are even some resonant emotions outside of the visual allure. Instead of being about geographical dislocation like Sofia Coppola's Lost in Translation or Kiyoshi Kurosawa's To the Ends of the Earth, the displacement is from the sound, which we hear instantly in the opening, where Jessica wakes up out of bed stunned. Jesscia is in Scotland visiting her ill sister, who has been hospitalized with a lung infection. Under a lot of stress and worry, Jessica begins to question her own sanity, as she feels she might be the only one who hears them. During a key scene, while she's out to dinner with her sister and her husband, she hears the sound again, as nobody else appears to hear it.
Other bizarre things begin to occur. The sound design technician isn't at the building, and she is told by a group of musicians that nobody by his name or description has ever worked there when she returns to visit him again. She is also informed at a dinner that someone she thought was dead is still alive. Her own existence feels like it is being transitioned into a different realm. While walking on a sidewalk, we hear the sound of a gunshot with a man frantically running away, only to find it to be a loud exhaust. Is the sound itself a form of trauma? The film becomes more non-linear and abstract as Jessica pries for more questions, which leads her to travel outside the city to a village in a mesmerizing third act that involves a stranger from the village who is completely displaced from the modern world.
There will certainly be endless interpretations of what Memoria is about. Regardless of what it all means, the film is able to work thanks to the collaboration of Joe and Switon. While delivering a minimal performance, she is able to deliver a very immersed performance where she sells the performance with her expressions of being perplexed and unsettled rather than with histrionics and hysteria. We hear what Jessica is hearing through her mind and perhaps even in her ears. Swinton's performance is what sells the film.
Also, Joe's craftsmanship is also top-notch where it feels both dreamlike and natural, both surreal and organic. The merger of these contradictory styles is quite remarkable. Using long takes, with very little coverage, the style works simply because you are immersed in the films surveyed and an observational style where you feel like an orbit in a corner observing Jessica's reality unravel. The result is an artfully mounted depiction of displacement, punctuated by sequences of elliptical beauty, but also a sound design that is every bit as impressive as any sound design you would see in any blockbuster. Not just the use of the sonic boom, but the use of nature, leaves, wind, and city noises all add to the immersive experience. Not since Gus Van Sant's Gerry has a film put me in a trance with its visual stimulation and ornate sounds.
Ultimately, Memoria is not only the most unique experience of the year, but also one of the most transcendent and rarest film experiences you will have with its formally daring style. The film also offers a lot with its spatial locales and long takes that offer a lot of allegorical and metaphysical interpretations. The pulselessness of our understanding of our reality and existence is on ample display here, and it welcomes plenty of thought where I still can't shake the imagery out of my mind in one's inability to fully comprehend how time, space, and other enigmas shape our existence. While the discussion of cinema at the moment might seem narrow as Spider-Man and Dune seem to be the only movies on everyone's mind at the moment, one thing is for certain: Apichatpong Weerasethakul has certainly transcended and expanded the cinema. It's a reminder of why there always needs to be a cinema for the hallucinatory just as much as there is for spectacle.
**Now Showing at the IFC Center in New York the week of December 26th.