Italian filmmaker Andrea Pallaoro revisits the central themes of alienation, identity, and family that were found in his first two films, Medas (2013) and Hannah (2017), to even greater impact in Monica, an original screenplay co-written with Orlando Tirado that is another character study of a gorgeous and lonely transgender woman who returns home to visit her estranged ailing mother and brother that she hasn't seen since her transition. With a very observational and austere style, including an impressive soundtrack of 80s New Wave songs and the presence of rising trans actress Trace Lysette as the title character in the lead role, there are some dramatic ambiguities and an abrupt ending that don't entirely work. Despite these shortcomings, the film is artfully crafted, and well-acted enough to make for an emotionally involving experience.
With the recent releases of other films that feature transgender characters played by actual transgender actresses in such films as A Fantastic Woman, Lingua Franca, and most recently Joyland, Monica has a different approach to the transgender approach. While the other films tacked on making ends meet, grief, immigration policies, and complex love, Pallaoro's vision is more of a character study about trans alienation and the difficulties of a trans person having to reencounter a family that once begrudged and disowned who they really are. There is an overriding limitation in the drama in the film, where the drama is left more observed than said, in which Pallaoro uses more body language and gazes within the characters for most of the exposition and even character arcs throughout the narrative, which echoes the work of the great Michelangelo Antonioni.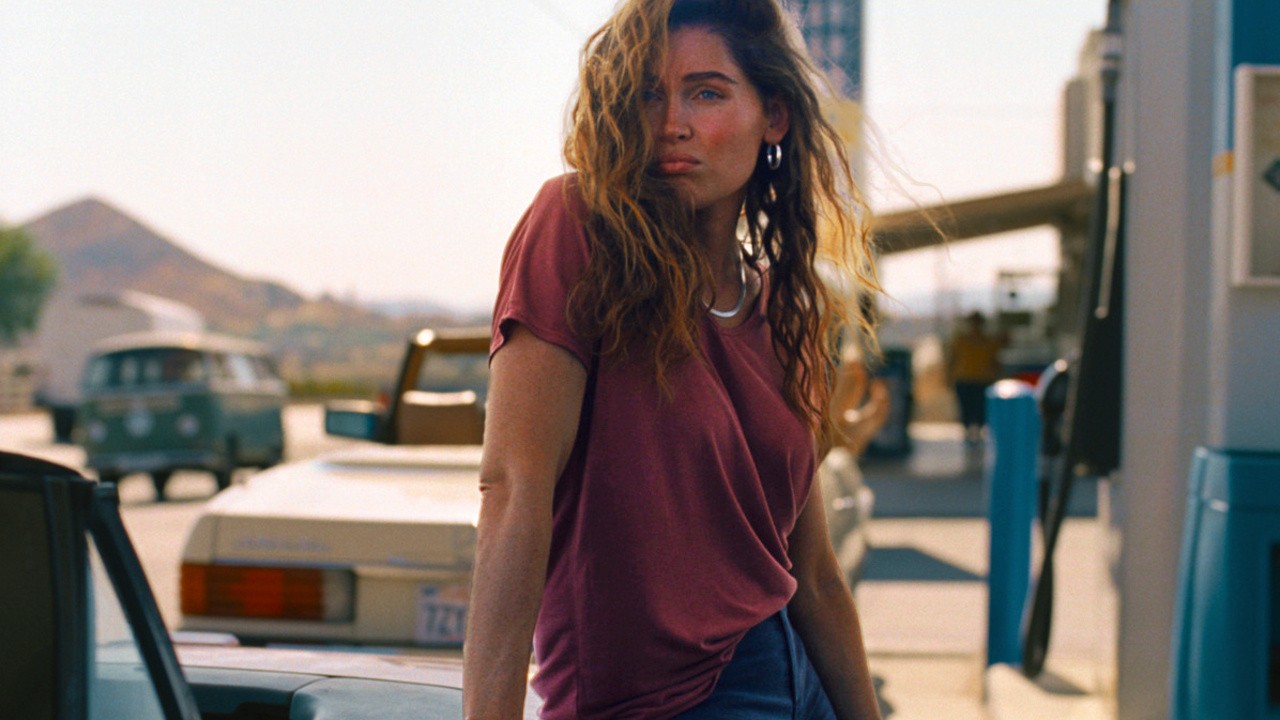 Courtesy IFC Films
The film opens with Monica (Lysette) in a tight close-up of a tanning bed as the New Order song Bizarre Love Triangle plays over the meticulously framed and exquisitely shot and lit close-up. The film's cinematography by Katelin Arizmendi uses the 1:33 aspect ratio to show Monica's reality feels closed in, as in the next shot she is hounded by a man in a parking lot who is heard offscreen and who constantly flirts with her as she attempts to process her thoughts after making a phone call. Not only does she feel lonely, but she is also certainly a woman who has been abandoned. She makes phone calls to an ex-boyfriend or lover who never picks up his phone, which Monica leaves with sorrow and hopefully messages that they will reconnect. Moncia drives from one place to the next; it's obvious she is traveling somewhere as she stops at a motel, where she goes outside and notices a wolf in the background who looks back at her, signifying as a metaphor the strength Monica will need on her travels.
Her travels lead her to her old home, which belongs to her ailing mother Eugenia (Patrcia Clarkson), who is dying from a brain tumor. She doesn't recognize Monica, so Monica passes herself off as a nightshift caregiver so Eugenia's caregiver, Leticia (Adriana Barraza from Babel), can have some time with her own family. Clarkson's performance is emotionally raw, finally redemptive, and one of Clarkson's most dramatically charged performances. In one Bergmanesque scene that echoes Cries and Whispers, Eugenia yells out for her mother in pain as Monica holds her in her arms. In many other scenes throughout, Clarkson is very restrained and holds her pain in, and as it requires so much patience for Monica, that can certainly be emotionally draining. Eugenia is very close to her son Paul (Joshua Close), his wife Laura (Emily Browning), and their two children, whom she recognizes. Paul and Laura have kept in touch with Monica over the years and know about her transition, but Eugenia was never known, as it's revealed in a conversation between Paul and Monica about how Eugenia kicked her out of the house and dropped her off at a bus station as a teenager.
Courtesy IFC Films 
Filmmaker Pallaoro does a commanding job with the material, which feels deeply personal as the film's protagonist yearns for human connection in hopes she can break out of her suffocating alienation. Like many trans women who are fetishized and objectified in the shadows by men, while it's not exactly clear how Monica makes money, we do see Monica doing web shows, and she has a hook-up with a guy in a parking lot that feels transactional. Monica continues to make phone calls to her ex-boyfriend, where more truth is revealed about how deep love goes after another guy stands her up at a bar, who certainly thought of her more as "an experience" or as in "experiment."
Pllaro and co-writer Tirado may have a more minimal approach to such an emotional story, but that's what makes the film so liberating from dissolving into melodramatic detours. Monica and her family's anxieties and distress say so much without having to have all this exposition. We are given small insights into their backgrounds and tensions, enough for us to fill in the gaps, and we still walk away satisfied with the arc, growth, and complexities of each character. There are many silent and visual scenes, and with so many films where so many writers feel like characters always have to talk, it's relieving to get a dramatically rich film where we see characters exist and unravel so dramatically in silence.
The film fulfills an abundance of beautifully executed and emotionally tender payoffs too. Including a powerful exchange between Clarkson and Lysette that's staged in a two-shot and with some beautifully composed close-up shots where they both look deep into each other's eyes, and we can sense for the first time throughout the narrative of a parent-child reconnection that doesn't need words to convey such a dramatically essential moment in the film. With sublime artistry and deeply earned humanism like that, Monica is a redemptive story told through the eyes of a compelling character and a filmmaker with a bold vision for the human condition.
Monica is now playing in limited theaters