Moonage Daydream is an innovative documentary that emphasizes the myths and rebuilds the legacy of one of rock music's most iconic and artistic songwriters and musicians, we all know as David Bowie. The late David Bowie narrates the film through previous, unheard recordings while he was alive, avoiding the enigma he often gave about his chameleon persona that he gave to interviewers for nearly five decades. Filmmaker Brett Morgan (The Kid Stays in the Picture, Cobain: Montage of Heck, Jane) has crafted a brilliantly stylized and astonishing documentary that will satisfy Bowie fans and even impress casual Bowie fans or listeners by spanning from his Ziggy Stardust days all the way up to his Earthling Days using found footage that offers deeply philosophical and optimistic insights into his worldview and reflections on life. The revelatory documentary is extraordinary and impresses on so many levels.
The documentary is formally bold and covers a lot of ground. After a world premiere back in May at Cannes, it is now being released in IMAX screens by Neon on the weekend of September 16th. The film is also a venture with HBO, which will probably make its way to HBO Max in the coming months, but with the experimental aesthetics, astonishing concert footage, and artful scope of the documentary, Moonage Daydream is a sensory documentary that should be experienced on the IMAX screen.
Morgan has pieced together a compelling treatise of concert clips and interviews with the young artist, philosopher, and glam rocker David Bowie. Technically, the film gleams visually, and it transports you to rather an otherworldly experience of this musical documentary that is quite an electrifying cinematic experience. The film explores how his charisma, persona, and music sent a shock wave through the London scene all the way through the United States. Most unique of all, Morgan only allows the aesthetics of David Bowie to convey the story of his life. The result is a Bowie-sanctioned film where Morgen juxtaposes the unseen footage of Bowie that consists of concert footage, old film stock footage of Bowie just walking down the street and up escalators of airports that is juxtaposed with Bowie's on-air TV interviews and many of Bowie's personal films that consist of 2001: A Space Odyssey, Metropolis, Un Chien Adieu, Scorpio Rising, The Seventh Seal, and A Trip to the Moon, to name just a few. Of course, Morgen also uses footage of Bowie's memorable film roles as well, where we see clips of The Hunger, The Man Who Fell to Earth, Merry Christmas Mr. Lawrence, Twin Peaks: Fire Walk with Me, and Labyrinth as well. This gives the film a lucid feeling that allows Bowie to express reflections by the artist himself in the most honest and personal way. Bowie was a true artist. Not only did he write and perform songs, but he painted, shot experimental films, and wrote his own autobiographies, including a rock memoir titled Moonage Daydream that is also based on a song that's on Bowie's 1972 beloved album The Rise and Fall of Ziggy Stardust and the Spiders from Mars.
In just over 2 hours, Morgen's documentary limits Bowie's story to just his perspective—starting from the early 70s—where Bowie was just experimenting and trying to discover the man and artist he was through different variations of showmanship, artistry, and fashion. And Morgen also captures the performer at his most thoughtful and wiser as he contemplates his thoughts on the essence of living and the healing power of just creating and experiencing in the moment rather than just thinking about the future.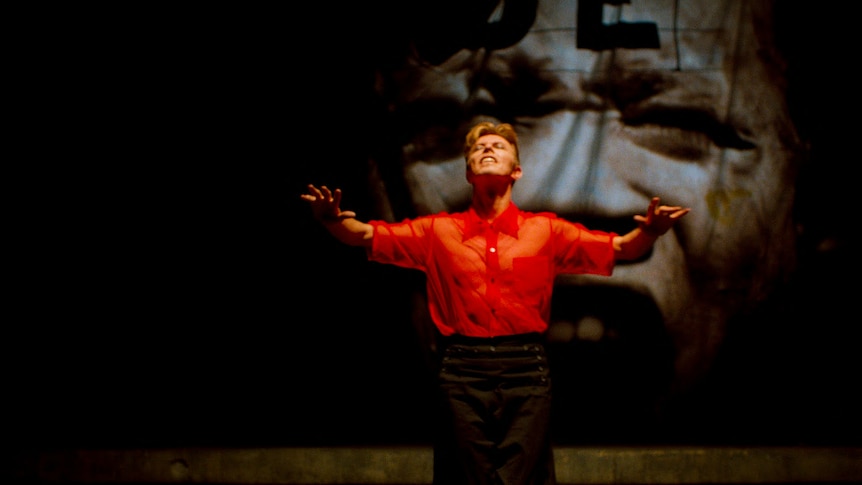 Most impressively, though, Morgen also uses the cosmos and universe scenes from The Tree of Life to give it a spacey feeling, along with some animation from Stefan Nadelman that has a spacey tone with images of space, lunar eclipses, and other abstract images. This aesthetic leaves an ether to the film that suites Bowie's extraterrestrial vibe. The film feels like a montage and is filled with vibrant energy, which is quite suitable for Bowie as well, since he was an energetic artist who was constantly shifting his artistry, personas, and musical styles. Bowie was a man of endless reinvention, and Morgen captures the constant evolution of Bowie, and the result is extraordinary.
As blazingly transportive as the documentary may be, Moonage Daydream avoids some of Bowie's darker corners and complexities of life, which Morgen's film unapologetically could come off as a fan letter that could have benefited from deeper nuance. The film doesn't explore Bowie's cocaine addiction during the era of Station to Agent, which is one of Bowie's greatest albums that he sadly doesn't even remember recording due to his cocaine abuse. The film quickly reveals his fondness for far right-wing and fascist iconography and uniforms, as well as his statements about Nazi Germany and Adolf Hitler that were taken too far by his "Thin White Duke" persona during the Isolar tour that promoted the Station-to-Station album. There was a picture of Bowie doing a Nazi salute, but he refuted it by saying the photographer manipulated the picture because it was a mid-wave. Eventually, Bowie backtracked and deeply regretted this statement. He was very much on drugs at the time, and this never reflected the person he was and the ethos he eventually believed. However, the omission from the film feels very compromised to Bowie's estate, and this exclusion from the film undermines the full potential of being a more intricate chronicle of such a fascinating man.
You can easily sense Morgen was compromised by the Bowie estate, but what anchors it from feeling like fan worship is that the film is very much a human portrait of Bowie. In a very poignant moment, Morgen showcases an interview with Bowie, and how there is a history of mental illness in his family that affected his father and brother Terry, and how this impacted Bowie's art. We also learn that before Bowie's marriage to model Iman, he was very much a lonely individual that spent a lot of his time in very lonely places searching for his art. Morgen also explores some of Bowie's artistic struggles, including the period after his 1983 "Last Dance" album, how while his crowds maximized for his tour, his art suffered and weakened. History has shown the period in the 80s was a huge artistic drop-off in Bowie's career once he gravitated to more stardom.
Mogren conjures Bowe in a very refreshing light in just how much of an optimist he was about life. His music will forever live on. His music was very distinctive and singular, with a wide range of different styles, and so many of his hits are still embraced today. He had his own outlook on life. You can sense in his earlier years he went to dark and depressing places. What he learned there remains a mystery. He blossomed in the 80s with optimism and he reinvented himself. He ended up finding love, found a second wife, and his artistry bounced back in the 90s throughout the 2010s.
Watching so much never before seen footage in Moonage Daydream, we get a glimpse of a man and his artistry. Bowie narrates the film with a wise, stoic delivery, with more confidence and heroic, as if he is a poet or philosopher. The insights on display are a joy to watch and while some of them you just don't want to end (especially the segments of Life on Mars or Sound and Vision being performed), each moment of the documentary has an artful quality that will leave an enduring appeal. Put simply, this is an illuminating and transfixing cinematic portrait where the film has a brilliant strategy in reworking the archival footage about Bowie, each capturing a fascinating aspect of his artistry and principles. And that is no small achievement.