Saul Willliams teams up with Rwandan playwright and actress Anisia Uzeyman for their directorial debut, titled Neptune Frost, an otherworldly but partly successful film that blends sci-fi with musical numbers. Think of Claire Denis's White Material or even Baz Luhrman's Romeo and Juliet and the Brazilian neo-western Bacurau. The writing and directing duo of Williams and Uzeymen's concerns are far more musical with its abstractions. The main challenge is a lack of coherence in the narrative, with far too many characters and narrative threads going on. It certainly makes up for these shortcomings with the film's impressive craftmanship, which has already generated high praise from film critics. The film would more than likely gain a following in the years to come, much like Bacurau did.
This stealth sci-fi film is also filled with many ideas and idealism about modern day capitalism, authoritarianism, and technology. In Saul Williams' own screenplay, future generations ask how Rwandan citizens can be so complacent with their own nation being ruled by oligarchs and big business. It also becomes a manifestation of how a society can allow itself to be enslaved to a control grid of mass technology that easily distracts its citizens, allowing opportunists to overtake their own livelihoods by coercing its laborers to work in a slave-like atmosphere.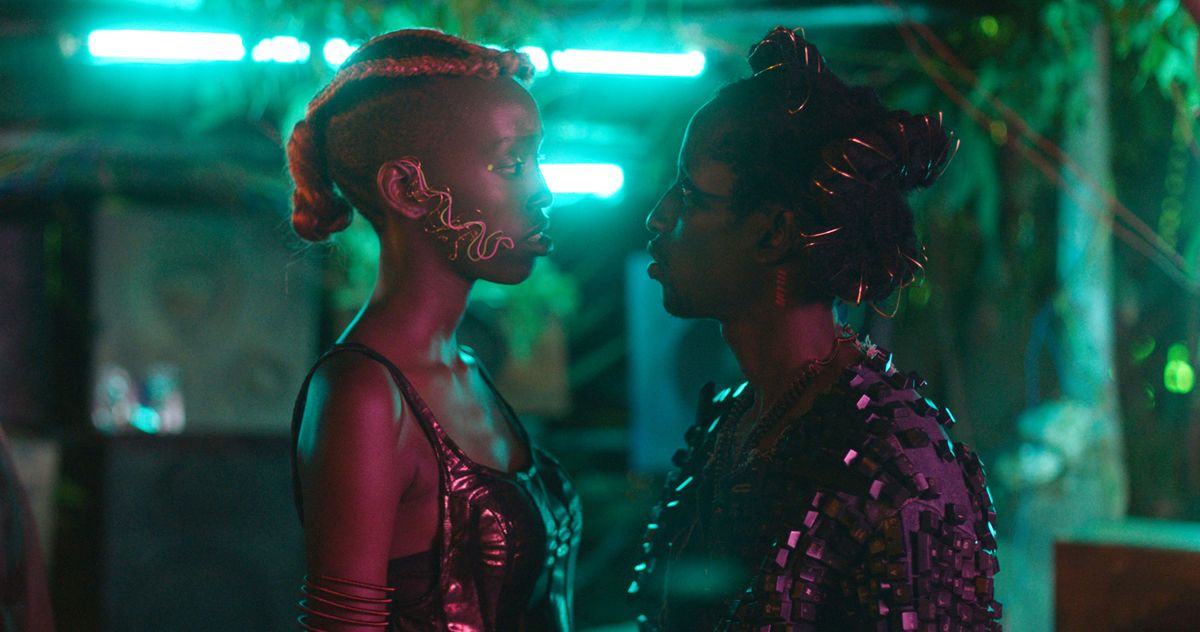 The film certainly holds modern day parallels to modern day Rwanda as it captures the nation's discourse of the past, present, and future. The film begins in a labor field where workers break out of work in a musical number, as armed guards wrangle the laborers back to work as they begin to lose energy on the job. The mining field they work in is for coltan, and it is used for electronic devices such as computers, smart phones, and videogame systems. Williams' own screenplay ends up becoming contradictory in approach. As he points out the oppressive nature of how big tech companies exploit their third-world workers, their screenplay also examines how technology can empower individuals to make social progress and connect people collectively. The film follows a hacker non-binary character Neptune (played by both Cheryl Ishea and Elvis Ngabo) and a laborer named Matulsa (Kaya Free). The two (or three depending on the scene since Neptune is played by two different actors of the opposite sex) flee away from their Rwandan village as the country erupts into civil upheaval.
The film's visual spontaneity merged with its politicization is undeniably imaginative. It's reassuring of this once Matulsa's brother, Tekno, is killed by one of the soldier's guns. Matula ends up carrying him off as his other workers accompany him with beating drums and impressive dance numbers by their fellow laborers. Structurally and narratively, you will be left bewildered as to what is exactly going on. But like a Lynch or Apiphatpong Weerasethakulfilm, it's a film one must surrender themselves to for the experience. It's a film where you are guided through a dreamlike structure that feels elliptical, and yet, you never get lost in the idealism of what Williams and Uzeyman embark on.
As Neptune's embark on their journey, they discover another village of another rebellious group of members called Memory (Elaine Umahire) and Psychology (Tresor Niyongabo), who have an agenda of wanting to overthrow the totalitarian government referred to as The Authority, which also uses colonization for their power grab. Through technology and unity, Neptune is able to empower the many others as the chants from the coltan mines ends up spreading across cities and universities across the homeland as Neptune broadcasts the protests as they unfold. That really is most of the narrative and plot. For the most part, Neptune Frost should be embraced for its uniqueness. It really is unlike anything you have ever seen. Aesthetically, the film impresses on a visual level as its Rwandan characters are bathed in neon lights that are shot so exquisitely. The musical numbers are also alluring, inundating the viewer with energetic beats and rhythms.
But, although the film is ravishing and artful on a technical level, the narrative work fails to ignite. Sual Williams and Anisia Uzeyman prove they are great idealists, and are rather effective in their ideas and imagery, but the film feels incoherent as a whole and not in an addictive way, the way of a Refn, Lynch, or Apichatpong Weerasethakul. Even if their work becomes perplexing, there is at least a narrative cohesive enough to latch onto as you get lost in its elliptical style. Saul Williams, who, if you recall, was very effective in his breakthrough role in the 1998 Sundance winner Slam, about a black poet who gets arrested for petty drug charges in Washington, D.C., brings his experience to the table, but the narrative feels like it could have delivered another draft or two. However, he also shows himself well as an actor director, and the actors he cast are all quite convincing and passionate there, and everyone feels very comfortable in their roles.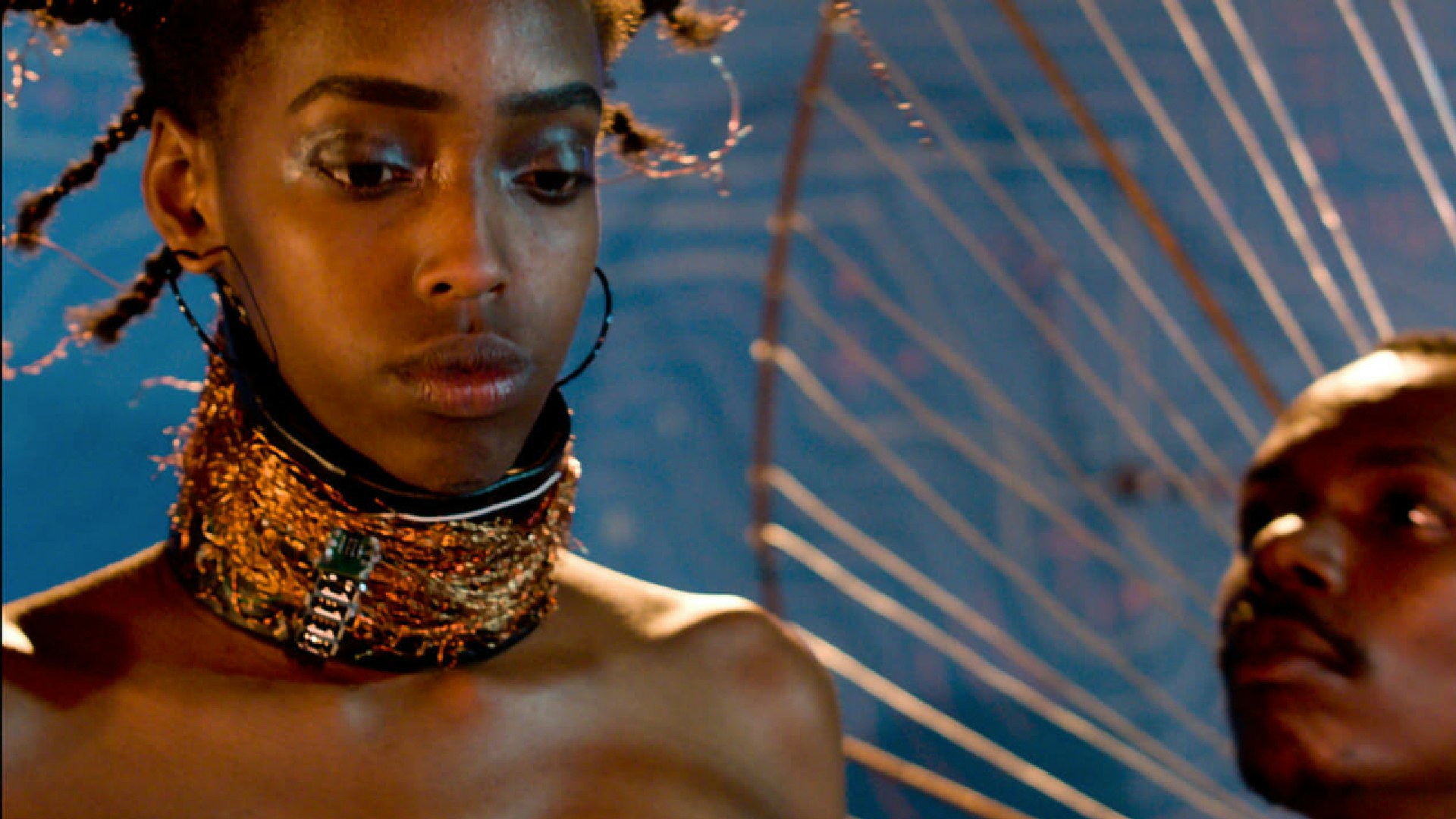 Both Williams and Uzeyman show a fondness for the landscape of Rwanda, which is Uzeyman's native homeland, and we can see their love of music and poetry shine through a controlled world, and again, the musical numbers are nothing short of sensational. While opaque storytelling appears to be the case in Neptune Forst, the film feels nothing short of refreshing. It really is vast, distinctive, and mysteriously empowering in its ideas and tone. Filmmakers Williams and Uzeyman are quite imaginative in their vision, and it will be very fascinating to see where their next project takes them.