In a far darker return to more macabre terrain after his Oscar win for The Shape of Water, Guillermo del Toro still finds his footing in genre filmmaking in the thrilling Nightmare Alley. Adapted from William Linsday Gresham's 1946 novel of the same name, which was also adapted into a film by Edmund Goulding in his 1947 masterpiece Nightmare Alley (now on Criterion Channel and Blu-Ray), which is about a man who burns his home down and becomes a carny with a traveling carnival show, the new update by del Toro is every bit as darkly imaginative and pulpy as the original, but suffers from an insufferable running time (150 minutes) where some updated scenes just don't quite reach the impact or resonance of the original. However, there are still a number of great pleasures to be found in this undeniably engaging and involving rework. The film's astonishing aesthetics and unique vision should appease ardent del Toro aficionados and impress most critics and audiences, which will need to rely on a lot of word-of-mouth and awards season buzz to generate momentum in an overly crowded and competitive awards season.
Polished with stark production design by Shane Vieau and Tamara Deverell and with a perilous eye from cinematographer Dan Lausten home in impressive production values with a stellar A-List cast that includes Braley Cooper, Cate Blanchett, Rooney Mara, Clifton Collins Jr., Willem Dafoe, Richard Jenkins, Ron Perlman, David Stratharin, Tim Blake Nelson and Mary Steenburgen. Other impressive performances come from Holt McCallany, who plays a bodyguard who holds a deep loyalty and respect to his boss. Del Toro certainly allows every actor to shine, and each character is given the right amount of emotional depth and impressive chops to work with.
Using to its advantage a more southern gothic tone and a lurid approach that holds the same Del Toro sensibilities with some engaging drama, Nightmare Alley also stays true to the original film while utilizing film noir styles and tropes. The filmmaking style holds a more unique attraction for a genre director like Del Toro, who's always directed more films in the fantasy, horror, and sci-fiction realms, and who's always shown great confidence in darkly fantastical material with such impressive works as Cronos (1993), The Devil's Backbone (2001), Pan's Labyrinth (2006), and, of course, The Shaper of Water (2017), which earned him a Best Director and Best Picture win. Del  Toro is able to blend his imaginative vision that often subscribes to the more fantastical elements that he's beloved and celebrated for, which have always held affecting and complex dramas, psychological and distressing, and brings all these elements into another impressively cinematic experience that is both brutal and engaging thanks to its craftsmanship and outstanding performances from a first-rate ensemble.
Del Toro also serves as co-writer with frequent co-writer Kim Morgan, and they do a serviceable job of staying true to the source material while making some slight adjustments for dramatic purposes. Set during the last years of the Great Depression through the early years of World War II, Nightmare Alley begins with a striking opening of Stan Carlise (Cooper) torching down his mostly vacant home and hitting the road as a drifter, where he ends up finding work with a traveling sideshow where the locals get to see various acts for the price of one admission.
Certainly, staying true to the 1947 classic, del Toro also showcases influences from Tod Browning's Freaks (1932), Fellini's La Strada (1954), and even Alejandro Jodorowsky's Santa Sangre (1989) in revealing a community of outcasts that consists of eccentric individuals, dwarfs, hustlers, and strong men who utilize their abilities and deformities for spectacle, as the carnival lifestyle becomes a last resort as they are pushed away from society. The carnival is managed by Clem Hoatley (Dafoe), who takes an instant liking to Stan and decides to hire him in as a utility worker who does mechanic work and basically anything else the carnival needs a hand with. In typical del Toro fashion, Hoatley has a jar of deformed fetuses that certainly plays out as a motif in Stan's past traumas.
Stan ends up giving advice on how to improve some of the same tired acts and begins to charm Molly (Rooney Mara), who is also a circus performer, which draws some concern from her protective father-figure, Bruno (Ron Perlman), who is skeptical of Stan and can see through him as a con man. He ends up being lured into seduction by the circus's tarot card reader named Zeena (Toni Collette), in which her drunken husband Pete (David Stratharin) (playing a similar role in Wong Kar-Wai's 2007 My Blueberry Nights) all ends up finding ways to improve their acts in the circus. In which Stan uses his con ways to draw in a crowd and impress the locals by learning how to exploit people's universal emotions of grief and regret to trick them into believing in the spiritual presence of their loved one.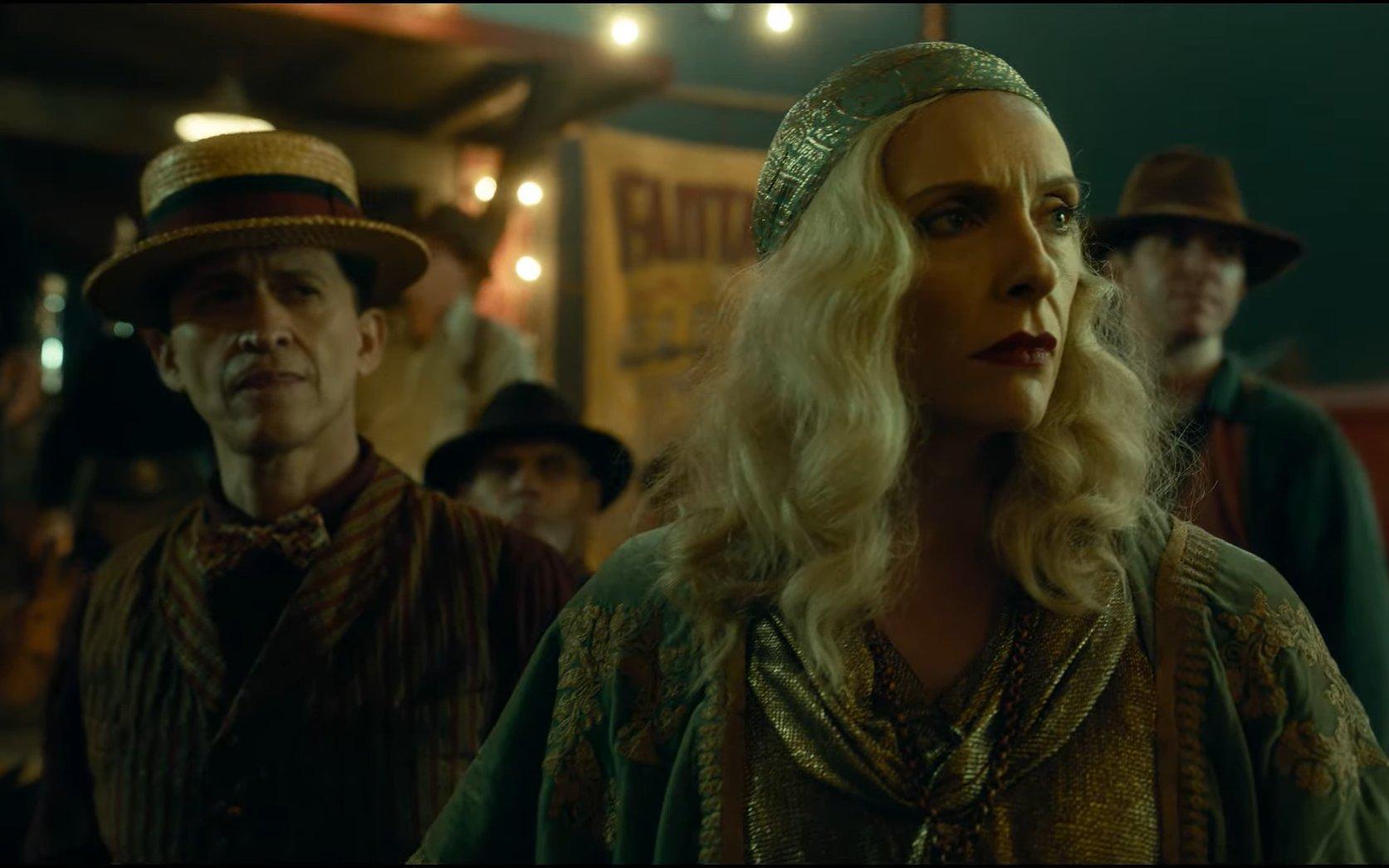 Structurally, the first half of Nightmare Alley echoes the original as well, as the first act dives into the livelihoods of the carny lifestyle–but some of the dynamics and build-ups in the first half aren't quite as strong as in the original. For instance, the tension between Bruno and Stan is far more effective and holds more rivalry and scenes than del Toro's updated version, which is odd simply because del Toro's is 40 minutes longer. Also, some of the foreshadowing of Stan's fate is scripted and delivered stronger in Goulding's vision. Even the second half, in which the film moves into 1941 from 1939 into Buffalo, where Stan and Molly have utilized their "psychic" training as a form of grifting and cons by performing in a more bourgeois setting, isn't quite as well staged or as intensely executed as the first. In the original, the "mind-reading" felt more engrossing and fascinating, but still, there is enough dramatic momentum to keep the film standing on its own.
What is commanding about del Toro's version is just how more cunning and more like a femme fatale archetype he makes the Dr. Lilith Ritter character, who is played by Cate Blanchett, who has played the femme fatale role before in Steven Soderbergh's forgettable The Good German. Dr. Ritter is a psychiatrist who ends up luring Stan into a web of other cons and uses him to share information from her other patients, so together they can plot together to enrich themselves by tapping into the city's most wealthy people.
One of Dr. Ritter's marks is a millionaire with a fortune named Erza Grinle (Richard Jenkins), who's given more screen time and layers than in the original film, and who ends up being persuaded by Stan that he has the ability to stay in contact with his dead-ex-wife from his past. This is instantly disapproved by Molly, who holds disgust and disdain towards Stan for exploiting people's internal suffering for monetary gain. Stan, after all, has always been a grifter and con man, the archetype of the fall guy you recognize from many other noir films you have seen in the past, and like many of those great films like In a Lonely Place, The Postman Always Rings Twice, or The Big Heat, Del Toro carries on the noir tropes and presents how these troubled con men carry out such bad deeds due to their psychological torment and piercing emotional wounds, and Bradley Cooper delivers these traits of that archetype with pure affliction.
In a larger supporting role, Mara holds the most convictions, while Blanchett does very well with her cunning and manipulative skills, where she elevates the archetype of the femme fatale with a lot of sharp sophistication. But it's Richard Jenkins who is given the most layers of any of the supporting characters and who also turns in the most impressive performance as a rich, lonely man who is desperate to make amends for his past, even when he's being swindled. It's rather baffling to me that Jenkins isn't getting more recognition for his supporting role here. It's a performance with a lot of frailty and emotional vulnerability that is also very stern and matter of fact, in which the performance deserves some extra consideration.
As usual for del Toro and his visual aesthetics, the craft is superlative, and every department across the board deserves praise. Through these collaborative efforts, Nightmare Alley is an accomplished film noir that also has strong moral coding which reassures itself with a very powerful final scene where del Toro alters a bit that will haunt me for days with Cooper's emotive rawness.