Prolific auteur Steven Soderbergh always takes great liberties stylistically and visually, no matter what film he's crafting, or what genre he dives into. His latest film to hit HBO Max, No Sudden Move is a convoluted period piece, married by a muddled but mostly involving narrative, despite its near 2 hour running time (115 mins), the film overall is an exuberant experience to behold with it's flashy energy and radiant style.
Stylistically, as always, there is always something to admire in Soderergh's craftsmanship, largely confined to a limited setting of events that take place nearly in 24 hours in Motor City Detroit circa 1950s. The opening act of the film, which is the strongest, takes place mostly during a home invasion that builds up great anticipation and tension, and we're eventually introduced to a large ensemble of characters along the way, which is a trait in Soderbergh's work.
It's hard not to be in awe with Soderbergh's meticulous framing, lighting, and camera work that he also works as cinematographer under the pseudonym name of Peter Andrews. At the center of this heist is a mystery to a loot that involves an important document, money laundering, gangsters, housewives, children, mistresses, the FBI, and even white collar executives who are covering up for the big 4 (at the time-American Motors, General Motors, Daimler Chrysler, and Ford) car companies. Featuring a bolstering ensemble cast led by Don Cheadle, Benecio del Toro, Brendan Fraser, Kieran Culkin, Jon Hamm, David Harbor, Julia Fox, Ray Liotta, Bill Duke, and a surprise performance from a Hollywood A-lister that I won't reveal–but Soderbergh delivers an engrossing chronicle of Detroit as a 1950s noir. A setting Soderbergh isn't a stranger too since his 1998 heist masterpiece also had a partial setting of Detroit that also co-starred Don Cheadle.
By exploring the city of Detroit during the city's peaks, there is already an agenda to use "urban renewal" as gentrification to eliminate Black homes and neighborhoods. The demoralization trickles down and we see the collusion of crime and corporate power that involves organized crime protecting corporate interests.
As always, Soderergh experiments around and this time around elevates the script with his innovative aesthetics that recreates the city of Detroit quite vividly as he surveys the camera with rich locales of older houses, abandoned factories, street lights, and alleys. Partially shot here in Detroit last year, Soderbergh uses a lot of soft light and wide-angle lenses that anchors the film away from a murky narrative into something aesthetically pleasing and well acted. The use of the lenses allows the characters environment to feel heighted and to a great degree even more desperate in the situations they find themselves confined in.
Cheadle's character and performance is the highlight of the movie, he plays Curt Goynes, an ex-con fresh out of prison who is instantly hired by a crime boss named Jones (Brendan Fraser) that requires holding a family hostage to retrieve a very essential document. Unaware of what kind of information the document holds, he is offered a large sum of money for a few hours of work.
Curt groups up with fellow henchmen, Charley (Culkin) and Ronald Russo (Del Toro), who ended up invading the home and hold the family hostage, in which the husband Matt (Harbour) has access to the secret document that ends up bringing everyone down a rabbit hole of double crosses, betrayals, loose ends, and many twists and turns that is dizzying to keep up with, and yet you can't help but not be drawn into the mystery of it all.
Soderbergh, who is no stranger to heist and crime films (Ocean's 11 films, Out of Sight, The Limey, Traffic) crafts the film like a crime thriller with caper movie tropes. The script is written by Ed Solomon (Men in Black, Bill and Ted films) does an adequate job in his history and knowledge of Detroit. While certainly a work of fiction, there is some history involving the document along with the automotive industries relationship to organized crime that is factual. If anything, the film plays like a Soderbergh greatest hits where he compiles some of his favorite moments and scenes and revisits them with a more revived insight.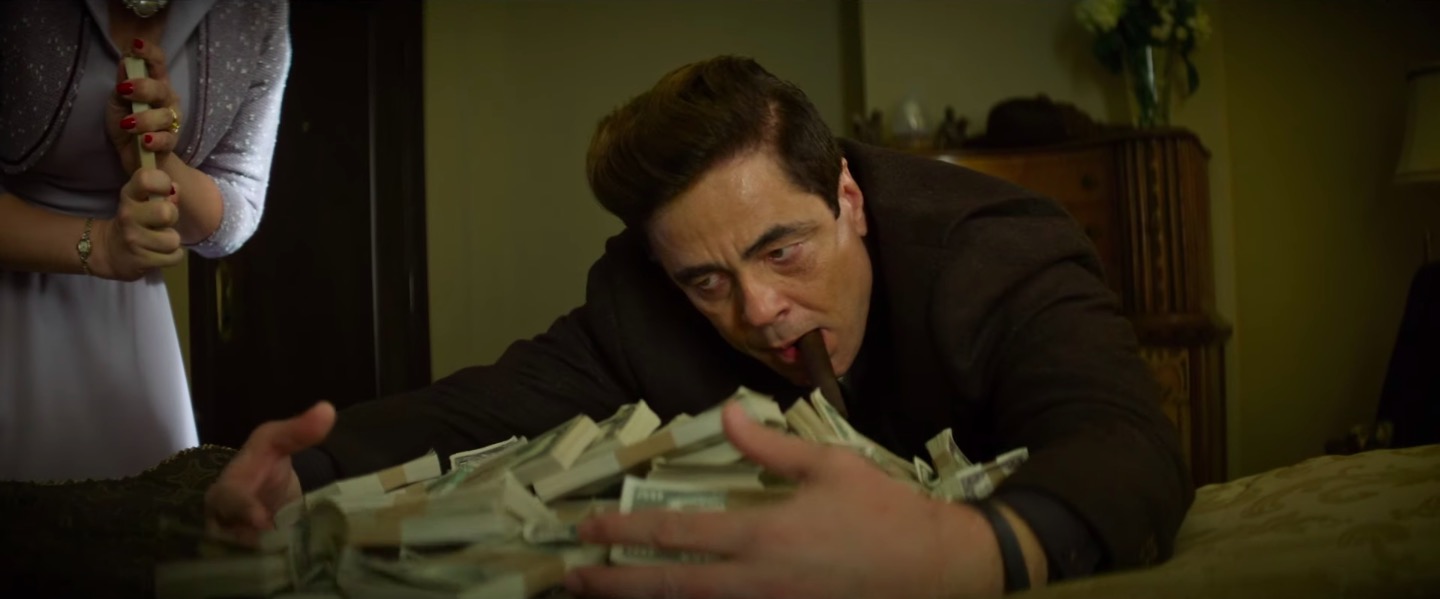 The exchanges between Cheadle and Del Toro are the most intriguing, even the rest of the cast feel underdeveloped, but the bond the two men have towards each other as they attempt to unravel the chaos unfolding around them impresses. The final act depicts revelations and some character motivations are left feeling very frustrating and unclear. Soderbergh's influence of Hollywood 1950s crime and noir films is unmistakable with ominous use of low key lighting, angles, and meticulous framing.
The tone is also more back into serious terrain, in which his last few films like High Flying Bird, Let Them All Talk, and The Laundromat were more playful, and satirical in scope. Overall, while not great Sodergbergh, No Sudden Move is a passable feature in terms of writing, plot and characterization, that is elevated by its period detail, sense of history, effective performances by Cheadle and Del Toro, and of course Soderbergh's impressive visual techniques.