Writer-director Pedro Almodovar continues his sweeping melodrama streak with Parallel Mothers–the story of two single women who meet at a hospital when they are both about to give birth–is an entirely involving exploration of regret, friendship, and a treatise on confronting the past of the horrors of the Franco regime in Spain. A subject Almodovar hasn't confronted until now, the combative film plays tribute not only to motherhood, but to the tens of thousands of political prisoners who went missing under the brutal regime. A subject that is more akin to a documentary, the effort by Almodovar here is a very noble one that adds another engaging layer to his 22nd feature.
The lead actresses in Parallel Mothers (Almodovar regular Penelope Cruz and Milena Smit) both deliver emotionally charged and raw performances that hold the routine Almodovar complexities. They're playing real women, and their characterizations and collaboration with Almodovar don't miss one false note. A deeply compelling, if uneven, filmmaker at his best when his films tend to be more stylized and equally melodramatic, becoming affecting like All About My Mother, Talk to Her, and Volver, Almodovar always seems to be more resonant when casting his muse, Penelope Cruz. After appearing in six films with deeply satisfying results, Cruz always delivers genuine emotional depth and weight each time she collaborates with Almodovar.
Women filmmakers are often better suited to capturing the emotional truths about motherhood, conception, career, and men's unwillingness to bear any responsibility for being a father, but Almodovar has always had a delicate and authentic touch with each of his female characters, who never suffer from the male gaze. Almodovar once again explores womanhood in graceful fashion.
Penelope Cruz plays Janis, (who was named after Janis Joplin by her anti-establishment mother) and is a fashion photographer approaching 40. Janis is also drawn to her roots as she is determined to find her great-grandfather's remains in a shallow grave where many political dissidents were supposedly buried during the Spanish Civil War. She ends up accepting the assistance of a forensic anthropologist, Arturo (Israel Elejalde), in which they end up getting romantically involved together and she ends up becoming pregnant with his child. This comes to the shock of Arturo, who is married and not ready for the responsibilities of becoming a father. With his wife also ill with cancer, now is not the time for such news. Janis ends up deciding to have the baby due to her own personal timing and fears of not having a second chance at motherhood again due to her age.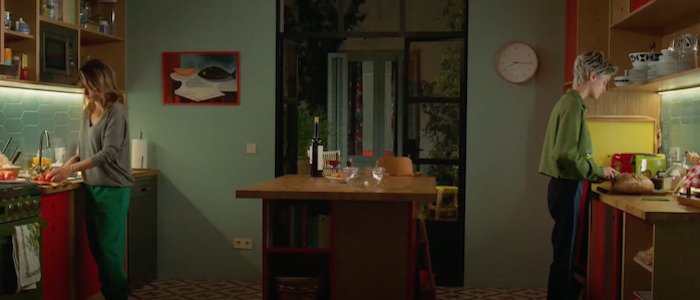 While near labor in the hospital, Janis ends up encountering Ana (Smith), a young woman in her late teens who isn't as eager to be a mother as Janis is. With many traumas and infighting with her parents, Ana is vulnerable and fragile, which many hardships and secrets eventually reveal about her pregnancy. Both women build a bond, give birth, and eventually part ways as mothers. Once Arturo sees Janis's newborn daughter, he begins to second guess if the child is even his due to the baby's dark complexion, and he demands a paternity test. Of course, Janis is appalled by such a request considering he's the only man she had sex with during that time.
However, in mature fashion, Almodovar doesn't vilify Arturo. While married, it's clear he loves Janis, and his questioning of the baby being his ends up having a complex layer and twist that unfolds with tragic results. If anything, it's only the moment in time that separates them, simply because Janis embraces being a single career mother just as her mother and grandmother were. Her empowerment does come with some solitude, as she feels like she's losing control. Janis ends up reconnecting with Ana years later at a coffee shop, and she ends up hiring her as a nanny. It's revealed her baby sadly died in her sleep due to a rare brain hemorrhage. She ends up hiring Ana to be a nanny for her baby. Both women reform their bond and become very close, while many other secrets and revelations are empathetically revealed in Almodovar's soapy fashion.
The central idea of motherhood and reconciling the past are the two themes Almodovar goes for, and while a little overstuffed in the third act, the exploration of pregnancy and the dynamics of Janis and Ana make up for a challenging drama. Both women voice their fears, hopes, traumas, and conflicted feelings about what lies ahead, and how to make amends in the future. The writing by Almodovar is a more subtle script than some of his other narrative films, and there are many emotive scenes where Cruz and Smit deliver such powerful performances where the emotions are so vivid and real. The dialogue is also sharply written and displays a succinct sensitivity, making it Almodovar's best film since Bad Education.
Technically and visually, Almodovar once again impresses with sensual color and decor. The characters live in homes with vibrant colors and artwork that give a lot of insight into the setting and characters. The use of wardrobe is great as well, especially with Janis, who wears more colorful attire in warmer and inviting moments, but far drabber attire when situations are more confrontational. Never before has Almodovar used his colors and decor in such serious contractual matters; previously, they were always more ravishing and sublime; here, however, the artistic choices feel more psychological, with sharper contrasts.
Parallel Mothers ends up doing a lot of things, perhaps many things, but it ends up becoming an emotionally charged, wise, melancholic, human story about what we want and how we should act on the things we want closure from. A love letter to Spain and its identity. This is Almodovar trying to seek answers and atonement for a nation's history, trying to whitewash history from its past sins, colliding with one's vigilance; and how we can't repeat these mistakes, so we don't pass them onto our youth. While a little overstuffed, there is no denying just how much this film will win you over when it's all said and done.