Newcomer Michael Sarnoski's modern "revenge" saga, Pig, plays with the notion of a protagonist who's a reclusive outsider who goes back to the outside world once his truffle pig is stolen from him. Distributed by Neon, the film is being marketed as a revenge saga, that feels like a cross between Babe and John Wick, yet Smaoski (Also serving as writer) defies audiences expectations and doesn't quite go the revenge route as expected.
It becomes more of a character study instead, that certainly has a modern Nicholas Cage b-movie promise that online audiences are going to go flock to looking for routine Cage histrionics and zaniness, but the film should be embraced and commended for its character depth that digs deep into Cage's acting and character role. This is perhaps Cage at his most genuine since Spike Jonze's 2002 masterpiece Adaptation.
Playing it both ways, Sarnoski can't quite determine what type of film he wants to create, a b-movie revenge film with some thriller and action overtones, a fever dream crime picture, or a character driven drama that truly elevates itself away from revenge driven genre clichés. Regardless, the film works thanks mostly to Cage's performance as Rob, a lonely outsider driven to despair and his sanity begins to shatter in the course of 24-hours once his pig goes missing. We soon learn that Rob was once a successful food chef who now lives off the grid due to personal reasons after years of being a renowned chef.
Structured in three separate chapters like a Tarantino or Lars von Trier film, the film's setting is deep in the Oregon woods, where Rob is an exile, who spends his days with the truffle pig that assists Rob finding unique plants, herbs, and treasures in the ground. It's more than a pet, Rob has a strong bond with the pig, and it's really the only sort of interaction Rob has in his desolate lifestyle.
During late hours, intruders break into his house and knock him out cold as they take the pig away from him. Distraught and irritable, Rob decides to back into society after a 15-year hiatus, in which his mediator, Amir (Alex Wolf) ends up driving into the city of Portland, which leads him down an abyss of  Nicholas Refn inspired exchanges and confrontations of people he hasn't seen since. Rob even puts his health and body on the line that will hopefully lead to inquiries on the pig's whereabouts.
This leads Rob an underground pit where you earn money for each moment you don't knocked out as your arms are tied behind you, yet all Rob wants is a name to get him one step closer to who has the pig, which leads him towards Portland cuisine tycoons and hip restaurateurs that used to work under him during his chef days.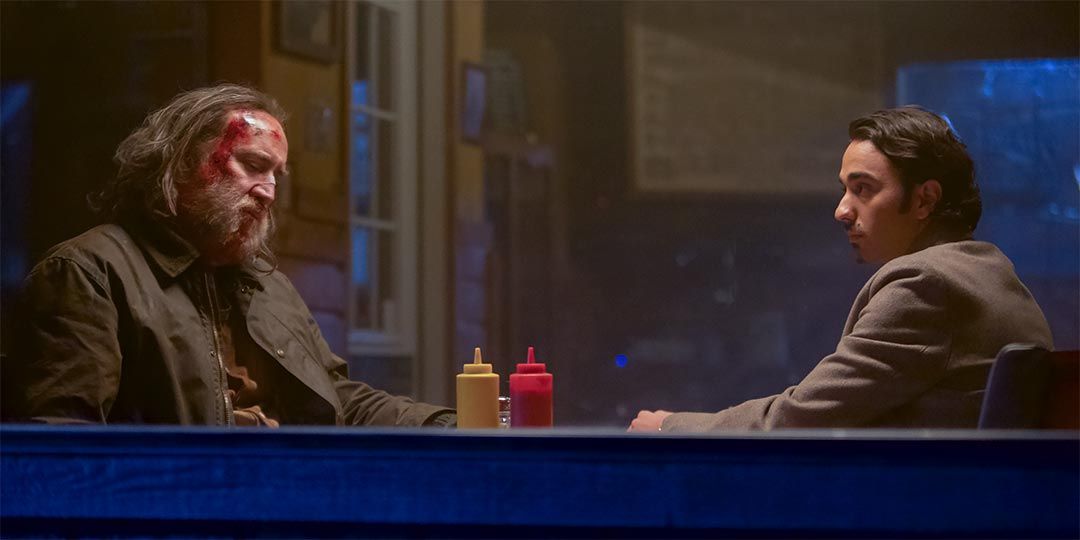 An outstanding scene in the film involves Rob and Amir visiting an old chef who now owns a truffle restaurant (David Knell), in which Rob openly condemns him for not staying true to his dreams and that his hip restaurant serves more to uphold modern trends than to serve a passion for cooking. It's there where you realize Pig is a study of isolation and even detachment, and what resorts to people living off the grid and avoiding the public that is far and away from the hollow outside world. While in the woods, Rob has a partnership with the pig and a deep love that's really the only friend he can trust, while Rob feeds the pig, and offers it care in the deep woods away from society.
Serving as a deep contact is Amir, who is a food dealer, who drives around in an elegant Chevy Camaro and wears designer outfits. Yet, it's soon discovered it's all for show and he is every bit as isolated and detached as Rob is. He holds a detachment with his father, Darius (Adam Arkin), a very cunning man who also has a lot of investments in different restaurants throughout the city of Portland. Amir and Rob are both emotionally wounded, who both repress a lot of hidden emotions, which makes him the appropriate sidekick to tag along searching for the pig in the city of Portland.
While hinting at formulaic revenge trappings, the film avoids those tropes with it's own sullen–in which it even avoids a lot of the Nicholas Cage over-the-top camp that you would expect to be in a film about  a man trying to get revenge for his pig–but the character depth and characterizations found in the film are quite earned and genuinely affecting. The film also could serve as a reflection as Cage's own career: He was once a Hollywood hot shot, who did big blockbusters that audiences lined up to see, who eventually went into exile in a large sea of independent and lower-budget films made outside the Hollywood studio system. Rob's speech on his love and passion for cooking certainly feels like a presumed metaphor for Cage's own take on acting.
While Cage is always grabbing your attention on screen, Rob's backstory and reflections on life are left vastly underwritten. I wouldn't quite call it a comeback role, Cage has had some solid roles as of late in such films as Panos Cosmatos surreal-horror revenge fantasy Mandy, David Gordon Greene's Joe, and there is buzz out of this years Sundance that premiered titled Prisoners of the Ghostland that is supposed to be quite wild, but Cage was having a riot with the material in those genre exercises. The way Rob is written in Pig allows the audience to find a resonance about his loss that is easily recognized by people who don't have children, and who might only have animals they live with.
Perfectly cast, Cage renders a sincere, mesmerizing performance that has a wide range of danger, range, vulnerability, and  dark humor. Pig taps effectively well the agony of losing something as valuable as a pet. It's that rare kind of movie, revolving around one man driven mad, seeking revenge, who possibly ends up finding catharsis and remorse instead.