It's quite liberating and remarkable how in the last few years or so, transgender representation in cinema, television, and other forms of media is beginning to get true representation in the medium. Between Laverne Cox and other highlight indies like Isabel Sandoval's Lingua Franca, Sebastian Lelio's A Fantastic Woman, and Sean Baker's Tangerine, transgender visibility is now starting to gain normalization for once. Whereas just 7 years ago transgender characters were either played by Cisgender actors or were resorted to mockery in endless comedies. Now in the era of modernity where humanity is evolving and also trying to comprehend the science,  there are many that resist human progress due to fear, human progress, judgment, and transphobia.
Now comes newcomer filmmaker Danielle Lessovitz debut feature film Port Authority, a film that chronicles Paul (Fionn Whitehead from Dunkirk) a young homeless man who develops unexpected love with Wye (Leyna Bloom), a gorgeous trans woman in Harlem's ballroom community.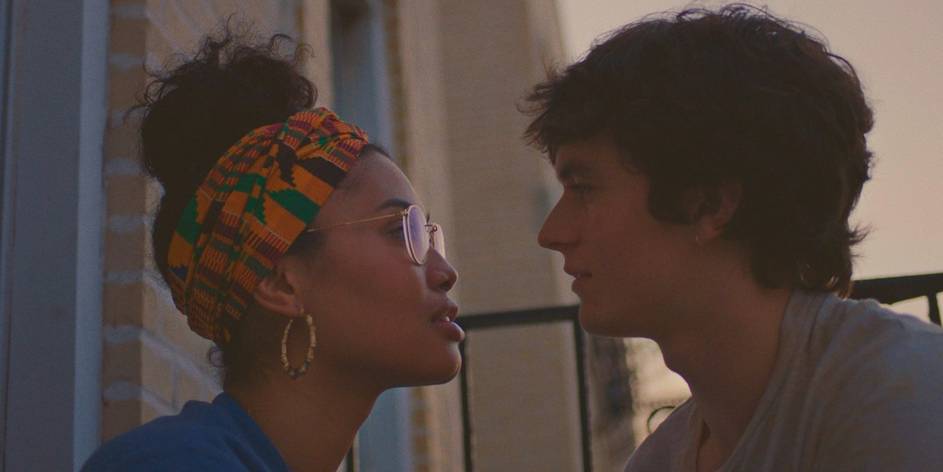 Lessovitz's film covers a lot of ground, if anything, the film is about self-discovery and discovering how love and gender go way beyond labels and sexuality. The film is also about poverty, community, familial bond, and how we allow prejudiced attitudes and influences from others dictate our genuine feelings. Very much in the vein of Cronenberg's M. Butterfly or even  The Crying Game(Minus the domestic terrorism subplots), Lessovit'z vision is like younger variation of those revelatory films, which was also about a cisgender male who unknowingly fall deep in love with transgender women without knowing that they are, both of those films (including many) were cisgender actors playing transgender woman who went through astonishing transformations for those roles, where in this film Wye is played by an actual transgender woman instead of a cisgender actor transforming themselves for the role.
Like those iconic narratives, Paul is drawn to Wye's striking beauty, compassion and he feels chemistry with her. Wye loves to model and she is part of a Black ballroom KiKi community where the community gives each other friendship, familial bond, love, and support for their members. It's a community where individuals who are ostracized by society and bigotry go to for protection. Paul, while a white cisgender male also holds a lot of struggles. A drifter from Pittsburgh who ends up living in a locker room at a hostel once his half-sister vetoes him living with her once he arrives in New York. Paul is immediately drawn into the KiKi community's sense of community and compassion.
Paul ends up encountering Lee (McCaul Lombardi), after Paul prevents him from getting up badly on a subway, and Lee ends up getting Paul a job as a mover that takes people's possessions once their rent is overdue. After first noticing Wye on the street while taking a cigarettes' break, he encounters her again after one of his roommates in the locker room wanders off to a small dance club that is part of Harlem's Kiki ballroom scene-a LGBTQ culture where the community showcases their talents. Paul is instantly drawn into Wye, he ends up finding her attractive, and doesn't realize that she is trans. Paul ends up finding out that Wye is trans after one of her friends informs him at a beauty contest: Paul ends up confronting her and explains to her that he isn't "gay" in which Wye combats back that she "isn't into gay men", it's here where the film explores how identity and sexuality are two different things and how society is overly obsessed with pigeonholing people's sexuality into a simplistic label that leads many feeling anxiety about due to outside perceptions.
While Paul feels Wye was being deceptive about her identity, Paul is even more hypocritical and deceptive. Paul holds a lot of insecurities and self-loathing. He yearns for a family, lies to Wye that he lives with his sister instead of the locker room, and he ends up appreciating Wye and accepting his feelings for her. Paul ends up wanting to impress Wye, he also wants a home and a family. Paul even hints at either getting his own place with Wye, which she chuckles at the idea because of how costly it is.
Lessovit'z film is very inviting and luminous, she invites us into the characters livelihoods quite well and her style reminds me a lot of Eliza Hitman's earlier films like Beach Rat and It Felt Like Love. Like Hitman, her camera observes her character's emotional states by observing them with many artful and poetic shorts along with a woozy ethereal score. She holds a lot of promise as a filmmaker and in many ways the film also echoes Isabel Sandoval's own Lingua Franca that is now streaming on Netflix.
Lessovit'z film isn't perfect, some elements in the narrative end up being way too contrived as way too many coincidences feel forced. Always engaging though, gorgeously observed, and certainly sensual, Port Authority is still a poignant character study, a sublime trans love story about self-discovery and redemption.