Some impressive work by a splendid cast, along with a breezy pace, delivers most of the deflections in See How They Run, a comic murder whodunit that's very much influenced by the style of Wes Anderson and Jacques Tati. With some brisk pacing along with a pedigree of deadpan hilarity by writer Mark Chappell, this London-based original screenplay that's influenced by the behind-the-scenes stage play of Agatha Christie's The Mousetrap generates some splendid joy for its cast along the way with its wry humor. But See How They Run will be easily dismissed by some as a pale imitation of Wes Anderson, with obvious comparisons to its quick edits, stylized camera work, and meticulous framing. The film also features Anderson regulars like Adrian Brody and Saoirse Ronan, who have also appeared in Wes Anderson's work as well. However, more forgiving fans of Wes Anderson should enjoy the wit of the film, and it should also please fans of Rain Johnson's Knives Out as well.
The film's premise is also loosely based on Christie's The Mousetrap, as it's a murder mystery within a mystery. This new film marks the feature debut of television British director Tom George (The Country, Defending the Guilty). On the basis of his work here, it appears George brings a charisma to his style and comedic performances from the actors, but he places too much faith in the actors and their Anderson/Tati influenced style to carry the vapid material.
Despite the familiarity, The Mousetrap's influenced premise does play well and allows a novelty for writer Chappel and director George to blend fiction with showbiz history that also plays as an ode to not only theater, but to old Hollywood as well with its 1953 setting. The film also has a caper format style to it, which brings some visual slickness and energy to the style that also has split-screen, brisk pacing, and energetic editing from its editors, Gary Dollner and Peter Lambert. Perhaps a little too showy and derivative for its own good, the film does lure you in a considerable way. Even though the use of split-screen doesn't really serve a purpose and doesn't astonish.
With a setting of 1953 London, The Mousetrap has been going strong for almost a year. The film opens with an accomplished Hollywood film director, Leo Kopernick (Adrian Brody), who has been invited out to London to study the stage play so he can adapt it to the stage. Leo is very arrogant, confrontational, and even attempts to lure actresses to sleep with him in return for getting cast in his film. He also wants to shake the story up a bit by adding more spectacle with guns and twists and turns in the vein of Hitchcock. He certainly brings bad vibes to London and creates many enemies of the bad. It doesn't take long for Leo to be murdered in the opening act of the film, and Leo becomes a dead man's narrator of the film. We also see Leo in flashbacks that show the buildup to his murder with the other characters.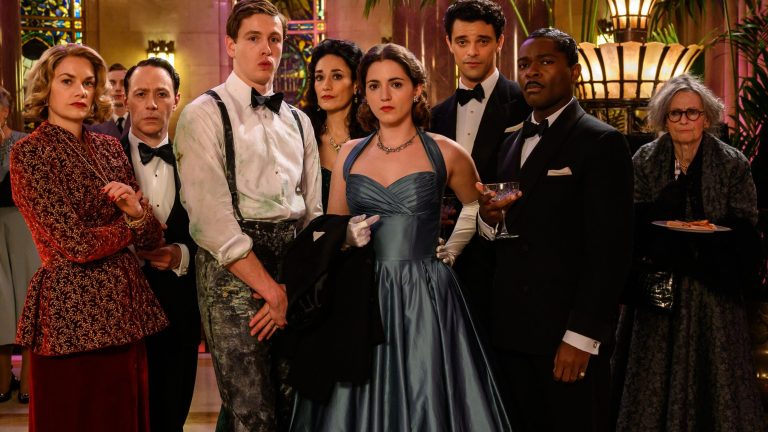 The narrative introduces its protagonists, featuring the duo of Inspector Stoppard (Sam Rockewell) and his rookie protege, Constable Stalker (Ronan), who investigate Leo's murder and search for clues as to who could have done it. Of course, the clues and evidence all point to Leo's fellow crew collaborators and even some of the cast of the stage play. The prime suspects include the film producer John Woolf (Reece Shearsmith), the screenwriter Merver Cocker-Norris (David Oyelow), and other cast members, including Richard Attenbourgh (Harris), in which Attenbourgh was a lead in the original play.
The pairing of Rockwell and Ronan makes quite a unique duo and brings some comical dynamics to the narrative. Ronan brings a comedic charisma to the material, and Rockwell is once again a downtrodden detective who has little patience for Stalker's novice oversights. He often ventures away from the stakeouts, and there is a comical gag where he claims he's visiting the dentist when he sneaks into a bar for drinks. Stalker notices the obvious odor of mints from Stoppard's breath, which he claims is to relieve his toothache. Stoppard is also tormented by a recent break-up, and he must maintain his own despair while trying to solve a high-profile case. Stalker is a rookie and tends to overthink everything. She writes every detail in her journal and sometimes her overthinking leads to some circumstantial evidence that backtracks on her with hurtful consequences.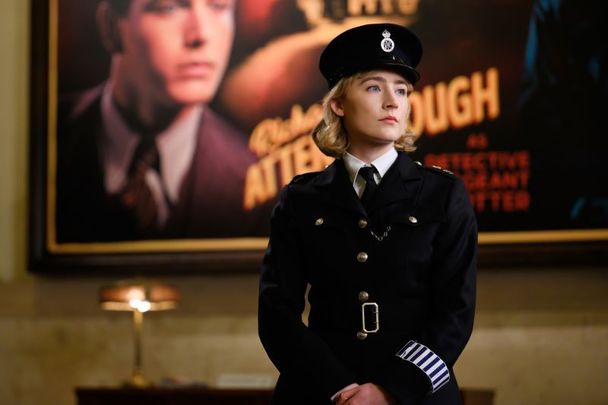 You can sense the cast and crew are in great spirits in this film. There are many references to classic movies, and it's a tribute to stage plays, cinema, and a bygone era. We even see posters in the background in Woolf's office of the great masterpieces as The African Queen, Laura, and Pandora and the Flying Dutchman. Many of the other characters come and go; some are more comical than others. The film is really Ronan and Rockwell's show. They are both wonderful with their chemistry, and Sam Rockwell actually has a British accent that oddly works because he's mostly depressed throughout the film. While See How They Run isn't breaking any new ground or doing anything challenging, the film's wonderful cast and pleasing aesthetics make it an occasionally amusing and charming film. Even though it's quite disposable and not quite as clever as it thinks it is, there is enough joy, charm, and deadpan hilarity to be found with the murder mystery and backstage mayhem.