Nuanced and unsettling, Charlène Favier's Slalom, the debut French film from Charlène Favier, tells the story of an inadequate relationship between an unfathomable ski coach and his highly insecure teenager sky racer.
A film that would certainly generate controversy and make American audiences uncomfortable if it were a more wide mainstream, American film–Slalom may have very lofty subject matter that is difficult to endure, but the film is a liberating study of precession that captures emotional truths of how these abuses and manipulations that tragically surface through sports and education. In her debut feature, Slamom shows Favier as a promising young storyteller who holds potential and talent that can possibly make her mark on indie and international cinema one day.
The Cannes-premiered film first-feature entry, has received unanimous praise and positive reviews for it's fearlessness and effectiveness, currently distributed by reputable indie film distributor Kino Lorber. With the right word-of-mouth, Favier's film should please sophisticated and more advantageous film viewers that seek more bold and complex films.
In many ways, the film echoes Darren Aronofsky's 2010 masterpiece Black Swan, at least in terms of one striving perfection, determination, and the psychical abuse one endures in being a athlete. The film focuses on a young ski racer Lyz (Noe Abita), who has won numerous tournaments and ski competitions at her age. With her skill and talent, she is invited to a French alpine ski camp to tighten her skills for more prestigious and more renowned competitions. It's there where the film becomes a psychosexual study on a young girl's desires and attempt to achieve perfection from a manipulative and harsh ski racing instructor  Fred (Jérémie Renier). Part social realism, part formalism, Favier blends two styles into one that feels like your eavesdropping into a subculture of the French ski racing community while it also holds a lot of formalism with her use of static and wide-lens anamorphic shots that allows Lyz to feel minuscule in this dominant world she is trying to inhabit.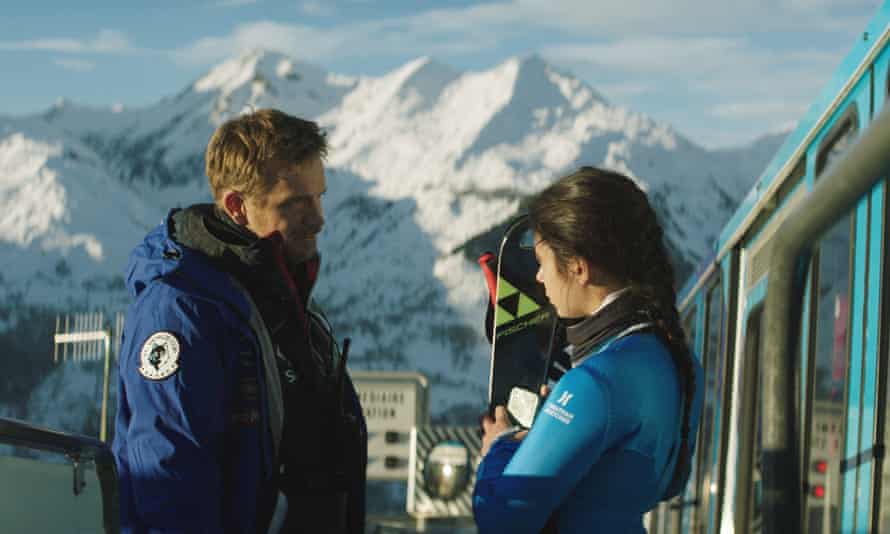 Fred holds the tropes of the assertive and bullish coach–Fred ends up finding himself attracted to Lyz and she is drawn into him as well. Fred is certainly inserting his power over her that gives Lyz a false sense of empowerment. Lyz at first feels his motivation comes from a place that motivates her full potential. However, Fred's intentions are clear and quite unnerving to say the least that leads to an uncomfortable relationship based on naivety on Lyz's part, and abuse of power on Fred's part. There is complexity and nuance to Fred, we can sense he holds some shame with his facial expressions, however he can't control himself as he continues to repeat the same actions as Lyz grows more fond and attracted to him.
Where the effectiveness and layers surface in this film is how Favier understands how abuse originates and envelopes the material into something that holds a strong moral compass that also captures the anxieties Lyz feels. What could have devolved into something exploitative is handled with a lot of ambiguity, nuance, and psychology. The film is more of a study of one coming to terms of one's oppressor and how one detaches themselves from it once they are caught in it. There is a very bleak scene where Fred and Lyz have intercourse for the first time, it's easily statutory rape as many conflicting emotions read Lyz's face that range from pain to confusion and pleasure, the scene is in darkly lit red room that feels hellish. This may seem very difficult for many viewers, and it's a very unnerving material, but the film is handled with a lot of maturity and care. The film also feels liberating once Lyz finds the courage to understand that she is being manipulated and controlled. The film triumphs in putting the viewer into the shoes of Lyz and allowing her subjectivity to be the center of the story, there are many stories out there from young women who have experienced these situations.
Since the narrative is lofty–mostly a two-handler-and also edgy, the film is anchored by strong performances and shifty styles. It's in these two departments where Favier demonstrates her skill as a potentially gifted filmmaker. She also does a balanced job in never allowing her style too feel showy or feeling too derivative of others work for a debut film, and she never allows the material to feel sensationalist either. The director manages to keep the quality of an honesty  coming-of-age story into a bold and serviceable one, allowing the fragile material to speak for itself.