While there are many laughs that last throughout the course of the running time in Spin Me Round, the fifth film from writer-director Jeff Baena (Horse Girl, The Little Hours, Life After Beth) that aims to be a #MeToo satire that also takes satiric aims at an Italian restaurant chain like Olive Garden, it eventually ends up losing a lot of its momentum with inconsistent tonal shifts that don't quite reach the comedic potential it hints at. With a talented cast that consists of comedic actors like Alison Brie, Aubrey Plaza, and Molly Shannon, all are given some sharp writing and moments of bliss, while the film is a sporadically funny travel comedy that falls apart in the last thirty minutes as it boxes itself into a painfully unfunny finale.
While highly watchable, even though the film's satire doesn't quite reach the heights it could have. The film is a very loose film that really becomes messy and all over the map. The film has a lot going for it that could have benefited from another rewrite or two by its writers, especially in the third act, which Baena and lead (and producer) Alison Brie wrote the screenplay for.
Alison Brie is terrific as always where she plays Amber, a manager of an Italian chain restaurant in Bakersfield, California called Tuscan Grove, which is certainly a riff on Olive Garden and Maggiano's, in which the Fettucine alfredo sauce is poured out from a plastic bag rather than being made from scratch in a pan. After being with the company for nine years, she ends up being selected by her regional manager (Lil Rel Howery) as one of the best managers in the Tuscan Grove region, and she is awarded the opportunity to go on a corporate retreat to Italy with other fellow chain restaurant managers from throughout the country.
Amber has high hopes for the trip, she even tells her friend that she might fall in love, which sounds like a pipe dream. With hopes of becoming Under the Tuscan Sun, she ends up meeting her fellow Tuscan Grove employees at the airport parking lot, which includes the irritable Deb (Molly Shannon), enthusiastic Jen (Ayden Mayeri), giddy Suee(Debby Ryan), conceited Fran (Tim Heicker), and the eccentric Dana (Zach Woods). In their minds, they think they are going to an Italian paradise in an elegant villa, but they end up being escorted to a very drab hotel instead of the elegant high-end motel nearby. They are chaperoned from the airport by Craig (Ben Sinclair), the coordinator, who collects their passports and forbids them from going out and enjoying the Italian night life. What appeared to be an exciting vacation quickly becomes monotonous.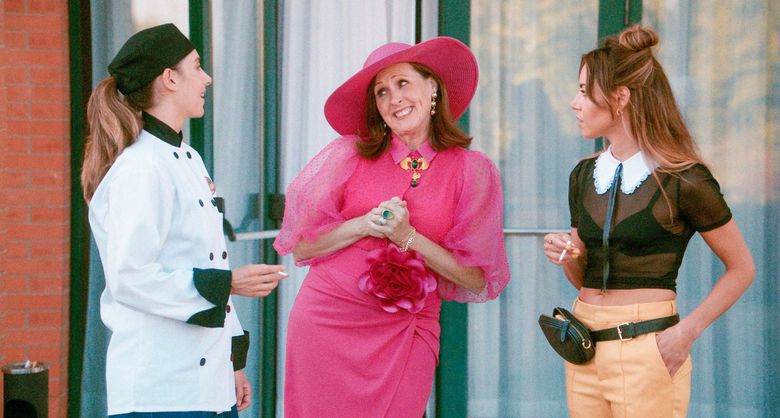 While on the potentially lifeless trip, they do get the opportunity to meet the chain's head chef (Lauren Weedman), and they eventually are star-struck once they meet the savvy founder and CEO, Nick (Alessandro Nivola). You can instantly sense Nick is philandering with the women and very distant towards the men, and he is accompanied by his assistant, Kat (Aubrey Plaza), who appears displeased. Eventually, Kat lures Amber out of the culinary classes and drops her off at Nick's yacht, where romantic sparks take off and he charms her as he takes her on a lavish boat ride. Nick instantly charms her, and Amber is taken away, but by the tone of the film, you know it's not some Hollywood romantic formula.
But you can still guess where the show is headed while throwing in some other random surprises that aren't that comically inventive or surprising. After a second date goes terribly awry between Nick and Amber, in which Kat instantly drives her away from an Italian sculptor's party where Amber gets heckled by a jealous Italian woman, she begins to open up more to Kat, in which she has her own romantic feelings for Amber as well. Some of the scenes between Plaza and Alison Brie contain some of the most memorable moments in the film. Amber eventually learns that other women could be preyed upon, and while it's here where the film has the opportunity to become quite combative and rich in satire, it ends up collapsing into some very drab humor that consists of a sex orgy, Sarda pigs, and a whole slew of other misunderstandings that feel like they belong in a completely different film.
Overall, Spin Me Round is a very watchable film. It would make for a pleasant hangout movie with some friends, and Alison Brie is very comical and equally vulnerable in her performance as a lonely restaurant manager who is looking for love after being in and out of unsuccessful relationships. However, the film eventually blunders and never quite reaches the full nuance of such a fragile character. The film starts off quite hysterical with a tremendous buildup but slowly derails into disenchantment. Only if the film was a little more combative with its subject. It lays out its targets, has a healthy dose of vulnerabilities, and is served by some very fresh commentary and satire. The film appears to let Nick off too easy as well. The film certainly spins itself around, eventually not knowing where it wants to land or how it wants to conclude.