Sharply scripted and ripped with satire about class, privilege, and broken fidelity, John Michael McDonagh's latest film certainly channels some older classics like Michael Curtiz's Casablanca or Alfred Hitchcock's The Man Who Knew Too Much about privileged and successful people who travel to North Africa only to walk into some incidental disarray that instantly alters their lives the moment they are on vacation.
Although it is an adaptation of Lawrence Osborn's 2012 novel of the same title, it is channeled by McDonagh's love for deconstructing genres and defying expectations that he's known for in the 2011 anti-buddy, anti-hero comedic romp The Guard, as well as the Irish dark comedy Calvary, which both featured Brendan Gleason. This time around, McDonagh utilizes Osborn's ideas to create a lurid morality tale that's also a comprehensive sociopolitical satire on the remains of a dead young boy in which the incident threatens to explode the lax ethics, morals, betrayals, and other ills between a wealthy married couple and the local Moroccan residents deep in the Sahara.
McDonagh, once again serving as writer, has managed to arrive back at his polarizing destination in his last film, War on Everyone, which offered dark humor but was considered a more middle-ground entry from McDonagh. Employing the same energy and sharply written (and at times overwritten) dialogue as his previous endeavors, McDonagh's film is another deeply compelling film about relentless characters doing some very relentless things, but McDonagh carries the material through with his fascinating use of Moracco locations along with the rapid-fire energy of the storytelling and performances that ultimately finds a redemptive arc in its impressive third act and abrupt finale that certainly recalls the work of classic noir movies and thrillers from the 40s and 50s, especially Alfred Hitchcock.
Simply put, this film will have a difficult time suiting the tastes of film fans looking for "likeable" characters (a cliche criticism I'm beyond exhausted hearing about) with "satisfying" and simple conclusions, but more mature audiences that are craving films with deeper moral ambiguities and complexities. Ultimately, this film will probably be satisfied with filmgoers looking for something a little more unconventional.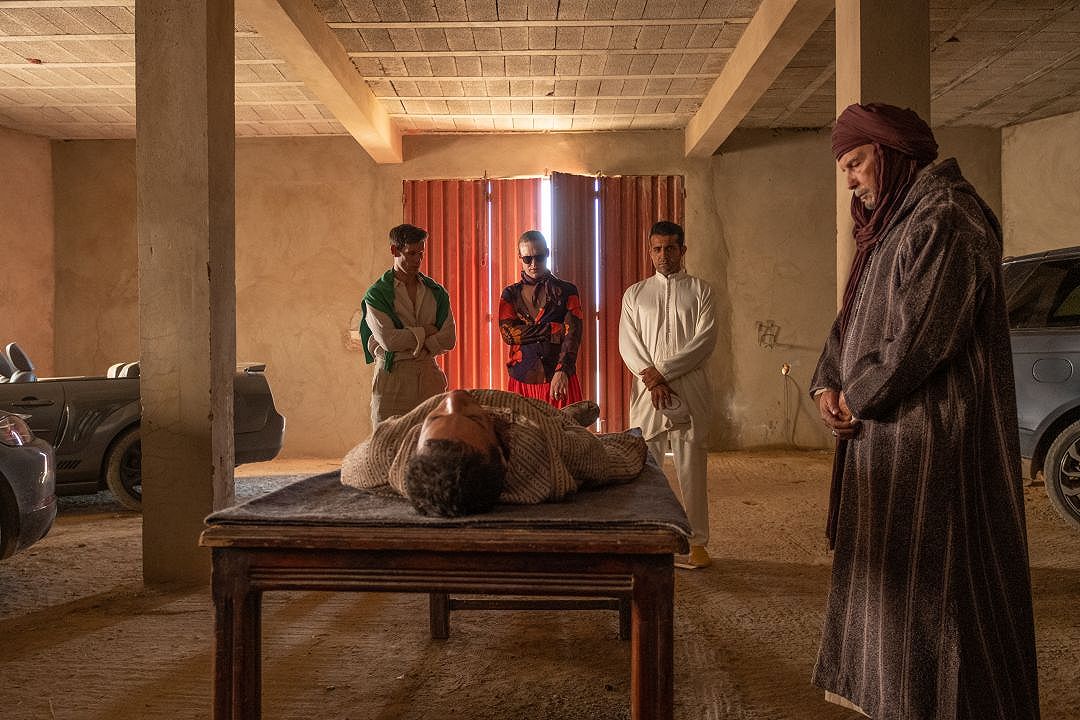 Working with the bigger actors of his career, Jessica Chastain and Ralph Fiends are perfectly cast as a bourgeois married couple who have certainly grown apart from each other. The story begins with once-acclaimed American novelist Jo Henniger (Chastain) and her British doctor-husband, David (Fiennes), in a heated argument in the car on their way to a late-night dinner party hosted by their wealthy friend Richard (Matt Smith) and his toxic boyfriend, Dally (Caleb Landry Jones) in the High Atlas Mountains.
Just before this build-up, we are introduced to a teenage boy named Driss (Omar Ghazaoui), who, like his fellow locals, tries to sell artifacts, fossils, and other specimens of his homeland to the wealthy tourists. As David drives and debates more fiercely with Jo, it's clear he has had a little too much wine to be behind the wheel, and he accidently hits Driss with his car and instantly kills him. David ends up burying the boys' photo ID and puts the body in his car, which he takes to Richard's resort, where they contact the local authorities, who rule the death a car accident. David feels relieved and feels like he's in the clear to carry on the night activities until Driss' father, Abdellah (Ismael Kanater), arrives at the property and demands that David travel back to the village with him to pay respects to the body. Richard encourages David to go out of respect for their culture, as Jo is frightened that they could be "ISIS" members. David agrees to join them and is accompanied by a local driver named Anour (Saïd Taghmaoui), who can also translate English. David is corrected for his impolite behavior after repeatedly referring to Driss as the "boy," to which both Anour and Richard respond, "His name is Driss."
From there, McNaough has a build-up that shifts back and forth from David's journey to the village, and back to the resort, where we see the elite party in the most absurd ways, as if they were in a Bunuel or Godard film. The editing back and forth is very seamless and always involving. It's quite impressive just how balanced the crosscutting is between the two narratives. Joe is certainly startled and worked up after just experiencing the accident. She is, in fact, deeply concerned with David, but you can tell she has fallen out of love with him romantically. She ends up encountering a fellow American financial analyst named Tom (Christopher Abbott), with whom she ends up having a quick affair. Other supporting characters appear, including an Australian model, Cody (Abbey Lee), who is always drunk and wasted and wakes up in random desert locations, and a French photographer who is covering an acclaimed filmmaker at the resort.
Despite some of the film's obvious criticism of Western oppression, to its credit, McDonagh's attention to writing and character lifts it away from being just a preachy lecture on class structure and white privilege. It's a sophisticated screenplay in which Ralph Fiennes finds some growth and rejuvenation as a man aware that his class and status can always pull him out of dire situations, but sometimes one must be confronted with their own demons before it leads to moral destruction of oneself. This uniquely unsympathetic, satirical film ends up earning a redemptive arc with tragic consequences. McDonagh's fourth feature is harsh, it's sophisticated, and it has both a dark sense of humor and a moral duty.
The Forgiven is now playing in Limited Theaters including MJR Troy, AMC Forum 30 Utica, and the State Theater, Ann Arbor, MI