Considerably scaled down in scope and visual energy from his previous Oscar nominated existential films, The Great Beauty and Youth, Paulo Sorrentino's The Hand of God is an artfully crafted and deeply personal coming-of-age-story that chronicles a 17-year-old boy's small-town live siren in early 80s Naples. Combining a semi-autobiographical coming-of-age story with droll humor and a family melodrama that consists of a family tragedy, the film is certainly derivative of the work of Federico Fellini in terms of depth, visual style, and themes. But its message of young creative pursuits in the wake of tragedy gives the film some emotional depth that should give it some commercial appeal with its Netflix drop. An official entry for the Academy Award for Best International Feature Film, an award Sorrentino has won before with The Great Beauty. However, Sorrentino will endure a very crowded field this year with such titles as Drive My Car, A Hero, Flee, and Titane.
Paolo Sorrentino's screenplay is certainly based on some aspects of his youth, when he lost his parents at age 16 and became an orphan. The tragic story becomes a vehicle for the young Italian actor, Filippo Scotti. While Scotti, who has mostly acted in short films, now has the opportunity to shine as an actor after working with such a renowned filmmaker, should now have a greater opportunity to be cast in more vintage Italian films, it will only be a matter of time before an American auteur or Hollywood begins calling due to his onscreen charisma and charm. Sorrentino, who brings a wide range of tones to the film, brings some light touches, absurdity, and some emotional rawness to the film. Sorrentino overall takes a solemn approach to the central drama with some self-control that was left sporadic and over-the-top in Youth, while at the same time, Sorrentino's vision feels honest without ever feeling self-indulgent, while retaining a substantial degree of humility and grace.
The tonal shifts, however, are jarring at times, juggling between realism and abstraction, dreamy erotica merged with desire, and absurdist humor. In which Scotti delivers an authentic and natural performance filled with many ripe caricatures, some of which feel like Sorrentino is mocking them at their expense. Regardless, it appears Sorrentino is joining the ranks of other filmmakers who recently returned to their formative years through fragmented memories. Kenneth Branagh returned to his youth in Belfast. Johnna Hogg made a deeply personal tribute to her experience as a young woman in England in the 80s, with her Souvenir films, and just recently, Alfonso Cuaron delivered insights into his childhood in the 70s with Roma.
By pulling from his own experience and even his own exaggerated family members, Sorrentino follows the image of his teenage self as Fabietto (Scotti), a shy young man who has long curly hair and constantly listens to his walkman. In the beginning stages of the film, he mostly just observes as the chaos formulates around his family, including his high-spirit father, Saverio (Toni Servillo, a Sorrentino regular), his good-natured mother, Maria (Teresa Saponangelo), and his aspiring actor brother, Marchno (Marlon Joubert), who has dreams of moving to Rome to act and to hopefully be cast in a Fellini film.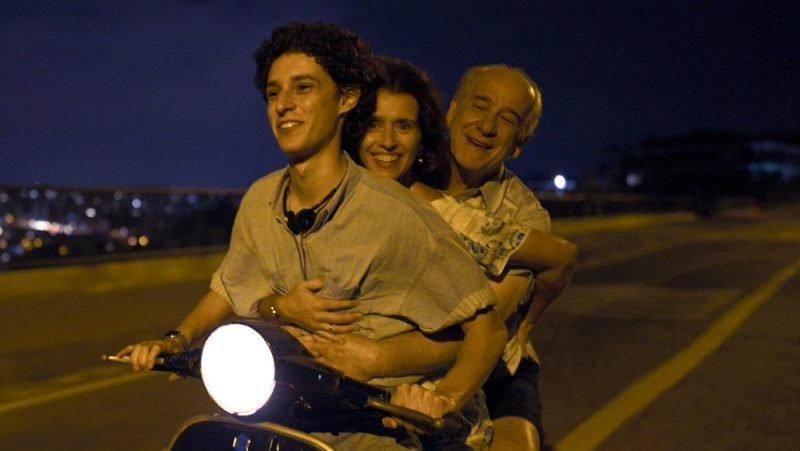 We're also introduced to Fabirtto's aunt Partizia (Luisa Ranieri), who everyone desires due to her beauty and who is trying to flee from her abusive husband, and Fabritto shares a bond with her, even having some desire for her that he holds back due to her undeniable beauty. Their bond has sensualness, but there is something parental about it as well. One of the most memorable scenes in the film is where Fabriotto has his first sexual encounter with his neighbor, Baroness Focale, in which he finds himself yelling out to Patrizia after she orders him to look away from her and think of a girl that he desires. What would often be dismissed as incestual or in poor taste, comes off as rather thoughtful in how it's staged and played out.
There are many other scenes that shine with its episode nature–like Saverio using a long pole to switch the channels instead of a remote. "We're communists and honest to the core." The moments with the parents hold some of the most tender moments, especially an outstanding tracking shot of Fabietto riding a motorcycle with his father and aunt, which is very affecting. Servillo and Saponangelo are also first-rate in their scenes together, and the film becomes more somber and emotionally disconnected by design as they leave.
As Fabietto becomes an orphan once his parents depart from a carbon dioxide leakage in their room, in which Fabietto can't even see their dead bodies. Sorrentino positions the film more into an observational character study about a tale of self-discovery as Fabietto begins to hold ambitions in being a filmmaker. Even though he admits to only seeing a few films, like Sergio Leone's Once Upon a Time in America, he feels determined to create films once he experiences grief as he wants to share his grief to the world.
Fabietto has plans to move to Rome, where the film industry is, while his brother travels elsewhere, where she begins to hold different perspectives on life. Fabietto also has an encounter with Italian filmmaker Antonio Capuano (Ciro Capano), who gives him great wisdom on how nobody advances forward without conflict or suffering. The conversation allows us to understand Sorrentino's framework and who he is as a filmmaker. Sorrentino is also friends with Antionio Capuano, who, in fact, became a mentor for him throughout the years. Sorrentino examines, in many affecting and profound ways, how great art doesn't come from a place of joy. Sadly, many do experience torment that they carry with their art in ways that become therapeutic and equally relatable for many audiences who can identify and empathize with such agony.
In the end, Sorrentino has crafted a richly satisfying coming-of-age story that is both resonant and tragic. While the filmmakers' visual flourishes are by no means entirely absent, the film represents a sharp departure from his over-stylization that has been accused of being derivative of Fellini and over-directed. Here he slows things down, observes his characters a little more, and the film becomes a sensual and sensitive portrait of grief, growth, and self-discovery.