Stephen Karams' experience as a playwright and screenwriter (The Seagull, Speech & Debate) delivers him promising directing skills in The Humans, a Thanksgiving family reunion dark comedy that is carried out with caustic humor and original characters who hold a lot of complexities. Released by A24, the film suffers from tonal shifts but is anchored by a strong visual style that is well staged by Karem who shows great potential as a filmmaker. The Humans first-rate cast, exceptional blocking of the characters that is riddled with some horror tropes, and some emotionally raw payoffs that showcase a dysfunctional family make The Humans a notable debut feature.
The gloves come off early on, as a family disintegrates in a verbose manner that is adapted from Karam's own 2016 Broadway stage play of the same name. The film spends its 105 minute running time observing the enduring erosion of a family, and Karam even uses insert shots of rust, mold, flickering light bulbs, and cracks in walls to symbolically represent this in between the dialogue exchanges. While confined to just one locale, like many cinematic adaptations based on stage plays, Karam's film is staged with enough visual energy and impressive blocking to prevent it from feeling overly verbose and hermetic. Karam is still able to stay true to his theatrical origins.
Set on Thanksgiving Day in a newly-rented, corroded, and unfurnished two-level Manhattan apartment located in Chinatown, that is rented out by Bridgid (Beanie Feldstein) and her boyfriend, Richard (Steven Yeun). Coming into town from Scranton, Pennsylvania are Bridgid's father, Erik (Richard Jenkins), mother Diedre (Jayne Houdyshell), older sister Aimee (Amy Schumer), and wheelchaired grandmother Momo (June Squib). Karam ends up following the traditional formulas of the holiday gathering gone crazy set-up, which includes family tensions that stem from animosity, bitterness, confessions, and revels that lead the material to a solemn catharsis towards the payoff.
Eerily shot, Karam and cinematographer Lol Crawley (Vox Lux, 45 Years) bring a macabre atmosphere to the two-level apartment with narrow hallways that feel straight out of a horror film. The single-set confinement holds the claustrophobic atmosphere of the works of Roman Polanski, especially the hallway that feels like it's straight out of Polanski's Repulsion. The film also unfolds in slow passages of time that are semi-realistic as the film unfolds in the Manhattan apartment, and the staging consists of mostly long takes, slow push-ins, camera movements, and birds-eye shots that have the visual language of a horror film.
The most effective aspect of the reunion and film is just how Karam allows the drama and repressed anguish play out of the family and how it slowly percolates out just like the minor water cracks that are slowly seeping through the walls that serve as a metaphor for the families sorrow. It's staged through subtle exchanges and reserved conversations instead of Eugene O'Neil style of monologues–in which this play is certainly influenced by with its complex and emotionally distant characters. It should also be commended how Karam allows the actors deliver their roles with more restraint instead of devolving into histrionics or emotiveness that often occurs in screen adaptations of stage plays.
In many aspects, we spent nearly 100 minutes with characters that were nearly lightly-sketched, but Karam gives us just enough depth to establish who they are as emotions begin to come out. Each character is given some strong characterizations as well. Richard is clearly the outsider of the family (he's Korean-American and is more intellectual than Brigid's family). Brigid's family are church-goers who champion individualism, and Erik is very concerned about their New York apartment getting flooded. He is also very handy as he recommends how Richard and Brigid should do small repairs around the apartment. Grandma Momo, sadly suffering from dementia, appears to have been a person of faith. Deidre is also a woman-of-faith who often holds many passive-aggressive remarks on how a family friend's lesbian daughter just died of suicide, which are obviously directed towards her older daughter Aimee, who's a lesbian who is suffering health issues and heartache from a bad break-up. But none of these are condemned; they feel more reserved as Kara reaches a level of authenticity that works for the film.
Both parents can seem to be supportive of the apartment Brigid and Richard just worked for. Erik even ends up taking aims at Brigid for moving out of state for a much more expensive private school in New York, and Karam shows in very subtle fashion how Brigid's family isn't completely supportive of Richard as he feels disconnected from the family, even after he tries bringing up conversations and proclaims how grateful he is to Brigid and having a new family in his life, but you can also sense they are trying their best to be supportive, even though deep down inside they are probably having a difficult time. The awkwardness and façade play out up until the big secret in the climax that reveals complete hypocrisy from Erik.
The best way to summarize The Humans is that it plays out like a minor horror movie with horror tropes that just doesn't hold any supernatural elements or gore. It's certainly a drama, but it recalls the horror films of Roman Polanski with their confined settings and psychological elements that showcase the tension rising between everyone. One of the most expertly staged scenes in the film is a long take–a Brian De Palma style arc shot of the family using a hammer on a glass pig to stress what they are grateful for.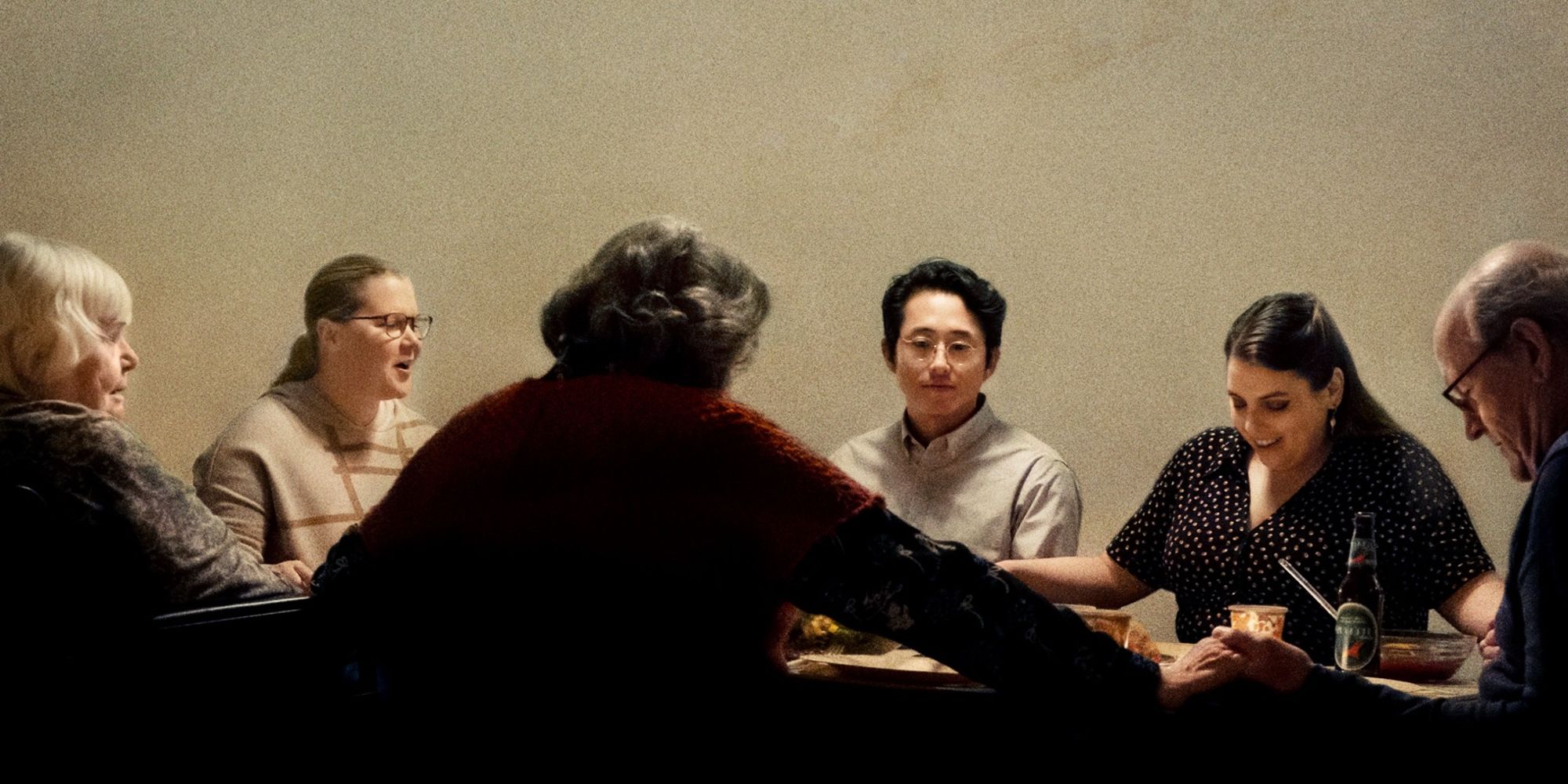 Karam's use of the apartment with production designer David Gropman should also be commended as it also stages the drama through a frame-within-a frame where we see characters walking in and out of rooms and in and out of the view of the camera as Crawley and Karam observe the decaying décor of the apartment. At times, the camera lingers over images of pipe damage, mold, and humidity that also invoke a Kafkaesque feeling. In a very effective moment, when Aimee is receiving unwanted news from her ex-girlfriend, she turns on the water to make it seem like she's legitimately using the restroom. The camera drifts with insert shots and extreme-close-ups of the water traveling through a rusty sink, passing through pipes, and where it causes corrosion on the tile.
Aesthetically and narratively, The Humans pulls it together with an ambiguous third act that's also laced with catharsis that doesn't quite reach the reconciliation that it should have. While balancing the characters, each of the cast members delivers their parts and is given a strong moment to shine. A moment of life is brought in once Deirdre reads a letter out loud from Momo's; a letter that she wrote right before her dementia brings some sincerity to the material, so it doesn't feel completely cold. Jenkins, Schumer, Squib, Yeun, Houdyshell, and Feldstein all deliver richly drawn characters, bouncing their energy off each other in a way that always feels convincing. Everyone has their moment to dominate the ensemble. The harsh, brash approach of the writing and conceptual vision to the aesthetics adds a surprisingly tremendous impact to the film's dramatic and visual patina. It will be quite fascinating to see what Stephen Karam does next in the cinematic realm.