Now offering six of their own animated productions each year, the Netflix team has taken the animated feature into a new terrain of impressive and narrative design that is now highly competitive with Disney and Pixar, proving that animation is more than a genre, it's a style of filmmaking that comes in many different modes in the narrative film, ranging from drama to comedy, to family and adult orientated narratives.
While immensely familiar in concept, Netflix latest animated feature The Mitchells vs. The Machines in many ways feels like Pixar's 2004 classic The Incredibles as it tells the story of a dysfunctional family that come together and discover their strengths within their flaws and imperfections to save the world from evildoers–except they aren't superheroes but they are just an ordinary family that hold some of the same dysfunction. Like other animated films, the film holds a lot of inside-jokes and numerous pop-culture references and nods to many great films and filmmakers. Most importantly, there is an emotional core at the film that goes beyond all the pop-culture hoopla.
An energetic film, The Mitchells and Machines still feels fresh and accessible. The fresh, often sophisticated humor merged with the family dynamics works in very affecting ways, which will easily satisfy families; while the themes of technology creating people to become more dependent on technology and disconnected from each other and even from our families' gives the film some intriguing layers and subtext about our modern world and the course we've been going.
The story feels very modern too, it does take place in 2020 in a COVID free world of course where smart phones, social media, cameras, TikTok, YouTube, Instagram, and technology run supreme. The saga is a mishmash of two different film genres, the road trip comedy and the sci-fi rise of the machine doomsday apocalypse type of movie. The film is co-written and co-directed by Mike Rianda and Jeff Rowe and produced by Phil Lore and Christopher Miller who are the creators of The Lego Movie and Lord also co-wrote Spider-Man Into the Spider-Verse. So it's no surprise how chaotic, dizzying, and of course cleverly done this animated film can. The film focuses on an aspiring teenage filmmaker Katie (Abbi Jacobson), her younger brother Aaron (Rianda), and her parents, Rick (Danny McBride) and Linda (Maya Rudolph). The film focuses on the family dynamics in the first act of the film where we obviously see Katie and her father at odds with each other due to their generational clash where they find their passions different. Rick doesn't take Katie's film videos seriously, in which Rick wishes Katie would get off the technology and become more handy around the home and embrace the natural world more in which he has a fondness  for nature and hiking.
Katie applies to a top-tier film school out in Los Angeles and is accepted, Rick decides to take the family on one last road trip as they all travel out to La to drop her off at the film school. Meanwhile, bored in the car and watching videos on their signs, Katie and Aaron watch live stream videos on the new technical debut from Mark Bowman (Eric Andre) a Silicon Valley CEO who owns a company named PAL (Voiced by Olivia Colman), who also is the name of his device who is also his friend, like an animated version of Alexa. Once PAL is about to to be replaced by a new form of robots, actual androids that can cook, clean, and do laundry PAL infiltrate the robots and bands an army to turn on the humans and to launch them all into space (which isn't too difficult because the containment cells for humans come with free WI-FI), the Mitchells end up seeing the world collapse as the robots begin to invade humanity in all parts of the world.
The film is a little too overbearing on the pop culture references and film nods. The film's finale also gets overstuffed with too much action that all feels exhausting and familiar. The film does hold some social commentary on our addiction to technology. It also makes commentary that it can bring us together and make us more respected with it. For instance Rick begins to learn social media more and Linda earns the respect from her neighbors named the Posey's (voiced by John Legend and Chrissy Teigen,) who agrees to start following more on Instagram. While it's true, it's nearly impossible to live off social media and technology these days in the new century, the film seems to send off conflicting and mixed messages. Perhaps the point is to show the flaws of it, while also examining how we have to learn to live with it as well.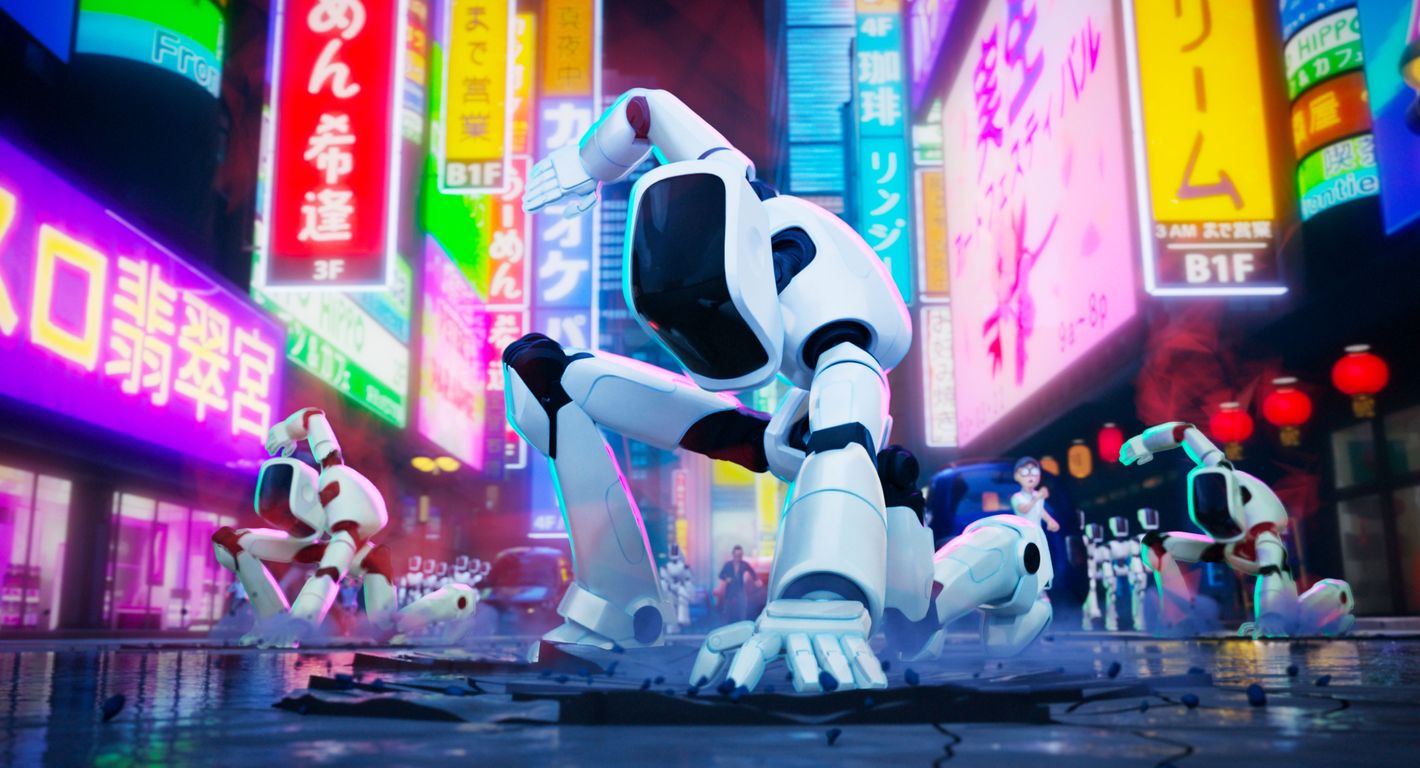 Where the film triumphs the most is the message of family. How families should come together and embrace one another and to support each other. The film encourages and hopes the family will overcome their disconnect–even if it means it can take an apocalypse to realize how much you appreciate the loved ones around you. The idea that families should respect and encourage their loved ones to pursue their true dreams and passions, encouragement and positivity can lead to more self-worth in the individual and create more warmth for the family. The Mitchells and the Machines is conceived as a highly amusing and overall clever animated fare for children and families that is easy to commend.