Tom Gormican's The Unbearable Weight of Massive Talent might be self-aware, but the film certainly delivers some very hard belly laughs. A two-hander buddy movie is powered by the chemistry between Nicolas Cage and Pedro Pascal (where Cage plays a fictionalized version of himself), and it is—not to sound redundant with other reviewers—a hilarious meta film for diehard Nicolas Cage fans, but for film buffs and cinephiles as well. Already screened to positive reviews at the 2022 SXSW Film Festival, this film should do well commercially and perhaps enter into cult movie status as year's go by–especially for Nicolas Cage aficionados who were recently impressed with such edgy indies as Mandy and Pig.
The Unbearable Weight of Massive Talent presumes that Cage, who plays himself with a varying degree of self-parody, zaniness, and even some restraint–would travel outside the country to visit a wealthy arms dealer named Javi (Pedro Pascal), a billionaire ultra-fan who resides in southern Spain and pays Nicolas Cage to celebrate his birthday. What The Unbearable Weight of Massive Talent offers among its meta dimensions that we have seen before in such films as Robert Altman's The Player, Michael Witterbottom's Trip movies, Spike Jonez's Being John Malkovich and Adaptation, in which Nicolas Cage played Charlie Kaufman, and Alejandro G. Innartitu's Birdman, was clearly written for Michael Keaton.
Unlike those films, The Unbearable Weight of Massive Talent isn't as cerebral or sophisticated, but it does offer some razor-sharp wit with its movie insider commentary, and at its core, it's really an action-comedy buddy movie that's uproariously funny. There were a few gags in the film that almost made me pass out from laughter as I had some tears rolling down my eyes. We have also seen meta films like this before, with actors playing themselves in such films as Wes Craven's A New Nightmare (Robert Englund playing himself playing Freddy Kruger), My Date with Drew (Drew Barrymore), My Name is Bruce (Bruce Campbell), and JCVD (Jean-Claude Van Damn).
Cage and Pascal (who, Cage makes clear, he's there to celebrate Javi's birthday but to not accept any roles in unsolicited scripts) engage in banter, arts, cinema, family, fatherhood, and they even get drunk and high together as they end the night watching Paddington 2 together. Their exchanges are hysterical; Cage's reflection on Pascal's script after he agrees to read it, claiming it feels like a cross between Cassavetes, Iñárritu, and Lars von Trier is one of the film's most hilarious moments. At one point, Javi brings up his love of Guarding Tess and takes him to a hangout mini-museum room that is filled with Nicolas Cage memorabilia, including a wax figure of his Castor Troy character in Face/Off, with gold-titanium pistols from the movie and all. Both men reflect Nicolas Cage's career, and we have many wonderful odes in the movie to Face/Off, Con Air, Mandy, and even Leaving Las Vegas as Cage dives into the pool with an alcohol bottle in hand. The hilarity and meta spirit in the film are quite clever and uncanny.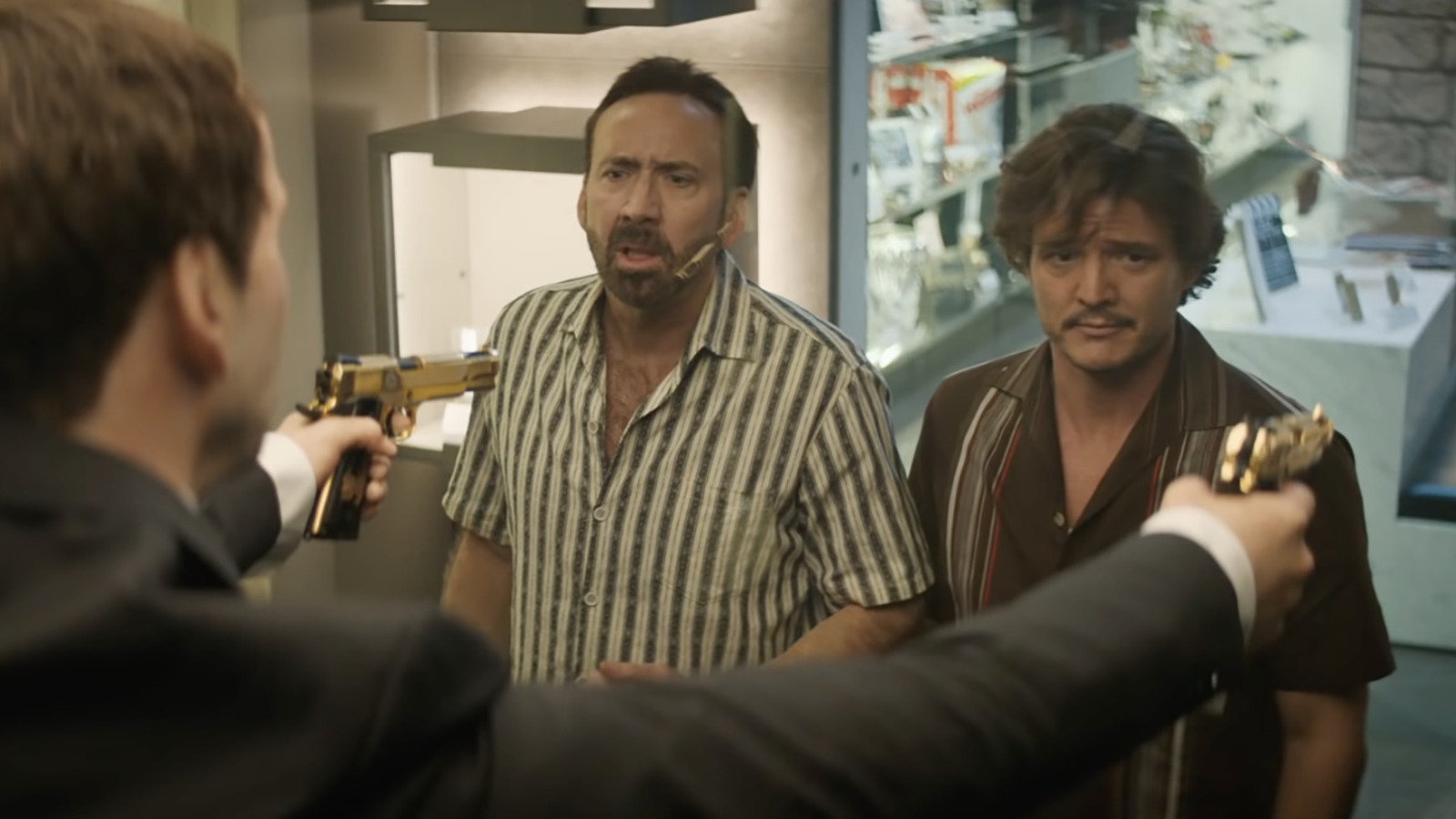 Pascal may not be quite the seasoned actor or celebrity actor as Cage is, but he's certainly an amusing character and hones in on a suspenseful subplot that keeps the narrative momentum going. Two CIA agents, Vivian (Tiffany Haddish) and Martin (Ike Barinholtz), are on a secret mission to gather intelligence on Javi because they allege Javi, and his arm dealers are behind a recent kidnapping of the president of Catalonia's daughter. On the other hand, with his "actor instincts," Cage holds a lot of doubt that Javi would be capable of pulling off something so menacing.
Ultimately, Cage is coerced by Vivian and Martin (who are also Nicholas Cage fans but like different films Cage has been in due to their age gap) to extend his stay as a mole to get as much information about Javi as possible. This allows Javi to get closer to his all-time favorite actor and to even possibly get a step closer to getting Cage to sign onto his screenplay. Cage spends a lot of his time contemplating and venting about his disconnect with his daughter Addy Cage (Lily Sheen) (daughter of Michael Sheen and Kate Beckinsale) and ex-wife Olivia (Sharon Horgan), in which Addy and Olivia are fictionalized versions of Cage's ex-wife and daughter, but it's still convincing to hear Cage moping around and venting to Javi about his regrets and failures as a husband and father.
We also get a credible portrait of Cage, sporting a beard, and desperately auditioning Shakespeare to David Gordon Green at a Hollywood lunch. We see Cage still thirsty for quality work, but he appears to be a Hollywood legend who is no longer in line for all the meaty roles. While Cage has, in fact, gotten quite a few memorable roles in the last few years, the perception of Cage is that he does way too many movies and he's often over-the-top. The details here are very vivid and convincing enough to uphold his persona. This fictionalized version has him as a divorced father who is disconnected from Addy, because all he ever wants to talk about is his acting career. During a therapy session, it is revealed that Nic Cage is very one-sided as he forced Addy to watch The Cabinet of Dr. Caligari because it was one of his favorite movies, never giving any consideration that his young daughter would be interested in a 100-year-old silent German movie.
Cage is shown as a narcissist who is too self-absorbed in his own well-being to consider others. Yet Cage is in all the jokes–we even get a few hilarious scenes of a younger, de-aged Nicolas Cage during the Wild at Heart era that motivate him to be the Cage he should be because he appears to lack confidence and holds a lot of self-doubt. The alter ego of Nic Cage, named "Nicky," is like the red devil on his shoulder that tells him to be the more heroic Nic Cage that we have seen before in films like Face/Off, National Treasure, and Wild at Heart. These exchanges also generate some of the most laughter.
In the end, The Unbearable Weight of Massive Talent is cleverly self-aware, and Nicolas Cage is at the center of it all. Gormican plays up the parodic nature of Cage, but he also ends up elevating him into a film that is sharply scripted and competently directed. There aren't enough stellar set-pieces or polished scenes for it to be hailed as stylish or visually slick, but it remains an interesting play on the balance between celebrity and perception in cinema. The films' execution isn't always successful. Some of the elements involving the drug cartel and the shootouts feel very broad, and some of the jokes are recycled over and over, but Cage and Pascal's chemistry and exchanges are highly amusing and impressive.
Cage is typically zany, but when he shifts into his regrets, he manages to create a layered and complex version of himself, where the film lifts him away from just being a complete self-parody. Both Cage and Pascal are having a field day with their roles, even finding nuance in their characters along the way. For eight years, we have heard about "Cage's comeback movie" with such titles as Joe, Mandy, and Pig, and now we are hearing it again with The Unbearable Weight of Madness. Perhaps we hear that hoopla because of all the media frenzy, and filmmaker Gormican feeds off Cage's persona here, which ends up becoming a thoroughly entertaining, thrilling, and hilariously funny exploration of fandom, stardom, and reinventing oneself.