The melodramatic detours and pokey pacing in The United States vs. Billie Holiday certainly speaks to Lee Daniels sensibilities, overwrought and overstuffed with many raw emotions, and is conventional to the demise from fame, and there are very few obstacles to celebrate. Nonetheless, there are quite a few elements that anchor the film from a a routine biopic, Lee Daniels overwrought direction has moments of boldness and innovation along with Andra Day's drawing performance, and of course Billie Holiday's beautiful music, which is infused throughout the film.
Directing his first feature since his 2013 film The Butler, this is certainly a passion project for Lee Daniels-a labor of love-that shows a melancholic and bleak tribute to Billie Holiday, her music, and the systematic racism that led to her alimentation, trauma, and substance abuse. In the current Hollywood era, Lee Daniel's vision is ambitious and should be commended, but too often he loses restraint and self-control where he can't control his worst impulses. All around the approach takes a very bleak and cold look at Billie Holiday's (Day) life where it feels more downplayed and overwhelmed by Daniel's style and his aggressive use of overwrought melodrama that he is known for.
Lee Daniels's biopic focuses on Billie Holiday, who is considered the "First Lady of the Blues" who became the arch enemy of Hoover's FBI after they persistently made her life difficult for performing the song "Strange Fruit," in which Hoover labeled "anti-American." It was a powerful song that focused on the harrowing details of the lynching's in the South which also threatened the power structure of the FBI which allowed them form a narcotics task force against her. This was the very early stages of the drug war that only kept escalating from there.
Written by Pulitzer Prize winner Suzan-Lori Sparks, which is adapted from the book Chasing the Scream: The First and Last Days of the Drug War by Johann Hari, the film's structure is dizzying as we start off with Billie giving an interview with an inconsiderate radio host, Reginald Lord Devine (Leslie Jordan), in which we get flashbacks in what led to her being targeted by the FBI and how they felt threatened by the song "Strange Fruit" which led to her being imprisoned which led to her trying to get her career back. The song of Strange Fruit terrified the established which led to more Black listeners to feel their voice was behind heard. Focusing far less on activism, Sparks and Daniel's structure of the film focuses more on Billie's lifestyle, her love life, drug addiction, and despair.
Harry Anslinger (Garrett Hedlund) Holiday's worst enemy and the federal commissioner of the FBI's narcotic task force, is very much a caricature–and in real life he very much was a racist–who warm's to his fellow agents that jazz is "music of the delve," and he becomes fixated in catching and sentencing Holiday on more drug charges as she continues to perform the song "Strange Fruit."
However, Daniels and Sparks use a different kind of villainy in this film here, the exploitations of black FBI agents that are used as pawns to incarcerate their own people that only emboldens the white power structure and oppresses their own people on in the belief that we must save people from themselves, even as the Black agents are disrespected and dehumanized by their superiors.
One of the agents, Jimmie Fletcher (Trevante Rhodes) comes from a wealthy home who just inherited his passing father's fortune, but he wants to make something of himself. He ends up working for the FBI and becoming one of the first FBI agents. His task is to go undercover and infiltrate Bill Holiday's jazz band from the inside. Rhodes is given some complexity here, however his character feels very underwritten and he isn't given as much complexity or depth as he could have. What's stranger is how Billie forgives him after his first prison sentence and allows Jimmie to travel with him as he refuses to report her continued drug addiction to Anslinger, which leads to him being suspicious of Rhodes' investigation.
The film examines how Billie maintains her relationships with men,  as Lee and Sparks capture how alienation and trauma leads to drug abuse. Billie is often drawn to abusive men, who often like to build up conflict and crises with her. A few men come in and out of her life through small glimpses and montages, which leads to her a brief affair with her friend Tullulah (Natasha Lyonne) which hints at being engaging, yet is so lightly sketched and skipped over. She ends up developing a love for Jimmie, yet she continues to be drawn back to abusive and toxic relationships.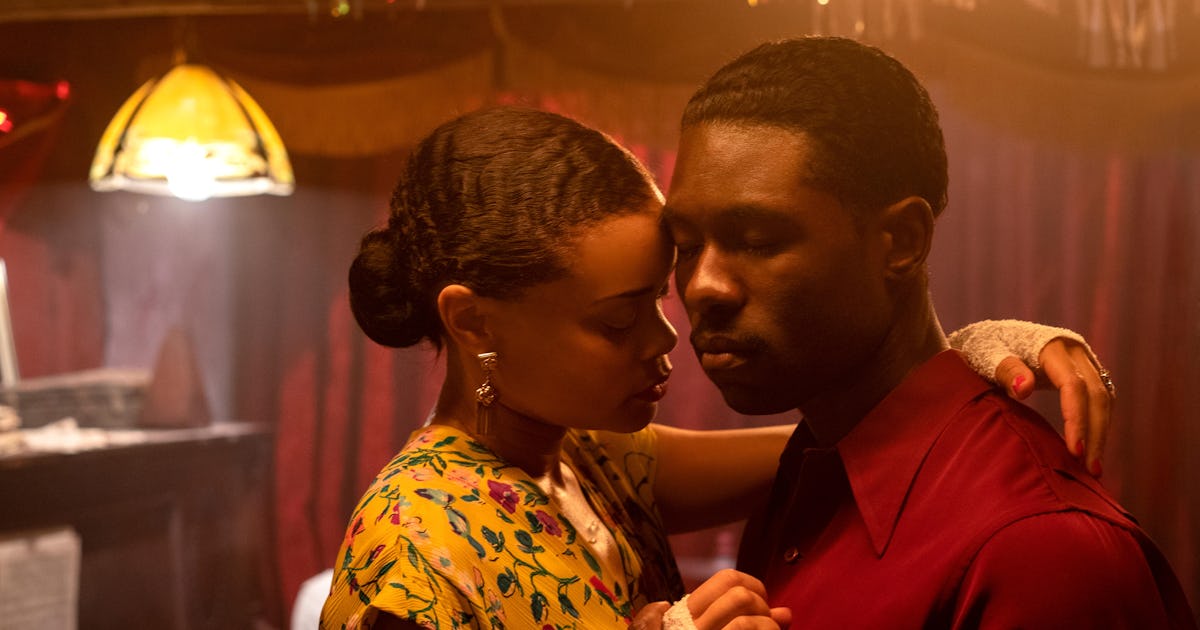 The film's main narrative drive is Billie's passion and persistence in performing the song of "Strange Fruit," even after being imprisoned, framed, and degraded she won't stop singing. The song is a call for action for her, and it's also therapeutic. The music is what brings her joy, and the fans in the film that are both black and white stay united with the message of her song. Each time she performs it in the concert hall, her performance of the song begins to feel like a fantasy or almost like a dream.
Since Billie Holiday's real life was filled with a lot of drama and tragedy, Spark's stay true to her struggles. The United States vs. Billie Holiday stays faithful to the adversities in Billie's life, but her hardships and dynamics between Jimmy which involve melodramatic flashbacks of Billie's lifestyle that involves brothels, sexual abuse, and coercion drags the narrative down a bit as the film also hits a lot of the same notes over again. There are a lot of biopic clichés in the film too as Lee Daniel's covers way too much territory, making the film sprawling and of course episodic.
All around The United States vs. Billie Holiday is an ambitious film with essential subject matter that is derailed with some over-the-top moments and other lightly sketched moments. There are also some fascinating moments in which we get a Bergman style flashback of Lady Day and Jimmy walking through her memories where we see horrific imagery of lynching's and the brothel where she coerced into at a young age. It is well shot, shattering, and the imagery echoes Bergman and Bunuel, however it would have worked better had it been longer and even more artful.
That is what seems to be what's going against Lee Daniel's vision once again. He always has the ability to always hold your attention and fascinate you with hints of brilliance, yet he always struggles to maintain the momentum as he too often hits many of the same notes just like his other films that also had the same flaws like The Paperboy, The Butler, and even Precious. Too often Daniels likes to move too quickly, he likes to overstuff the material with too much turmoil and melodrama. It's hard for Daniels to sustain a truly compelling framework as he often lingers over what is fascinating. The problem with his approach is that he always wants you to "get it" as every single point of its discourse where ambiguity, nuance, and subtly are always brushed over.  Only if Daniels can become more restraint and focus on the greatness he hints at, he can perhaps one day deliver us a towering cinematic achievement that I know he is capable of.
Now Streaming on Hulu