Paying homage to the title of the1944 Fritz Lang noir masterpiece and easily working on the concept of Alfred Hitchcock's Rear Window, Joe Wright's (Atonement, Pride and Prejudice) A Woman in the Window feels like a modernized remake or redo of films that aren't available for Netflix subscribers (A truly troubling time we're in where people only watch content that's streaming where film history gets lost), it's a film that brings familiar concepts and movie characters for our modern era. Very elegantly shot, skillfully directed, and benefiting from a very absorbing performance by the great Amy Adams, overall the film doesn't quite triumph as you would hope. Highly convoluted, deeply flawed, and very uneven, Wright's modern redo is a dramatic thriller that can't determine if it wants to be a suspense drawer or a psychological drama, perhaps both? However, the final result feels very melodramatic and histrionic, especially by the supporting players and the potential kitsch never feels fun. Focusing on mental health and trauma, the film is also penned by Tracy Letts (who also co-stars in the film), who has wrote plays and scripts on very edgy and racy material that border between shock and melodrama on the topics of mental health in such titles as Bug, Killer Joe, and August: Osage County.
Lett's certainly showcases his love for Rear Window and so does Wright with his style. If anything, the whole film is a celebration of cinema as film history is certainly to be found throughout the film, and it's commanding how Letts and Wright allow the material to go in different directions rather than being just a rehash. A Netflix original film, Wright always shows great confidence behind the camera, and the final 30 mins of the film holds some scene stealers. Amy Adams stars as Anna, an isolated woman who is suffering isolation and separation from her husband. The film holds parallels of our COVID-inducing world that consists of isolation, binge watching, internet addiction, and staying outside the modern world. While certainly written and produced before the COVID pandemic, the reflections and metaphors are to be found.
While Lett's adapts the film from the bestselling novel by A.J. Finn, cinema has used the Rear Window concept in so many films before ranging from Witness to Murder and Brian De Palma's 1984 masterpiece Body Double, and of course the teenage thriller Disturbia that starred Shia LaBeouf. However, there is nothing bland about the familiarity as Wright always elevates his material with his conceptual and visual artistry–if you recall his astonishing unbroken long take during the Dunkirk evacuation sequence in his 2007 masterpiece Atonement, his visual splendor in his Pride and Prejudice (2005), and both Hanna (2010) and Anna Karenina (2012) also flawed, but sheer visual extravagance.
The plot, which focuses on Anna witnessing a murder across the street, as she spies on them with a telephoto lens on her camera, she notices her new neighbor Alastair (Gary Oldman), stabbing his wife, Jane (Julianne Moore) repeatedly. Come to find out Jane is really Katie who just masquerades herself as Jane, and somehow it all comes off nonsensical. Yet, one can always rationalize that even De Palma's Hitchcock reinventions were absurdist, but at least they held rich subtext and were endlessly engrossing. Wright's style is also flashy and elegant, but sometimes can feel showy, yet admirable. It's clear Wright loves cinema, it shows with his style and with this film. Wright even shows the 1954 playing in the background on Anna's tv in a very elegant and stylized shot in slow-motion. Emotionally distressed, Anna is perceived by others as potentially being delusional, including Alastair who constantly confronts Anna about her delusions and Jane's troubled son, Ethan (Fred)) who ends up forming a bond with Anna.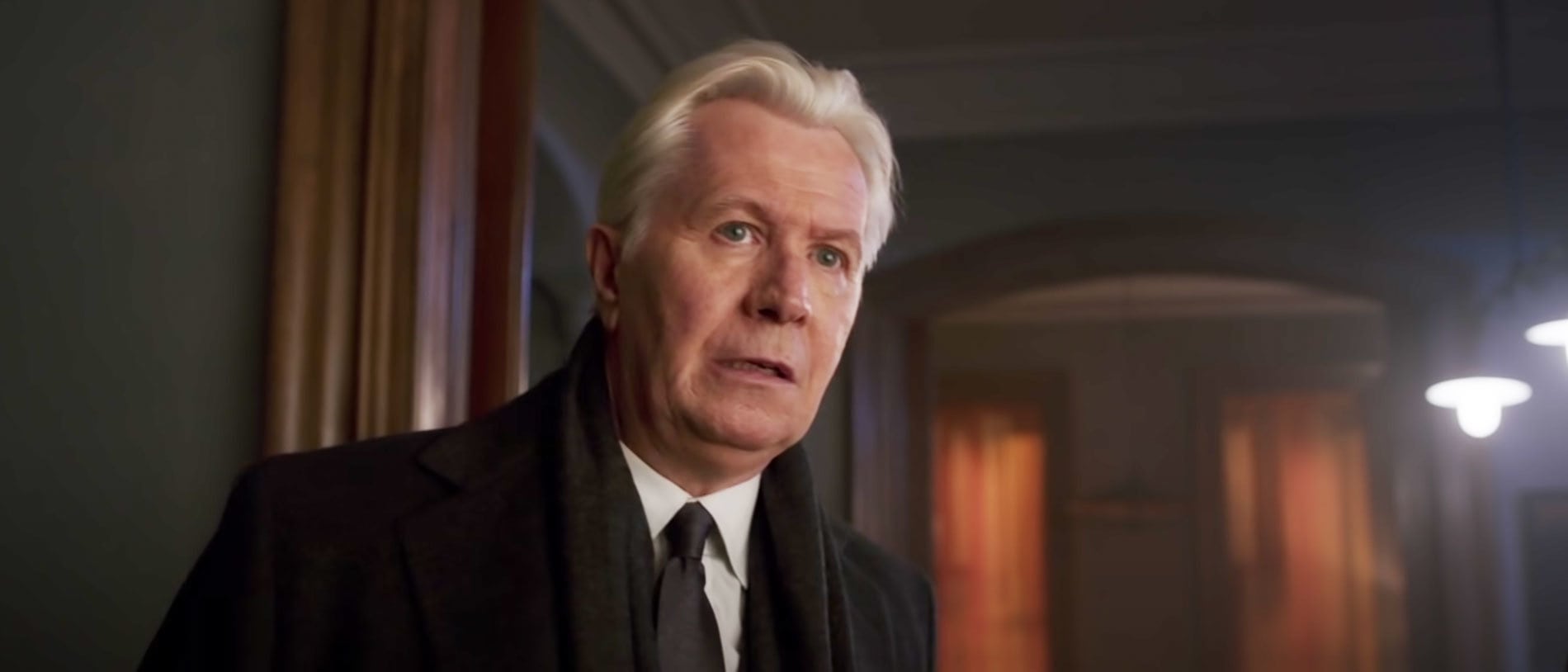 Like Rear Window and the original The Woman in the Window (1944), the sets are eerily similar as they are Brooklyn or Harlem brownstone apartments, as Anna has a agoraphobia, in which she has a phobia of leaving her apartment. Suffering depression from the separation of her husband, Ed (Anthony Mackie), aesthetically Wright also frames and uses monochromatic colors for his decors. The apartment also has a staircase that feels straight out of the Bates house in Psycho, and the film feels like Roman Polanski's Repulsion or The Tenant film as you begin to feel Anna's psychological breakdown. There is oddness where Anna's tenant, David (Wyatt Russell) comes in and out of her apartment at odd times. Joe Wright even plays on the concept that Anna's reality could be formulated from her own distress and endless movie watching.
The audience even begins to wonder and second guess what you're watching as nobody is convinced of Anna's eye witness account of the murder of Julianne Moore's character. A homicide Detective (Bryan Tyree Henry), who investigates the incident in question, is questioning Anna's testimony due to her oversubscription of pills. It's here where we start to wonder if what we are seeing is Anna's own distress and anxiety being reflected through her own perceptive reality. Regardless, it's very unclear and muddled how David, Jane, a real Jane Russell (Jennifer Jason Leigh playing the name to the late Golden era actress) , and Ethan end up covering up and shaking up Anna's worldview that ends up being a narrative mess with art-house gloss.
That said, unlike other current thrillers, even by feeling very familiar there is something to praise about the film not feeling calculated or pedestrian. As stated above, there are visual pleasures to be found due to it's effective use of limited settings, some impeccable compositions, effective use of angles, a claustrophobic atmosphere, all of which heighten the ominous and suspense, and the last 20 mins or so are quite nail-biting. Only if the film wasn't so flawed and convoluted, and illogical.