The historical battle epic is a Hollywood staple. So too is the manipulation of historical stories or the softening of edges to make a story more palatable or reassuring to a mass audience. Gina Prince- Bythwood's new film The Woman King falls into both categories. It is a powerful and expertly made film, filled with wonderful moments and outstanding performances. But knowing or reading more of the actual history behind the film makes it sit less easily.
The film opens in a small village with a group of men sitting around a campfire. The men are slightly on edge for reasons as yet unknown, easily startled by some birds flying out of nearby grasses. We soon learn the reason for the uneasiness as a group of women warriors led by General Nanisca (Viola Davis) rise from the darkness. This is the first glimpse of the Agojie, who served as the primary military force of the Kingdom of Dahomey. What follows is a brutal battle, with the Agojie dispatching most of the men and locating a group of Dahomey prisoners who were being taken to a local port to be sold as slaves. Leaving the village, the Agojie take the remaining men and women of  the village as prisoners of their own. The film next introduces a young women named Nawi (Thuso Mbedu), who is headstrong and not interested in the rich older man her father wants to marry her off to. Her frustrated father then takes Nawi to the capital city and gives her as a gift to King Ghezo (John Boyega). Nawi is allowed to join the next group of Agojie trainees. She is mentored by Izogie (Lashana Lynch), an Agojie warrior of great strength, and with a strong sense of humor.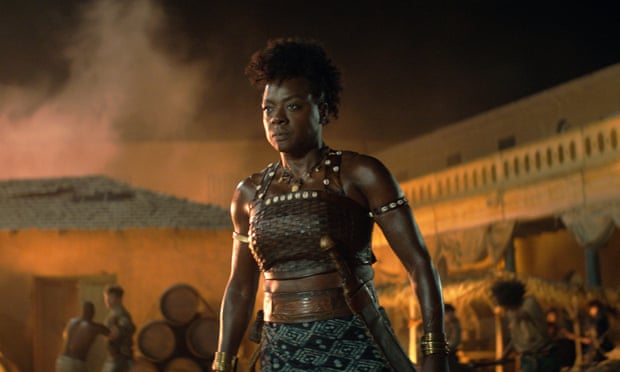 Much of the next section of the film consists of combination training sequence and coming of age story, as Nawi seeks to find her place among the Agojie. She wants badly to be part of the group, but also struggles against the rules and discipline of military training, looking to do things her own way. In the larger story, General Oba Ade (Jimmy Odukoya) of the Oyo Empire is seeking to clamp down hard on Dahomey, which serves as a tributary state to Oyo. Nanisca advocates fighting back against the Oyo, abandoning participating in the slave trade, and moving the economic focus of the country to the production of palm oil. Ghezo respects her opinion but is more cautious, wishing to maintain Dahomey's wealth. When Oba Ade demands a tribute of twenty Agojie warriors, Nanisca removes the situation from Ghezo's hands, instead delivering Oba Ade the heads of several of his men. From here, war begins in earnest. Woven through this primary plotline are stories of past trauma, family ties, and the arrival of
Portuguese slave trader Santo Ferreira (Hero Fiennes Tiffin) and Malik (Jordan Bolger), a man whose mother was taken from Dahomey as a slave, and whose father is European. All of these characters clash and connect as the film reaches its climax.
There are many positives in the film. The primary strength is the acting. Viola Davis, long one of the great actresses, gives one of the defining performances of her career. Her Nanisca is strong, fierce, smart, wounded, and powerful. It is a performance that will have to be in the awards discussion for 2022. Lashana Lynch is also wonderful in the film, slyly funny but a genuine sister and mentor to the other Agojie, and to Nawi in particular. As Nawi, Thuso Mbedu is excellent as well, bringing a depth of emotion to her role. Sheila Atim, playing Amenza, another Agojie warrior and confidant of Nanisca is a striking presence as well – a sensitive friend and powerful warrior. John Boyega is very good, but by virtue of this story belonging primarily to the women, he isn't as deeply explored.
Prince-Bythewood's direction is also a strength. I missed 2020's The Old Guard, so I wasn't familiar with her action chops, having only seen her prior, smaller-scale work in Love & Basketball, The Secret Life of Bees, and Beyond the Lights. She is an excellent action director. The battle scenes in this film are very well staged, with clear action that isn't lost in a surplus of close-ups or CGI. As mentioned, above, she gets the best from her actors as well. It's a very well-done mix of action and drama. Other strengths include Polly Morgan's cinematography, which takes full advantage of shooting on location in Africa and Terence Blanchard's beautiful score.
The script is where the film's problems lie. It is unfortunately a mixed bag. There are numerous well-written scenes, and the overall arc of the film is solid. But there are some connections between characters which seem too plotted, such as the connection between Nanisca and Nawi and others which just don't work, such as the romantic angle between Nawi and Malik. This romance particularly feels too lightly sketched. The middle section of the film also gets a little draggy. Tightening the film by 15-20 minutes would have helped these pacing issues.
The final problem with the screenplay is the most serious problem – the historical accuracy. The issue is that Dahomey participated heavily in supplying people to be sold as slaves both before and during Ghezo's reign, which lasted years beyond the events portrayed in the film. The film addresses this, but it still feels somewhat glossed over. Nanisca is given several powerful moments of speaking out against slavery and Dahomey's role in it, but she is a creation of the screenwriters, not a real historical figure. It leads to some unfortunate cognitive dissonance to be rooting for our Agojie heroes in several rousing battle scenes only to know that their prisoners are going to be taken from their home and sold. No historical film is perfectly accurate, but this feels like a harsher type of inaccuracy.
While there are some faults in the writing, The Woman King is still a film well worth seeing. It's impeccably acted and beautifully directed and notably centers a film around the strength and relationships of black women, who are all too often mistreated and underrepresented in film.