A uniquely layered, and often murky German love story with strong political subtext about the troubled history between the cities of East and West Berlin, Undine is the recent film by German auteur Christian Petzold. His framework has always centered his films around politics and characters in crises situations as their world regresses around them. As demonstrated in Transit, which was a  cautionary tale on the rise of white nationalism that used a post-modern setting that echoed the xenophobic authoritarian world of Nazi Germany, Petzold's latest film, in which he also scripted stars Paula Beer as the title character, who works at a Berlin City Museum that conducts history lessons about the east and west to tourists. Dense in abstractions, the character Undine is actually a water nymph who will take on a life form after falling in love with a man. Oddly enough, she will die if a man betrays her.
The film opens with some striking shots where we see Johannes (Jacob Matschenz) and Undine at a coffee shop as Johannes is breaking up with her, in which she promises she will forgive him for his betrayal. Undine takes the breakup very hard as she feels very bitter and sorrowful about the evaporating love. Undine eventually encounters Christoph (Franz Rogowski), an upbeat man she instantly is drawn to after she locks eyes with him at the museum after the aquarium breaks from her instant attraction. It may seem bizarre, or like the concept of something like Splash, Lady in the Water, or The Shape of Water, however Petzold presents it so dramatically involving and even matter of fact where it never feels absurd or even fantastical.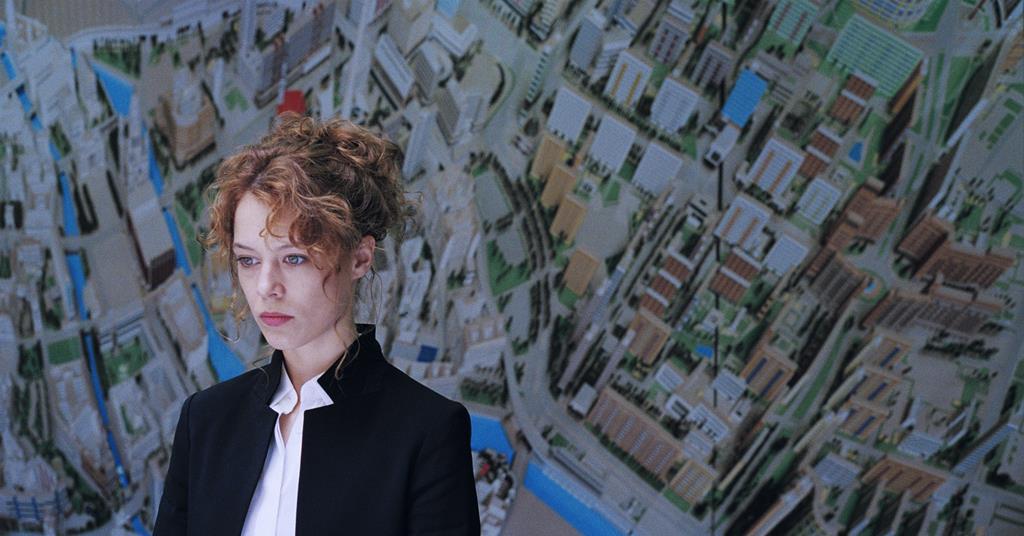 While supernatural in scope, Petzold gets quite heavy-handed with his ideas about the history of Berlin. Undine delivers a lot of history lessons about Berlin, ranging from the 1400s until the collapse of the Berlin wall. She also focuses on the history of the city's as well as Berlin's architecture as the city went through so much historical transformation. These builds certainly echo Undine's love life, even when walking on one of the bridges she walks past Johannes and his girlfriend, we soon see doubt and doom unfold with their newfound love.
Very affecting and sensual, the passion and romance between Christoph and Wilson is undeniable engaging. Her evolution with love certainly serves as a reflection towards Berlin's evolution that transcended itself from a small trading hub to an international city that also showed a very apparent class divide as well as an authoritarian divide where one side was democratic and the other side not as much. Now Berlin has become a city of gentrification, capitalist fads, and consumerism where even cafes rest in an old church. The love in the film examines how progress goes through cycles just like societies and locales.
A very pivotal moment of the subtext comes when Undine gives a lecture on the Berlin Palace, which was a hub built in the 1400s that was later destroyed by bombs in WW2 brings a modern context of how progress always leads to some degree of suffering, both as individuals and in a broader context. It's a very remarkable and memorable speech in the film where the metaphor of Undine being a sea nymph reflects how love is a reflection of how a society functions. Johannes returns after the speech as he is somehow connected and drawn to her psyche and soul. Their spiritual connection ends up rewinding or fast-forwarding as time seems all one in how the film plays out as their encounter turns into a passionate love encounter that leads to betrayal, misunderstanding, and tragedy. Petzold's once again gives the film some rich allegory and intellect.
Then again Petzold's work has always been allegorical and metaphorical, even metaphysical to a sense. See Jericho, Barbara, Phoenix and Transit for instance, and his films showcase craftsmanship and great elegance. There is also some very stunning abstract imagery in the film such as all the café scenes takes place from a church staircase, as well as a haunting scene of Undine taking her scuba gear off to swim among a massive catfish known as Big Gunther. The swimming pool scene is also quite sublime and expertly staged. While the themes are indeed overstated and the mythology of Undine feels very unclear and muddled, yet the film merges the hypnotic with the supernatural and the end result is a very bold exploration on love and emotional trauma.