A truly skillful and passionate actor who certainly endured his fair share of scrutiny for being "difficult to work with"–Val Kilmer's career is certainly idiosyncratic that is dispersed with many highlights (Heat, Tombstone, Willow, The Doors) and disappointments (Batman Forever, The Island of Dr. Moreau, The Saint), and he had many fallouts with many directors who didn't like his methods. The documentary accounts how Val had his peak in the 80s and 90s, who even had some Indie film hits in the 2000s with such films as The Salton Sea, Wonderland, Kiss Kiss, Bang Bang, Spartan, and Bad Lieutenant: Port of Call New Orleans. Sadly, his acting career was dissolved once he was diagnosed with throat cancer which led to him losing his voice.
Wherever one stands on the iconic actor, the documentary Val will give you many insights and fresh perspectives to why Val Kilmer had such uphill battles with filmmakers and studios throughout his career. While inconclusive to Val Kilmer's own point-of-view, Val directed by Ting Poo and Poo Scott is a very honest film about acting and Hollywood, at least in Kilmer's own perspective and experiences in which Kilmer's son Jack, narrates his own writings, over so much home video footage (Kilmer has always had a video camera on him), interviews, clips, late night show interviews, and this helps simplifies Kilmer's passion for acting and performances.
Through his own footage, Kilmer chronicles his own life and passage of time. Going way back with home videos of Kilmer staging short film parodies to his favorite films with his brothers (Including his younger brother, Wesley, who died from a seizure as a teenager), to his acceptance and experiences at Julliard, and there is even early footage of Kilmer in a Broadway play  that co-stars a very young Kevin Bacon and Sean Penn). There are also auditions in which Kilmer used to make audition tapes specifically for directors he really wanted to work with like Stanley Kubrick–which eventually led to him auditioning as Jim Morrison once he heard Oliver Stone was in-development for The Doors. The documentary shows Kilmer's last creative crusade which was his own screenplay about Mark Twain, which led to him doing a one-man stage show where he plays Twain as he pitches the movie.
While the documentary never gets involved with the true fallout between him and his ex-wife Joanne Whalley, it was a painful divorce. It is clear that he is closer to his son Jack since his battle with cancer. The documentary shows Kilmer almost mystical, more as a traveler of sort, who was an actor that wanted to make his characters and roles the very best that they could be.
Val offers familiar structure with the documentary that feels a biopic narrative. Kilmer was a man that endured tragedy and was blessed with his talent finally paying off. He started off as the lead in the Zucker's Top Secret!. Then gained huge notoriety as a heartthrob after the success of Top Gun. If you look at Kilmer's career, he didn't oversaturate his roles, and wanted to give enough time for each project that he was in. Some of the highlights in the film involve Kilmer's footage of The Island of Dr. Mourneau, a production that was doomed from the start once the studio released Richard Stanley from the production due to his inexperience with a production of such caliber.
This led to John Frankenheimer taking over the production, and also tension arose between Frankenheimer and Marlon Brando, in which Kilmer noticed Frankenheimer wasn't allowing Brando creative freedom to one of his icons. Already in bad spirits after being late on set for two days as he was served with divorce papers while in production for The Island of Dr. Moreau, we see the footage between Frankenhemier and Kilmer in which Frankenheimer orders him to turn off the camera.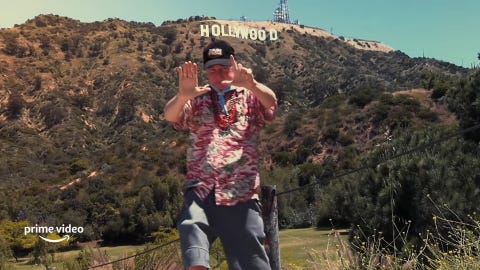 One looking for objectivity won't find it here. The film really only has one source: Val Kilmer who certainly points out some regret, but rationalizes that he is just a misunderstood artist– despite many reports that he was a jerk on set. He narrates the film, and the film is nothing more than a portrait of his memoirs and a collection of experiences. When Kilmer explains how stoked and excited he was once he discovered that he was cast as Batman in Joel Schumacher's Batman Forever, you believe him. The moment of Kilmer accounting his death scene as Doc Holiday in Tombstone also feels even more poignant in the context of Kilmer's own illness. It's not so much an objective documentary, but rather an intimate account and reflection of Kilmer's career, and the legacy he wants to leave.
They are certainly compelling memories! This is a highly involving documentary that is recounted with melancholy and passion. Despite some quibbles of Val perhaps not digging as deep as it could had it been in more objective hands, there is no doubt that Val Kilmer has had quite a career. By its own admission, Val has an impressive filmography and more importantly he was able to document it as a reminder of a challenging and also great life that he has lived so far.