When You Finish Saving the World is a familiar, offbeat Sundance family comedy-drama about family neuroses and mother-son dynamics from actor-turned filmmaker Jesse Eisenberg in his feature-length directorial debut. The film is a darkly comedic, and unpredictable satire about a mother and son who are disconnected from each other and the world around them. The film echoes the sensibilities of the earlier work of Noah Baumbach, with whom Eisenberg co-starred in the 2005 masterpiece The Squid and the Whale. Like Baumbach's latter film, it examines a dysfunctional suburban household, which becomes an exploration of parent-child disconnect between a mother and her son. It holds a collection of many amusing scenes, which sadly hold a slight third act with an affecting but borderline unearned conclusion. Perhaps a few more scenes or sharper characterization would make the payoff feel more developed and endearing, but there is just enough conceived and established drama throughout that makes it redeemable.
The subject matter, which is based on Eisenberg's own 2020 audiobook of the same title, seems to be fascinated with family drama and conflicts, and he draws compelling parallels and similarities between the mother and son in the film, even though they feel like they are polar opposites, their characterizations and motivations aren't too adrift. Like Baumbach, Eisenberg takes his brutally honest approach to the film and has crafted a headless portrait of narcissism and self-absorption, and how they create more tension and conflict for others around them. Eisenberg's script and characterizations might keep some viewers at a distance, where they will be labeled "unlikable." Well, that would be the point. Regardless, there is something quite insightful about his approach.
 Courtesy A24 Films
At the center of the story, we are introduced to an upper-middle-class, progressive household that is quite dysfunctional. We meet Evelyn (Julianne Moore) and her son Ziggy (Finn Wolfhard), Evelyn runs a shelter for survivors of domestic abuse, while her teenage son Ziggy, performs indie folk music from his livestream channel to fans all over the world. Both of their narratives steer off with their own subplots in the film, as they both encounter new people in hopes that they can fulfill their passions and talent for a deeper purpose in their lives. For Evelyn she observes Kyle (Billy Bryk), who is around the same age as Ziggy and he even attends the same school as her son, but they aren't friends or share any of the same classes together. Kyle is the son of a woman who currently stays at the shelter, who just recently retreated to after enduring an abusive relationship. Kyle is completely different than Ziggy. He helps around the facility, repairs windows, and shows compassion to the other residents and children that reside there. She observes that he is noble and empathetic, and she instantly views him as holding great talent in potentially working in social services with his compassion and care.
It's apparent, Evelyn views Kyle as the son she always wanted. She encourages him to embark college in the social services field, but Kyle is more of a jack-of-all-trades type. He's already eager to work with his father's auto repair shop, and it's clear Kyle is reluctant in pursuing social services. But Eveyln stays persistent and continues to encourage Kyle that there is more opportunity and ethical gain in pursuing social services. There are many motivations that could be read on Evelyn's persistence. Is she doing this for Kyle's own gain? Or is there a savior complex she holds? Perhaps there are shades to both, and each of these scenes are arresting.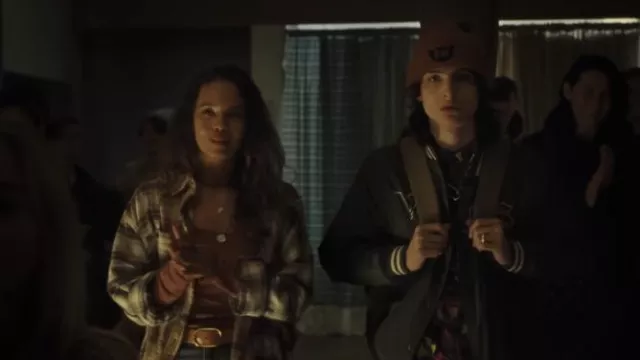 Courtesy A24 Films
Meanwhile, as Ziggy makes money off fans throughout the world on his livestreams, he ends up taking an interest in Lila (Alisha Boe), a fellow classmate at his high school that impresses him with her depth and passion for politics. He listens in on a politically charged debate with one of her classmates as they debate about the ethics of giving federal aid to developing nations. Even though he doesn't comprehend the conversation or the depths of the discussion, he admires the authenticity of the exchange, especially Lila's passion. While Ziggy is completely self-absorbed, he always gloats about his music and how many followers he has, he stays persistent in trying to impress Lila and takes an interest in politics and world events. He ends up crashing a Revolutionary Art open-mic series (lookout for Michigan's own Calhoun Koenig as the Emcee) where he performs his own folk songs to a full crowd of young idealists to mixed results because his songs just don't have political depth.
Of course, more hostilities emerge, including a brilliant exchange where Ziggy requests advice on how to engage with others on political issues from Evelyn, which ends on a very frayed note. Moore is very raw in some of her scenes, where she is borderline neurotic and impatient. Jay O. Sanders is very good as the husband who is trapped between the hostility of his wife and son, who are too busy to even attend one of his banquets for work. This is just a small example of how aloof Evelyn and Ziggy are about the harm they cause to those around them. There is smart satire in Eisenberg's film about narcissism, liberal hypocrisy, and just how opportunistic social media darlings can be who will indeed adapt to anything just for more clicks, likes, and followers. Eisenberg makes them easy targets, and he brings some emotionally charged scenes into the film that bail the characters out of being trapped in two-dimensional limbo. At its core, When You Finish Saving the World is really an acute survey of parent-child dynamics. While there are many brutally harsh moments, there are some pleasures to be found as well.
When You Finish Saving the World is now playing in theaters.