Mia Hansen-Løve follows up her acclaimed and artful French dramas Things to Come, Eden, and Goodbye First Love, with Bergman Island, another ambiguous, clever, dreamy, and meta-driven script she also wrote, that's setting is on Fåro Island, the isolated island in Sweden where the iconic auteur Ingmar Bergman shot most of his films and where he resided during the final years of his life.
With starring roles of Tim Roth, Vicky Krieps, and Mia Wasikowska that centers on the issue of filmmaking, storytelling, and the creative process as it's the story of  a world renowned art-house director Tony (Roth), and his wife and actress Chris (Krieps) who attend the annual summer festival that hosts screenings of Bergman's films, that also holds the island as a tourist attraction with gift shops, Bergman tour rides, and evening screenings of his classic films. Tony, a huge admirer of Bergman's work is also screening his latest film at the festival, and is guest of honor to the renowned event.
Bergman Island is a dense film of introspection that not plays some wonderful tribute to Ingmar Bergman by utilizing Bergmanesque sensibilities of ticking clocks, meticulous frames, and artful uses of windows, interiors, nature, beaches, winds blowing through trees, and of course beaches with waves. All of this is at Hansen-Løve's disposal by having the film shoot at such a beautiful locale that is home to such Bergman treasures as Persona, Through a Glass Darkly, and Scenes From a Marriage to name a few. Walking a fine line between a marital drama and a cerebral art-house film, Bergman Island is an elegant drama that at times struggles in it's search of what it wants to be. The film starts off as something like Scenes From a Marriage as it examines a marriage between two characters, and it becomes more of a film about the creative process that echoes the emotions and longingness of what Chris feels.
Part marital drama, part romance, part homage to Bergman, part critique of Bergman, and mostly satisfying and successful on many of those levels, Hansen-Løve displays herself as a passionate and fascinating director that defies your expectations and delivers an exquisite eye to each and every frame–while being very unconventional in terms of structure, dramatic plot, narrative logic, character arcs, with a final result borders between fascination, frustrating, and missed opportunities. Regardless the first half of the film works stronger, while the second half drifts away into something Woody Allen would craft as it becomes a story within a story–a film within a film–but the film delivers enough artfulness and a really strong performance by Mia Wasikowska.
The best way to approach Bergman Island is to realize that it's a film that plays with the cerebral mechanics of a Bergman film, while playing tribute to the artist (while also raising some criticisms), the film has the sensibilities of Bergman but also comes across less complex, cynical, and in some ways more hopeful. Bergman Island has the symmetric structure of halving two halves of very different films just as Julia Ducournau's Titane recently did. Ultimately, Bergman Island a deeply compelling first half and a satisfying resolution that delivers a lot of concepts and themes about ghosts, marriage, the creative process, and gender.
You also get many great treasures in the film, if anything the film will want you to visit the island because it would be any film lover's paradise. Even though Chris and Tony appear to become more rivals than lovers as their time together progresses on the island. While they both champion the work of Bergman, they can't decide which films of his they want to watch. Tony is more drawn to the more cerebral side of Bergman, while Chris prefers the more life-affirming and accessible films of Bergman. The island has tourists coming in and out as they celebrate their favorite films and discuss his work. We also hear from local residents that Bergman ended up having a spiritual side, especially after the death of his last wife Ingrid. Residents reveal how Bergman ended up believing in ghosts, and even an the after-life in his later years after making numerous existential films that questioned faith. We also learn that Bergman was a complex man that was married five times, had many mistresses, and was on set and creating more than spending with his nine children.
Both Chris and Tony debate it's even possible if a man who released over 40 films can be a family man and an accomplished artist at the time. Chris believes that compassion, family, and grace should be put before art; Tony on the other hand believes it's impossible to be a family man of many children while being a prolific artist at the same time. This leads to Chris questioning Tony's perception of their marriage. Chris ends up feeling some distance with Tony on the trip, she ends up going on her own tour with a film student she encounters on the island. She also feels an attraction and connection towards him. Tony ends up going on the tour bus alone. While on the tour, Chris tries to find the house Through a Glass Darkly was shot but can't find it, while Tony discovers the exact vicinity it was shot at, but we learn that the house was torn down years later and the tour guide explains only the exteriors were shot there.
Upon having a successful screening to an audience of Bergman fans, it is obvious that Tony is a filmmaker that is highly influenced by the work of Bergman. Chris is also finding inspiration on the island. She begins to write a blueprint to a screenplay in which she admits writing is a very grueling experience for her. She has held many struggles, but she begins to write down many of her ideas in an outline. While walking on a nature trail, Chris pitches her story to Tony. It's clearly very personal as its about many of the same traits Chris holds that becomes a reflection of herself. Tony ends up getting disrupted with phone calls as she explains the story, in which Chris believes her husband isn't supportive of her creativity. Despite the distractions, Chris carries on with her story and it transforms into a film within a film. This is a pivotal moment in the film where the film becomes something completely different than what you anticipate it being.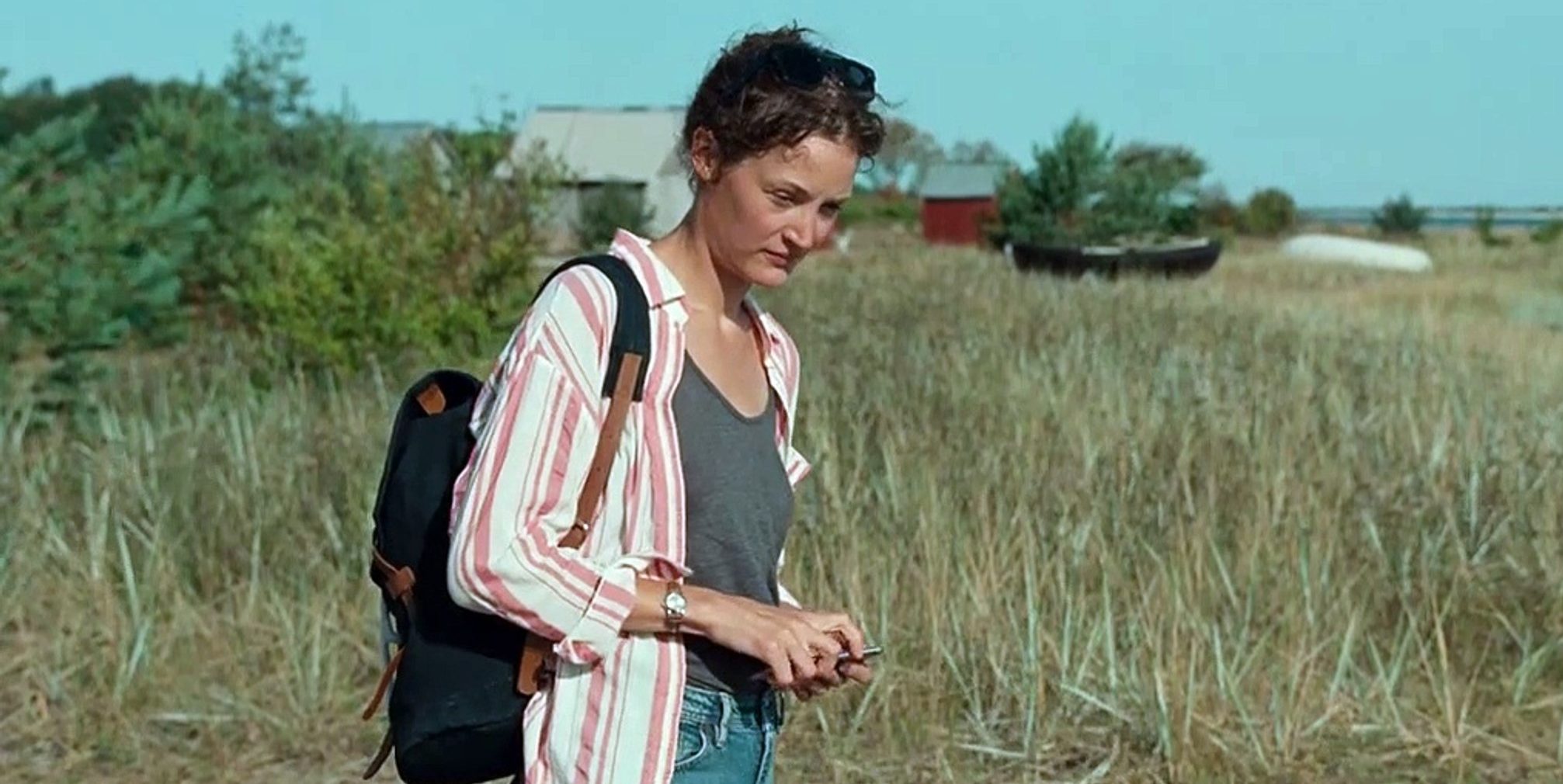 Chris's script is very much in line with Bergmanesque qualities, and feels right at home on the island of Fårö. The film within the narrative story focuses on Amy (Wasikowska), a young woman in her mid-20 who visits the island for a wedding, in which she reencounters Joseph (Anders Danielsen Lie her very first love of her life. While years have passed between them, as they are both in committed relationships, their intimacy and love for one another is still strong. At first this portion of the story feels frustrating simply because the story between Chris and Tony feels like it's something that is building up to Scenes from a Marriage; and the reveal of Amy at first feels gimmicky and schematic, but the story eventually works its way through a satisfying payoff with many engaging and tender moments that work both emotionally and visually.
As we are with both Amy and Chris, both women are on an emotional journey that mirrors their own. It's a tribute to Bergman, to Fårö , and a meditation on artistry from the female perspective. Bergman Island is also a portrait of unbridled difficulties of marriage, and how one must liberate oneself to pursue their own passions. Hansen-Løve  is quite candid in how she feels about men and women trying to achieve artistic integrity in an industry that has been run mostly by men, and how the pain of ego and the complexities of humans inflict such pain onto others. With some engaging commentary, Hansen-Løve has made a sharply elegant film that makes some layered observations about the human experience, making it more than just a film that is only about Bergman. There are many life-affirming moments in the film that prevent it from being cynical and overly despairing, a common critique some detractors hold on Bergman's brilliant body of work.
Hopefully modern film buffs will not avoid this film in fear they have to watch a lot of Bergman before they see this film. While I do advise any cinema lover to always watch Bergman, they will walk into this film and learn a lot about the grand auteur without having to see many of his films. However, the more you know going in, the more amusing and equally evocative the experience will probably be. The films of Ingmar Bergman have always challenged film goers, as the material takes the audience into deep places and asks very contemplative questions about our own human existence. His filmmaking continues to be very influential today for many great auteurs.
Bergman's films allow you to reflect, evolve, and possibly transform oneself upon viewings. In the case of Bergman Island, Bergman's work has made a significant impact on Hansen-Løve's skills, the result brings an assured sense to her sensibilities. Ultimately, Hansen-Løve  has created a world with an unconventional narrative, a world that is familiar and inspiring. Bergman Island registers as an engrossing and stylistic film that works both as a guided tour of Ingmar Bergman and a cerebral exploration of how reality and art mirror one another. It's also a film that is both self-reflexive and deeply personal, one that is guaranteed to please novice cinephiles interested in diving deeper into the work of Bergman as well as the older cinephiles who will be satisfied how the legend of Bergman can still open up possibilities into the mysterious of what cinema can do.