Following his 2018 feature debut, the Sundance police drama "Monsters and Men," Reinaldo Marcus Green makes a huge leap from an indie drama to a studio drama with King Richard, a highly inspiring sports drama about the complex relationship between a determined father and his two gifted athletic daughters, who both end up changing the course of the sport of tennis. While both emotionally raw and equally uplifting, King Richard ends up becoming a biopic about Venus and Serena Williams' father, Richard Williams, superbly acted by Will Smith, in which the film brings more empathy to the life of a public figure who, at the time, generated a lot of controversy and scrutiny from the sports media due to his unorthodox methods and patience in how he trained his two daughters.
A genuine crowd pleaser that will easily satisfy filmgoers, Warner Bros. should have no difficulty generating a pathway to Oscar success for this film. King Richard will have great chances of earning Oscar nominations for Best Picture, Best Original Screenplay, Best Supporting Actress (Aunjanue Ellis), and, of course, Best Actor (Will Smith), who is the current front-runner for Best Actor. Will Smith has been nominated twice before for Ali (2001) and The Pursuit of Happiness (2006), but lost to Denzel Washington for Training Day (2001) and Forest Whitaker for The Last King of Scotland (2006). With King Richard, Will Smith now holds the opportunity to earn his first Oscar in a very transformative and emotive role.
While a period piece set in the early 90s, King Richard is a competently made film. The film offers a compelling narrative, delicate cinematography by Oscar winner Robert Elswit (There Will Be Blood, Punch-Drunk Love, Good Night, and Good Luck), well staged tennis scenes, involving characters, and strong characterization. Inspired by the true story of a working-class Black man and his wife who raised Serena and Venus Williams, the film chronicles his extreme methods of nurturing and guiding them to success and stardom as tennis players. The film follows the conventions of both Hollywood sports movies and TV movies that are based on true stories.
Set in Compton, California, and Delray Tennis Academy in Florida, the story examines how the white sports media vilified Richard Williams, labeling him a "hustler," "ego-driven," and "brash self-promoter" who was accused of prioritizing his own self-interests over his daughters. Green, along with writer Zach Baylin, turns the spotlight on Richard Williams and reveals a more empathetic portrait of Richard, and it becomes clear in Richard's story that all the media allegations were anything but. In fact, it was quite the contrary, as Richard was always looking out for the best interests of his daughters, their education, their health, and their well-being over instant gratification from money-driven agents.
Turning in his greatest performance since Michael Mann's impressive Ali (2001), perhaps even a career-defining one, in which he embodies Richard's mannerisms, accent, and vernacular quite authentically. Smith, who also serves as a producer on the film, was given a lot of insights along with screenwriter Baylin in getting the film's final approval to make a genuine sports drama that doesn't feel hokey or manipulative. Despite some setbacks in the narrative, the film isn't as focused on Serena or Venus as it is on Richard, and the film examines Venus' pro tennis debut, leaving Serena as a character who becomes more of an afterthought for the audience. The film also only focuses on a very brief time period of only three years, which is about the novice years leading up to Serena and Venus training hard at Delray Tennis Academy.
The end result is a film that is slightly overlong at 145 minutes, but the film moves around at a brisk pace. Dramatically, the film certainly resonates, thanks mainly to the dynamics of Richard's and his family's determination, while other areas of the narrative are left lightly-sketched and feel hurried. There is a misplaced scene in the film involving Richard feuding with a local gangster who he gets into a few fist fights with, which leads to Richard on the verge of confronting him with his own firearm before the gangster is gunned down in a drive-by shooting. Later, we see Richard watching news footage of the Rodney King beating, but the film never dives deep enough into how the riots or trial impacted the family. These are some lightly sketched moments in the film that don't carry as much depth to the story as they could have.
With these parameters structured—and the dramatic momentum underway—bonds and challenges evolve between Richard (Smith), who's deeply passionate about paving the way for his five daughters to triumph in everything they do, and he becomes even more passionate and even obsessed with guiding his two youngest daughters, Venus (Saniyya Sidney) and Serena (Demi Singleton), into all-star champions. Richards' methods were certainly unconventional, especially in the world of tennis. Richard trained Venus and Serena endlessly and effortlessly on the tennis courts near their home in Compton, and Richard even promoted them to any wealthy white guy at an upscale tennis club who would listen, even making home video promotions and printing out his own brochures that had selling points for his daughters' talent.
Richard also has huge support from his wife, Oracene (Aunjanue Ellis), who's also the mother of their daughters, and who also helped train them when they were younger. Richard works a security job at night, and by day he refers to his duties as a father as "the champion-raising business," as he gets rejections and many declines, but he keeps going strong because he understands just how skillful and talented his daughters are. This eventually leads him to Paul Cohen (Tony Goldywn), who ends up reluctantly taking them on after Richard solicits him as their coach on a tennis court, but once he starts briefly training with the girls, he realizes they are beyond just young novices.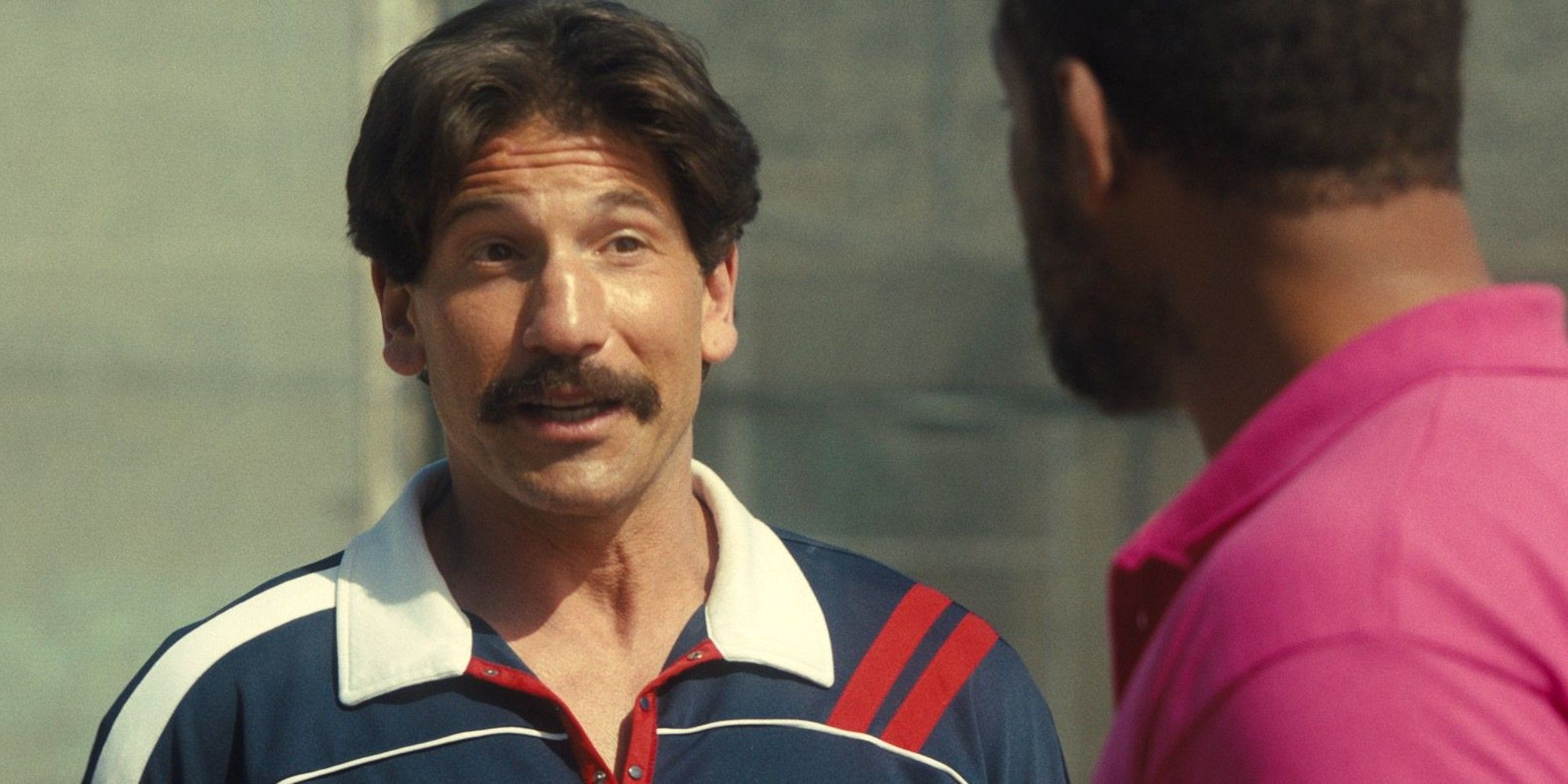 Eventually, this leads to a lot of success in the beginning, as Venus begins to win every gold trophy in their league tournaments, which eventually leads to young Serena winning tournaments as well, but she always feels like she's trapped in the shadows of her bigger sister. Richard has methods, and he reassures her at one point that this is "his plan," as the film paints him as a loving father, an empowering and strict coach, as well as a flawed but loving family man. While always guarding his daughter away from agents, this leads him to separate paths from Coach Cohen as he takes his daughters to be trained and coached by the highly regarded Rick Macci (Jon Bernthal),who owns a top-notch tennis camp in Delray Beach, Florida.
Bernthal is also outstanding in this role, shifting away from his often tough-guy persona and into a more ardent and animated role in which he forms a deep bond with Venus and Serena while also having some strong disagreements with Richard and his methods, as he wants to patiently wait for them to begin pro at such a young age. With a solid cast and performances, it's really Will Smith who impresses the most. It's a remarkable performance, playing a man of humility and principles, one who stands by what he feels is in the best interest of his family and daughters, who will not compromise if he doesn't feel something is right, as well as a husband and father who wants to aim for humility and grace, while learning some of his own values through his wife and daughter along the way.
For this kind of sports drama to not feel overly earnest or sentimental, it requires commanding acting. Smith and the supporting cast are all perfectly cast. Will embodies the father's role with affecting conviction, expressing many conflicting tones and even humility. Ellis as the supporting mother, a loving but stern wife, complements Smith quite well. The exchanges between Smith and the coaches–both Goldwyn and Bernthal–are well-scripted and hold great banter, wit, and even tension. With its empowering themes of endurance and humility, in going after what you want with grace and dignity, King Richard surpasses many recent sports films in its sharply focused chronicle of what it means to never give up, and it should hopefully empower many other people to keep plowing through as many obstacles will always stand against you in an exponentially competitively driven world.