The fifth feature of Taiwanese filmmaker Midi Z, premiered at the Un Certain Regard section at the 2019 Cannes Film Festival. The filmmaker has reached numerous accolades in Asia: The Road to Mandalay (winner of Fedeora Award for Best Film at the 2016 Venice Film Festival), and his film  Ice Poison was selected as the Taiwanese entry for the Best Foreign Language Film at the 87th Academy Awards, but failed to secure the nomination.
Midi's Z's latest feature, Nina Wu is a meta and cynical nightmarish satire about the film industry in which Midi Z co-wrote the film with screenwriter and star Wu Ke-Xi who plays the title character. It's a very commanding and complex performance about a struggling actress who has only worked on short films in which she hasn't acted in six years. Living in a confined apartment, she supports herself as a cam girl in the city of Taipei.
 (Photo courtesy of Film Movement)
Luck is on the horizon for young Nina as she receives a phone call from her agent to audition for an erotically charged historical thriller from an a-list director, but Nina is very reluctant about the script since it involves a very racy sex scene. Her agent ends up persuading her that it's a very competitive role and convinces her that real artists don't turn down roles because of nudity. He is the type of slimy agent who probably puts a lot of pressure on other actresses just so he can get a percentage. Just like any other business motto, it's profits before people—even when it comes to the arts.
It all becomes shattering for Nina as can see through the manipulation and exploitation, but she must compromise her senses and intuition for opportunity. Nina isn't wide-eyed to the journey she is about to embark. Nina ends up agreeing to the audition and eventually lands the role. Filmmaker Midi Z–uses some David Lynch meta style of filmmaking (Think INLAND EMPIRE or even Mulholland Dr.) as he makes a disturbing and cautionary saga about the vulnerabilities female actresses must endure when working with abusive male directors. Not only does she have to face potential exploitations of her body, she also endures emotional abuse from the director (Shih Ming-shuai) who coerces and even physically abuses her in between takes. There is a stellar and expertly crafted scene in the film within-a-film where she is walking through a hotel corridor with another actor and a knife in hand during an unbroken take, and the director slaps and abuses her to pull "authentic" emotions out of her for the performance. An unethical method that we have heard endless horror stories in the past with such filmmakers like Lars von Trier and David O. Russell. The result becomes very meta, and just when you think it's going to take you into a certain direction, Ke-Xi and Midi Z dive into a completely different terrain.
The film also echoes the 1980 Richard Rush filmmaking satire The Stunt Man that starred the late Peter O'Toole as a maddening filmmaker who put his own cast and crews life in danger for his own "creativity" and ego. Especially in a key scene in Ninu Wu where a boat scene goes terribly wrong after it explodes and Nina almost drowns, only for the scene to cut to a private screening where the producers of the film are very pleased with the cut. Nina experiences a lot of anguish and abuse to pull off a successful film.
Eventually Nina ends up finding great success and she returns back to her hometown where we meet her family, and we discover that Nina is a secret lesbian who is still in love with Kiki, an old childhood friend who now teaches acting at the local school. Nina's family is unaware of her sexuality and Nina must decide if she wants to live openly as a lesbian as she tries to recapture her love with Kiki. Nina finds herself getting more role offers, including one from a filmmaker that exploits female actresses in secret auditions at hotels that are quite unnerving. They are horrifying scenes that recall the vile stories we have heard involving the Weinstein's and other high profile directors and producers.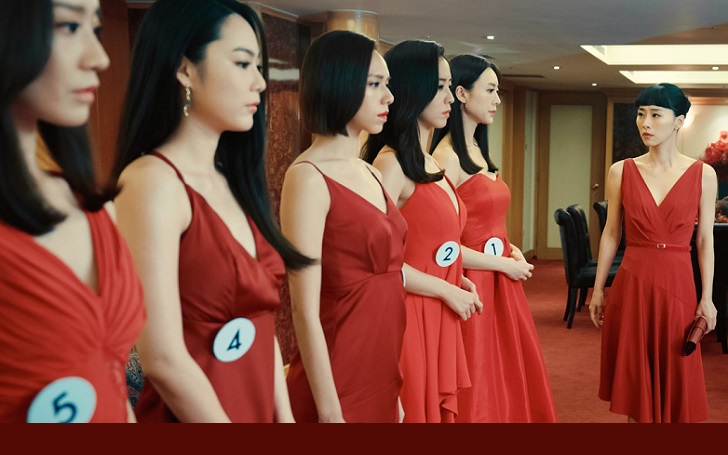 Now in the aftermath of the #MeToo movement, where many performers, many women in numerous industries have shared their experiences and stories of the coercion, manipulation, and abuse of power they had to deal with, Nina Wu" is a timely and unyielding look at the experiences women must face in their quest to gain stardom and act. Midi Z and Ke-Wi examine the price Nina has to pay for the role and the tragic consequences that arise out of stardom that end up compromising her nobility and self-respect. The story is also influenced by Ke-W's real-life experiences as well. The performance here is quite raw and vulnerable as it examines the brutal truths about show business.
Impeccably crafted, filmmaker Midi Z crafts the film with a lot of Kubrickian wide shots with some stylized lighting that echoes the work of Gaspar Noe and Nicholas Refn that gives the film a nightmarish and off-kilter feel. Aesthetically, the film is pitch-perfect and Midi Z is quite a craftsman who stages his films with a ravishing and artful style. Thematically, the film is rich with subtext, but on a narrative level the story loses some momentum and gets muddled with structure. However, the themes remain rich and clear throughout despite these quibbles.
All around Nina Wu may sound plot driven, but it unfolds with more sensory and tone. The end result is something very artistically charged and personal. While the film is cynical, that recalls the anguish and façade found in Mulholland Drive and The Stunt Man. The film holds back no punches in how it examines the complicity the movie industry can be with such abuses. The haunting and deeply disturbing finale tragically captures these sad truths. While a condemnation piece that is very misanthropic, Nina Wu is an uncompromising barrage on a cruel system that holds the grueling underbelly of exploitations that sadly exist within human nature. While the climax is nihilistic, there are strong enough characterizations and something truly principled in the film's overlaying outcome.
Distributed by Film Movement