An elegantly made, playful, intimate, and ultimately sincere take on love in the modern era that consists of dating apps, social media, hook-ups, friends with benefits, and other newfound desires, Jacques Audiard's visually slick and accomplished Paris, 13th District combines vivid insights and other sensibilities from his previous works that give it an authentic spirit into modernity. Since making intimate films in the past with Read My Lips and Rust and Bone, Audiard has always told stories about isolated outsiders attempting to find love in their confined settings. Paris, 13th District –with its playful spirit, jaded symbolism, and hints of hollowness as it studies the modern world-follows suit, thus becoming more involving as a whole than the sum of its parts as it captures some earned poignancy and character depth. From beginning to end, there is enough craftsmanship on display and likable characters that lifts it out of just being a shallow exercise in style and shallow characters.
The film mostly has generally favorable reviews, so strong word-of-mouth on social media platforms will decide the fate of the film. European prospects are already decent, though in North America, the film is distributed by IFC Films, which now has a difficult time competing with other indie art-house giants like A24, Neon, and Focus Features. The sharp combination of sex and character-driven aspects could bring in a wider upscale North American audience. It all depends on whether there is enough letterboxed pull, which could take a film year to find an audience. Although Audiard was already an established filmmaker of such notable titles as Read My Lips, The Beat That My Heart Skips, A Prophet, Rust and Bone, Dheepan, and his American made western titled Sister's Brother, he could reach more indie audiences. The film is also co-written by Celine Sciamma, who helmed the 2019 masterwork The Portrait of a Lady on Fire and most recently, Pete Maman. Fans of such recent international films like The Worst Person in the World, Parallel Mothers, and Frances Ha should want to gravitate towards this film.
Based on the novels by Sacramento novelist and cartoonist Adrian Tomine, Sciamma, along with co-writers Audiard and Lea Mysius, may sound cliche with their narrative as it is another story about young people in their late 20s attempting to connect in the modern era, but this story is about that, and it succeeds. The film, at its core, is about how people live in the moment, and too often get caught up in the moment while not thinking of the future or the consequences they face from the decisions they make that can eventually hurt the other person, only to regret these actions later on.
With the film's setting in Paris's 13th arrondissement, called Les Olympiads (which is the French title of the film), the film starts off with Emile (Lucie Zhang) who's now residing in her grandmother's apartment and was recently admitted into a nursing home and diagnosed with Alzheimer's. While living rent-free, there are still bills and utilities. She ends up answering the door to Camille (Makita Samba), a college graduate student who is inquiring about the advertisement Emile just put up searching for a roommate. They are instantly attracted to each other, and within minutes of their encounter, they find themselves seducing each other, which adds a lot of layers and dynamics to their situation. Can they stay roommates and lovers? The whole film is about misunderstandings, and the only reason Emile originally agreed to meet with Camille is because she automatically thought Camille was a woman's name, not considering that it could also be a man's name.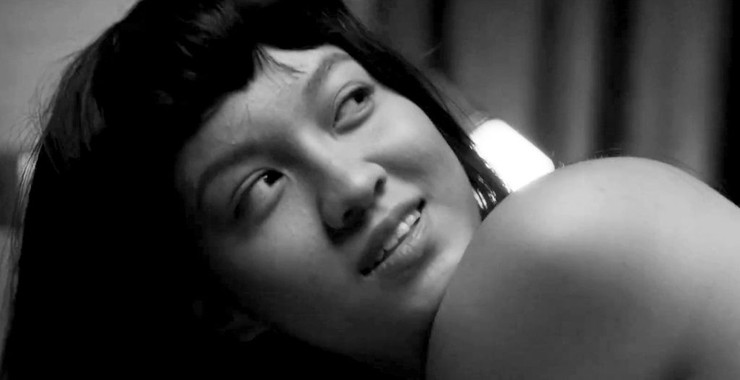 With a set-up that feels like a Paris version of Lena Dunham's terrain, Audiard keeps these characters very compelling, layered, and complex, as they really don't want what they want. Well, at least Emile thinks she knows what she wants because she is instantly drawn to Camille and wants to build a future relationship with her, but Camille eventually loses attraction to her because it's just an inevitable cycle of relationship. Camille even rationalizes, "Get with someone the most attractive so it can at least last a little longer," as this leaves Emile quite crushed. There are a few other heartbreaking moments you feel for Emile as well, including a moment where Emile takes Camille's hand as they walk in the Parisian streets, only for him to eventually let go. You feel her loneliness, and he eventually phases himself out of the friends with benefits status and informs Emile that he just wants to stay roommates. Emile eventually agrees, but she can't hold back her feelings, especially when Emille brings another girl over to the apartment, which generates jealousy from Emile. Eventually, Camille moves out of the apartment, understanding that being roommates can no longer work due to the past experiences of passion they have shared together.
In a lesser film, Camille would just be a one-dimensional character that plays women and jumps from different women to women, which are aspects of that to be found. Yet the yarn ends up finding some rich characterizations with him as we spend time with him and his younger sister, who has a stuttering problem, but who is studying to become a comedian, and she actually loses her stuttering when she's on-stage delivering jokes. Each of the scenes Camille has with his sister and detached father, who gets quick-tempered with him because he always feels like Camille has to have an opinion on everything, ends up resonating.
Then the film strikes its peak nearly 40 minutes in with the introduction of Noemie Merlant from Portrait of a Lady on Fire, in which the film ends up becoming a film about the trio of characters. Merlant plays Nora, a lonely 32-year-old woman in Paris who decides to go back to college to pursue a law degree. Going back to school ends up giving her great confidence, and she begins to feel more youthful again. On an impulse, she ends up buying a blonde wig, buys an elegant dress, and goes out to a nightclub where she ends up being identified as a cam girl and amateur adult film actress named Amber Sweet (Jehnny Beth) from the rock band The Savages. Tormented and rumors spread in her class, which causes her to get back into her real estate, where she ends up encountering Camille, who also works in real estate. Meanwhile, Camille and Nora end up developing a relationship together, and Camille this time around is very drawn to Nora through her hard-work and dedication. Nora, on the other hand, feels very bland, frigid, and displaced. This leads her to Amber Sweet's chat room, which is charged by the minute. It's here that Paris, 13th District ends up becoming a very sincere and vulnerable film about self-discovery, and many other strong character arcs are found between Camille, Nora, and Emile.
The writing, performances, and directing are all impressive across the board. Merlant steals the show, delivering the most honest pathos and performance in her supporting performance. Her wide-eyed innocence makes you feel for her vulnerabilities of being "slut-shamed" and accused of someone that she isn't. It's all based on a misunderstanding. Merlant brings enough raw emotion and vulnerabilities that keep the emotions real. Lucie Zhang is quite natural in her feature film debut acting role. You feel her empathy as she wants to find love, yet she also doesn't know what she wants for herself. Still feeling emotions for Camille, Emile often rubs it in his face that she is promiscuous with other men, which Camille commends her for. Eventually, Emile does feel more alive with her liberation, which causes her to do a dance at the restaurant she waitresses at that echoes some aspects of Noah Baumbach's 2013 Frances Ha.
Visually, the film is a treat. With a pastiche of aesthetics that echoes everything from the French New Wave to Woody Allen's Manhattan, Paris, 13th District is possibly Audiard's most artful and stylized film he's made yet. Shot by French cinematographer Paul Guillaume, the use of meticulous compositions and film stock, plus stylized lighting merged with some natural light, helps create a more intimate and inviting feeling. There is something about its visual flair, and the way the scenes are framed that makes it feel more personal and warmer, leaving a nearly romantic and tender feeling thanks to its visually pleasing aesthetics, impressive directing, and engaging storytelling.
Truly elevated, Paris 13th becomes a transcendent framework for Audiard. Though it appears detached and hallow at first, it eventually becomes sexy, romantic, tender, passionate, and eventually a bestial study on modern longings and relationships. All thanks to Audiard and Sciamma's love for their characters, in which Paris, 13th District ends up becoming Audiard at his most impressive since The Beat That My Skipped, which was released back in 2005.