Studio director Sam Mendes has certainly left his footprint in the cinematic world. Winning the Oscar for both best picture and best director at the 2000 Academy Awards right out of the gate for his feature film debut "American Beauty" is not only an impressive accomplishment, but also unprecedented. 20 years later Mendes is now the front-runner to win Best Picture and his second best directing Oscar for "1917", after cleaning house at the Golden Globes and DGA Awards.
Mendes walked onto the set of "American Beauty" almost by accident after a few high profile directors, including Terry Gilliam, originally turned down the opportunity to direct the eventually iconic film written by Alan Ball. Before he was behind the camera, Mendes held great experience in theater. His skills from the stage generated great performances and dramatic weight which would carry into film. This was quite evident in his cinematic directorial debut, "American Beauty", which won Kevin Spacey his second acting Oscar.
The British director has proven himself to be a quite a versatile filmmaker. He has crafted a gangster film, two Bond sequels, a quirky comedy, and two war movies. While Mendes's body of work is quite varied, each of his films hold commonalities in terms of theme that are often construed with isolated characters experiencing sudden epiphanies or self-reflections. In each of his films, the characters endure self-reflective journeys where the protagonists are pushed to examine themselves at the crossroads of their lives.  Let's dive into Sam Mendes's films – ranked below from best to worst: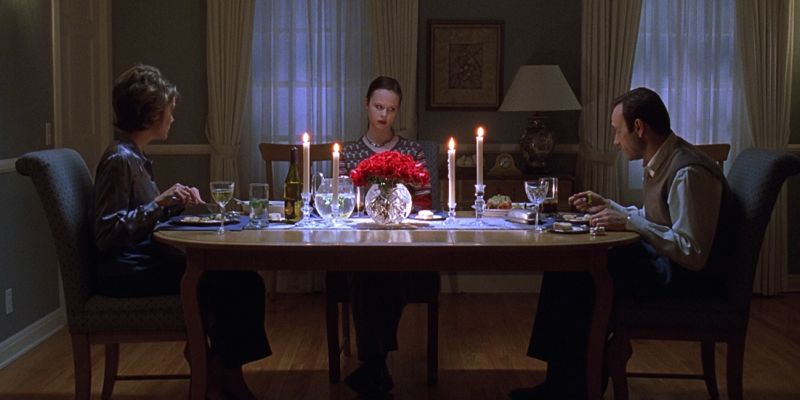 1. American Beauty (1999)
"American Beauty" is a film which has truly stood the test of time and holds up exceptionally well. It remains one of the most impressive directorial debuts in cinematic history. Sam Mendes and writer Alan Ball beautifully explore the facade of the American dream and what lies beneath the surface of American suburban lifestyles. Lifestyles which include repression and the yearning for one to liberate themselves out of materialistic confinement.
The real success of "American Beauty" is Kevin Spacey as Lester Burnham, a man who endures a midlife crisis. Lester is surrounded by everyone's own shallow definition of beauty that consists of possessions and belongings. He decides to liberate himself from the materialistic mundane, quitting his dull job, returning to his teenage impulses, and living life to his fullest. Toward the third act of the film Lester begins to discover what defines beauty and the meaning of life. It's a very moving and earned self-discovery rendered with honest and deep pathos. Spacey is both heartbreaking and comical as Lester, and he is surrounded by a first-rate supporting cast that consists of Annette Benning as Lester's neurotic wife, Chris Cooper, Thora Birch, Wes Bentley, Allison Janney, and Mena Suvari. The true greatness of "American Beauty" stems from just how easily re-watchable the film is almost 20 years later. This is a black-comedy satirical masterpiece that will hold endless staying power and it remains Mendes's most fully realized work of art to date.
2. Skyfall (2012)
The Daniel Craig James Bond franchise has been very inconsistent. While "Casino Royale" was exceptional, many true Bond fans were left feeling sour due to the lack of gadgets and gizmos and Marc Forster's "Quantum of Solace" was just a choppy mess all around. It took Sam Mendes's efforts with "Skyfall" to turn the tide and it remains that one modern Bond film that audiences, Bond fans, and film critics all  got behind. The success of "Skyfall" lies in the characterization of James Bond and the nuance and torment Mendes brought to the iconic character. Skyfall kept the wit and spirit of the older Bond films alive while making the franchise feel fresh. "Skyfall" is certainly a highlight of the Bond films, and it brought back the 007 spirit that many claimed to be missing in "Casino Royale". Mendes gave the newer Bond films an artist's touch while still delivering the suspense.
3. Revolutionary Road (2008)
"Revolutionary Road" is that rare kind of studio movie that Ingmar Bergman would have been proud of. It's a mature work of art that recaptured some of the themes of "American Beauty," including marital complications, longing for something more substantial, the facade of suburbia, and resisting conformity. The film doesn't particularly care about pleasing the audience with earnestness. It's focused more on rich characters, brutal honesty, and raw emotions rather than being some romantic 50s fable. More importantly, it doesn't care if the audience finds the film to be too harsh.
Leonardo DiCaprio and Kate Winslet reunited here for the first time since James Cameron's 1997 Oscar-winning classic "Titanic". They star as Frank and April. We see them in the beginning where they meet and marry, and about seven years into their marriage when it all begins to collapse. The film captures a pivotal moment in their lives where April convinces Frank to pursue his dreams of moving to Paris so that they both can discover who they are and what they really want to be. These decisions may sound adolescent and naive, but Frank and April truly believe their marriage is wasted on conformity and the mundane.
Their happiness is shortly lived when April gets pregnant again and Frank gets a irresistible promotion at his job, making it more challenging to stick to their new pursuits. Mendes pulls remarkable and wrenching performances from DiCaprio and Winslet. In many ways the film feels like a companion piece to "American Beauty" as Mendes returns to suburbia, but the film is more than just another exploration on the facades of suburbia. It's a heartbreaking exploration of the hardships of marriage and shattered dreams.
4. 1917 (2019)
Sam Mendes's latest film, the harrowing, visceral war picture "1917" brings a lot of attention to itself with technical wizardry as Mendes present the entire picture in one continuous long take shot that unfolds in real time (and it is indeed a remarkable feat). But the story is actually a very simple one which is structured in two single takes that take place in the late afternoon in the first hour, and the following morning in the second hour. During the spring of 1917, a pair of British army corporals, Schofield (George MacKay) and Blake (Dean-Charles Chapman), are ordered to go on a dangerous mission beyond enemy lines once occupied by the German Army to inform another British colonel to call off an attack which is actually a trap that threatens to destroy their own battalion of nearly 1,600 soldiers.
"1917" is an extraordinary cinematic achievement that finds Mendes pushing and developing his visual artistry and craft. "1917" is an intense and gripping recreation of the agony that World War I created. Mendes has deliberately decided to utilize an emotional rather than an intellectual response with this film, but it gives the audience a historical retelling formulated in visceral feelings, which fit seamlessly well with Mendes's continuous long take filmmaking style.
5. Road to Perdition (2003)
A gangster thriller, "Road to Perdition" finds Tom Hanks playing outside of his comfort zone as a mob killer named Sullivan. It is one of the most impressive gangster movies from the last decade, but has a father and son relationship story that feels a little ill-conceived and odds with the material. Still, the film is so well-acted and technically polished that you can forgive the shortcomings. Hank's son witnesses his father pulling off a hit, which puts both their lives in danger now that his son knows too much. It's a basic story of redemption and the forces of good battling against the corrupt. It may not be a great gangster picture the way that "The Godfather" or "Goodfellas" are, but it's still an atmospheric and well-crafted film which proved that Sam Mendes wasn't a fluke in his sophomore follow-up to "American Beauty".
6. Away We Go (2009)
The most unusual film in Sam Mendes's oeuvre is also his sweetest and most quirky. John Krasinski and Maya Rudolph star in this oddball film that is part comedy, part road trip movie. "Away We Go" is always charming, though perhaps a little too schmaltzy at times, and almost always hilarious. Krasinski and Rudolph show great chemistry, and the film wraps at a perfect running time. It's all around a deep dive into modern relationships and the preconceived notions of what we think we know about our friends and family. It's a film that is a hilarious travelogue in which we get a lot of memorably eccentric characters from the supporting cast which consists of Allison Janney, Maggie Gyllenhaal, Josh Hamilton, Catherine O'Hara, and Jeff Daniels.
As in"Revolutionary Road" and "American Beauty", Mendes dives into themes about self-discovery as his two protagonists, insurance salesman Burt (Krasinski) and medical assistant Verona (Maya Rudloph) attempt to find their place in the world. They are travelling across North America scouting the most comfortable location to raise their baby. In the film's episodic vignette structure, each visit the couple makes in Phoenix, Tucson, Montreal and finally Miami continues to progress their story's unraveling with bittersweet sincerity, belly laughs and earned character depth.
7. Jarhead (2005)
Based on Anthony Swofford's memoir about his time serving in Operation Desert Storm, "Jarhead" is a war film that deliberately has no war in it. "Jarhead" combines razor-sharp satire on war which is reminiscent of Stanley Kubrick's "Full Metal Jacket" and David O'Russell's "Three Kings", along with absurdist humor that echoes Robert Altman's "Mash". Mendes's film may not be as essential as those earlier titles, but it is still deeply compelling and highly watchable. Jake Gyllenhaal proved just how versatile and effective of an actor he can be, and his performance was also enhanced by a stellar supporting cast that included Jamie Foxx, Peter Sarsgaard and Chris Cooper. While the film does cover some familiar ground about soldiers losing their own humanity in order to be able to kill, "Jarhead" is absurdist, semi-surreal and is the most idiosyncratic entry of Mendes's career.
8. Spectre (2015)
"Spectre" is by far the weakest film of Mendes's career so far. However, it is by no means a bad film, just a very disappointing one. After knocking it out of the park with "Skyfall", there was a lot of anticipation and high hopes for "Spectre." Sadly, it was a missed opportunity. Despite a breathtaking opening that consisted of the "unbroken take" that now feels like a trial run for what he would later accomplish with "1917", "Spectre" shortly lost passion and vision after that impeccable sequence. Indeed, "Spectre" ended up bringing back some of the worst traits of lesser Bond films. It felt generic, with Christophe Waltz as the mastermind villain plotting to conquer the world – not exactly a fresh dynamic. The film also feels hurried, and you can easily see just how drained Daniel Craig was at the time after playing Bond three previous times. The script also feels very by-the-numbers and uninspired. On the positive side, the film is anchored by a strong supporting cast consisting of Naomie Harris, Andrew Scott, Dave Bautista, Ralph Fiennes, Monica Bellucci and Lea Seydoux. "Spectre" may have been more successful if it continued on the more intimate, character-driven track that worked so well in "Skyfall" and "Casino Royale", but there are at least enough impressive set-pieces that prevent it from being a complete failure.