The long-awaited follow-up to "Martha Marcy May Marlene," the 2011 feature debut of Canadian director Sean Durkin, his sophomore feature film "The Nest" is another impressive film about dislocation and being coerced into an undesired lifestyle. The film is also beautifully directed and acted by leads Jude Law and Carrie Coon in complex, fractured roles, and the film is certainly a highlight that I hope gains a wider audience in this era of closed movie theaters that has opened the window for a large amount of content to get lost in the sea of many digital platforms.
Only for having two films under his feat, it's safe to say that Durkin is a strong conceptual artist who's visual style and material echoes the work of Ingmar Bergman, Robert Altman, John Cassavetes, and to some extent Stanley Kubrick. Most notably the film draws comparisons to Bergman's "Scenes From a Marriage" and Cassavetes "Faces" in forms of themes and narrative, and aesthetically the films use of the locale of a decaying mansion draws comparison to Altman's "Images" and "The Shining" which were also about the demise of a marriage. Like those masterpieces, "The Nest" is impeccably crafted and studied, and like each of those films it flows beautifully on a narrative level and holds great pacing that draws you in with just how emotionally involving it is. And though the movie clearly has two parts, the first is more hopeful and the second more melodramatic and tragic, "The Nest" narrative matches those masterworks with the meticulous craft and rich themes that are on display.
Sean Durkin also deserves credit for being the solo writer in the film that gives it a deeper and more uncompromising vision with the film's unsettling material about a marriage collapsing from broken hopes and promises. As a 2020 film, "The Nest" is bound to suffer comparisons to last year's 2019 masterpiece, "Marriage Story," which was more or less more amusing and lightweight than the material in "The Nest," but also just as devastating. Noah Baumbach's own "Marriage Story," was also about a marriage in turmoil that actually focused on divorce and separation, where "The Nest" is more about the marriage in it's own questionable phase that isn't crushed by the routine themes of broken fidelity, but rather disillusionment and financial uncertainty. As a commentary on the unbearable forces of a consumerist, materialistic society on the pursuit of capturing the American Dream, the film in some ways resembles the thematically similar 2008 Sam Mendes film "Revolutionary Road," which was a period piece that took place in the 1950s, and Todd Field's criminally underrated 2006 masterpiece "Little Children," which material was edgier and more satirical. In many ways, the material in "The Nest" may seem familiar, but it still holds a complex and highly captivating commentary on a wounded marriage where you hope it finds healing and liberation.
Ultimately, "The Nest" is an emotionally powerful film about being the process of being conned, manipulated, and pressured by false hopes. Some of these same themes are also explored in Durkin's first feature, the exceptionally crafted "Martha Marcy May Marlene." Commercially speaking, it might take years for this film to find a wider audience. IFC Films faces a tough challenge at the moment with now releasing this film on the streaming platforms, when it was released theatrically in September during the COVID outbreak where box-office grosses are at the lowest point in cinematic history due to audiences avoiding theaters at the risk of not getting ill. Hopefully with a strong word-of-mouth and the right appreciation, "The Nest" will more than likely divide audiences and critics alike, as most high art does, due to its ambiguous ending and emotionally raw subject matter.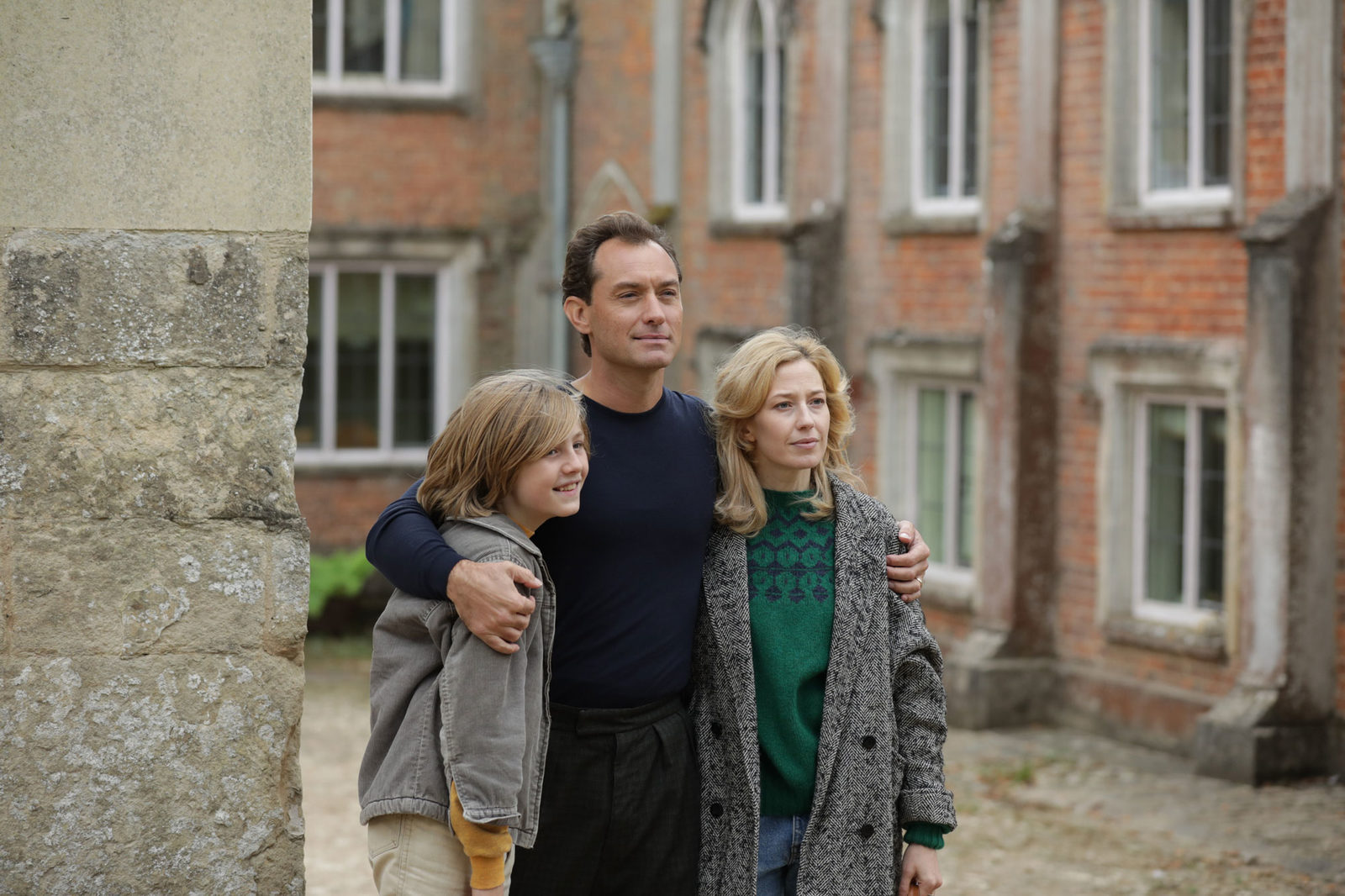 Though the narrative is set in the mid-late 1980s during the Reagon economic period, where deregulation and tax-cuts for the wealthy led to trickle down economics, all the height of economic and materialism as the American ideal of "prosperity" the poignancy of the film's conflicts and commentary between married couples still remains an issue today as economic inequality still remains a burden today for many Americans and married couples who are still suffering from the burdens of Reaganomics where draconian tax cuts that benefit the wealthy have led to high inflation, huge deficits, and weaker safety safety nets as we now see playout in the Trump/COVID era where financial uncertainties and sufferings currently going on from the economic devastations of COVID with bare minimum government assistance and lack of safety nets for its citizens.
I anticipate economic scholars, sophisticated viewers on economics, and even feminist-minded individuals to find the themes on marriage on these issues to be fascinating and timely, written and directed by a man, the film holds great empathy and sympathy for the definition of what it means to be a loyal partner in a marriage, and unlike Bergman's "Scenes From a Marriage" or even Mendes "Revolutionary Road", the children in the film also have moments to shine and aren't neglected in the film. There is a lot of dense and layered ideas going on in the film other than marriage, dealing with themes of  the yearning a more prosperous and complimentary life style, attempting to rebuild your marriage by making drastic changes, and in many ways this film can be viewed as a film about self-discovery or even coming-of-age, except the characters aren't teenagers but in their 40s.
The film is about a cunning businessman, or perhaps an idealist, named Rory, who decides to move his American wife, Allison and two children, Benjamin and Sarah (Charlie Shotwell and Oona Roche) back to his home country in England. They leave their home in New York with his aspirations in taking everything he learned about trade and finance back to the financial sector of London. The mechanics of the narrative start off hopeful, Rory gets his new job, he moves his family into a much larger house that has the architecture and wide space of a mansion, with many multiple rooms and long hallways. Things start to look promising, with Rory's financial knowledge seems to be invaluable as he returns back to work at the previous job he once held. Once his deals fail at fruition, and Rory spends way above his means, things begin to look more distressing that adds a lot of resentment between Rory and Sarah's marriage.
On the surface this seems like a simple story, one about a family moving as Dad pursues a new job with greater opportunities, and living in a new environment. How Durkin elevates the material from being hokum or overly melodramatic is his sheer visual and technical artistry. By observing with his slow push ins and static wide wide shots that are meticulously framed, conceptually the film impresses well on a visual level with a brooding atmosphere of many darks and shadows, along with a mansion and a black stallion horse that serve as metaphors on the decaying marriage. In many ways "The Nest" has the build-up of becoming like "The Shining" as a haunted house or psychological horror story. While I am sure if Durkin took the film in that direction it would have been skillfully made, however, the material is macabre as its own. One of the films most notable moments comes when Rory and Allison attend his boss's party and he gives a speech how enthralled he is to have Rory back, and he begins to share Rory's true motivations to why he moved back to England which becomes almost a dark epiphany for Allison as the sound drowns out and the camera slowly pushes in on her mixed and and repressed emotions.
The films cinematography by Mátyás Erdély is some of the impressive of the year, up there with "Mank," "Never Rarely Sometimes Always," "On the Rocks," "Tenet," and "Nomadland". Durkin and Erdély use darker color pallets, with some desaturated and low-key lighting that echoes the mood of a Bergman film. Durkins style and compositions are artful, but never showy and never bring too much attention to itself. They go hand in hand with the material and serve the characters forlorn consequences. It's easily one of the most visually pleasing films of the year.
Jude Law's performance is quite raw and he pulls you in. He has always played charming on the outside, but cunning in the inside type of characters quite well. Law also has a great track record of working with many great auteurs and many other great films in the past well. In this film he brings those traits as he attempts to make business deals, and promises prosperity to his superiors when in fact it benefits him the most. He is a man of class, but also holds a sense of rampant individualism that he is drawn into with his newfound American idealism. It's really all a façade, because beneath all of the sales posturing is a man crumbling and scrambling. In many ways it is like Kubrick's "The Shining" as Rory's true colors of dishonesty and greed eventually become exposed and revealed to Allison.
Coon's performance is quite impressive and layered here. It is revealed through Allison's exposition and character background that she was once a struggling single mother. Once she met Rory, he got her out of that household. Allison enjoys the complimentary lifestyle that consists of fancy dresses, elegant cars, and owns her own horse. She also seems reluctant and skeptical of it too. Something feels off to her and as the film progresses she catches onto Rory's failed business dealings through their bank records, and she eventually grows more exhausted from Rory's deception. What is fascinating how Coon embodies the Coon character is that it feels like a performance within a performance, in which she eventually liberates her true self from the after she openly confronts Rory being dishonest during a business dinner about his "admiration" for the theater as he just rehashes a review of a recent stage play starring Sir Anthony Hopkins. She is captivating in her role as the vulnerable tragic-victim slipping into this family tragedy as she grows more fractious.
However, "The Nest" isn't all despair, without revealing anything there is some ambiguity in the film that does offer a shimmer of hope. It's commanding how Durkin brings such great empathy to both characters, and to an ever higher level you feel great sympathy for Allison and her children. The film ends on a very powerful note, and without revealing too much, I was left swept away by it. Everything from the themes, deep characterizations, and of course the masterful craft unveils itself as a film that has dignity and truth. This film cuts through and exposes how materialistic, outside forces create so much distress and dysfunction in marriage. The film is still lingering in my mind hours upon viewing it, just as I'm sure it will resonate as time goes on as great pieces of cinema always do. "The Nest" is certainly a modern masterpiece and one of the best films of the year.