A follow-up to "MacBeth," (2015) Justin Kurzel's "True History of the Kelly Gang," is an ultra violent Aussie-Western period piece movie, offering an episodic account of bushranger Ned Kelly in Australia circa 1870s. "True History of the Kelly Gang" centers on the adventures of–and relationships of the infamous Australian bandit and murderer, well acted by George MacKay. Certainly inevitable in becoming a star (See him in Sam Mendes one-shot war saga "1917"), MacKay has a masculine appearance, charisma, and emotional range that should take his career in exciting directions.
Adapting to the screen of Peter Cary's 2000 novel of the same by screenwriter Shaun Grant, which is a novel about Ned Kelly writing his own autobiography, Grant in the writing attempts to give the material some complex and psychological depth that has some sharp commentary on the primitive nature of masculinity, however the end result is a very uneven narrative that feels very detached with a film that lacks dramatic momentum as it unfolds with a lot of graphic violence that feels over stylized and over directed. True History of the Kelly Gang" ends up becoming more of a hyper stylized, psychoanalyses examination of Ned Kelly that is visually striking, yet overly cold and distant.
"True History of the Kelly Gang" world premiered at the 2019 Toronto Film Festival, while the film is certainly polished, visually impressive, and well acted, the movie also displays Kurzel's vision and directing skills. Kurzel is a gifted filmmaker who imbues rough films with bleak subject matters (The U.K. made "MacBeth" in 2015, the Aussie indie domestic thriller  "Snowtown" in 2009) with artistic and fearless ambitions, while also trying to appeal to more mainstream audiences (he directed the 2016 Hollywood misfire "Assassin's Creed in 2016) and he follows through with this bloody tale that attempts to philosophize Kelly's rise to power and violence while also glamorizing its criminal anti-hero, while undermining any emotional arc or contemplation one would expect to find in a film like this, while downplaying the role of the supporting characters that come off more as one-dimensional caricatures.
,
That said, this isn't the first attempt at adaptation the saga of Ned Kelly which often becomes a genre item (and one can't refute the first-rate cast  that is on display, mostly male, but also including two outstanding actresses that hold an impressive track record in appearing in notable indies, Thomasin McKenzie and Essie Davis, as the two women who play an essential role in Ned Kelly's life.
The visual language, exchanges, characters, and themes of many other gangster-westerns are all to be found in "True History of the Kelly Gang," a saga about an outlaw dominating Australian land and resources by stealing property and horses for his own gain. Where MacKay was frantic, humble, and noble in "1917," his role here is far more raw and fierece here as he delivers the primal insanity needed for the character. The rest of the supporting cast includes an almost unrecognizable Russsell Crowe, Charlie Hunnam, and Nicholas Hoult.
Initially, the supporting cast comes more across as sinister villains, or even stereotypes. Ned (MacKay), the main character, who also serves as narrator with his voice-overs through the story that is structured around chapters, a short-tempered and hot-headed savage never truly breaks other dimensions himself. Sure he is tormented, and the performance holds some conflicting tones, the character isn't as complex or as in-depth as it could have been.
The film does make up for its shortcomings with its visually arresting imagery, most notably the landscapes and appearances and wardrobe of the actors. However, some of this has some setbacks as MacKay along with wardrobe designer Alice Babidge along with Kurzel use a touch of modernity with their wardrobe that looks like a cross between 19-century characters and a futuristic biker gang that look like they belong in a "Mad Max" film. MacKay's haircut looks like a mullet done with with bowl-cut.
The best segment in the film is the opening chapter involving a young Ned (Orlando Schetz) peeping on him mother, Ellen (Davis) having a sexual encounter with Sergeant O'Neill (Hunnam), a corrupt police officer who abuses his power in returns of favors. Once young Ned's father dies, things begin to get only worse in which he is old by Ellen to Harry Power (Crowe) who steals cattle and horses. He becomes a father figure to Ned which ends up shaping Ned into the vicious young man that he eventually transforms into. In the second chapter titled "Man," Ned is now a grown man who's own livelihood hinges on survival and other inner demons that drive him into his violent nature.
You can certainly see all actors and parties giving it their all to the material, the screenplay by Grant feels very slight and almost lightly sketched as it misfires so much with characterization, do we really understand Kelly's plight and pains in the end? Sure there are some surfaces, but it doesn't flourish into anything deeply complex or resonant as it comes off more machismo than a study on manhood or toxic masculinity. The film also feels over sensationalized with its visual flair and imagery, which certainly impresses, yet the film pulls away any rich political or historical subtext that doesn't feel complete or heightened.
Not to neglect the female characters of the crew, the tale describes how the lives of the two women that played the biggest impact on Ned's lives indeed get their moments. The talented, timid Mary, who holds a mysterious past, immediately is attracted to Ned. They end up having a child together, which creates many accusations and tensions on whether Ned is the father of the child or not. For her part, the desperate, carnal Ellen (Davis) betrays Ned on numerous occasions but slowly warms to him and Mary, and her affairs examine how they channel her own survival in a world dominated by primitive men.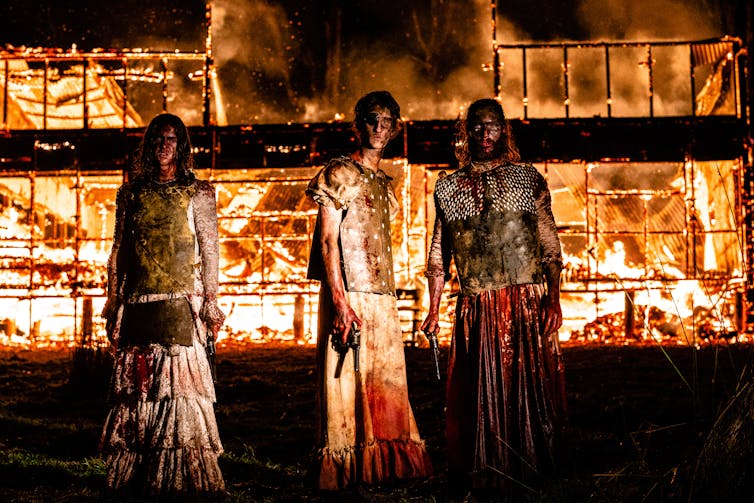 While the film isn't based on any real historical facts, it is mostly faithful to the novel. While many elements may not work, the film is certainly still worth seeking out merely for its performances and imagery, it just doesn't quite reach the boldness or ambitious success that it strives due to its monotonous and tedious approach.