Quentin Tarantino's 9th feature film, that is heavily borrowed from the title of Sergio Leone's "Once Upon a Time in the West" titled "Once Upon A Time In Hollywood" is a deft and masterfully made study of two distinct periods in Hollywood that explores a time of the old Hollywood studio system transitioning and rather juxtaposing into a new era that consists of the rising counter culture and hippies. It was a period where Hollywood abandoned the old studio in favor of making edgier and less conventional pictures.
Separated and rather chronicled by two halves, the film's first section is an ode to old Hollywood. Tarantino makes old Hollywood feel polished, exciting, and alive with old neon signs, majestic movie theater marquees on Hollywood's Sunset Strip, as hippies walk the street asking for rides as almost their culture is ready to invade. Tarantino shows the lavish and iconic side of Hollywood and the prosperity Old Hollywood has created as he captures the sensation and stimulation of Hollywood created LA neighborhoods. Tarantino once again merges history with fiction just as he did with "Inglorious Bastards", it is almost like a cautionary fairy tale with its time and setting, that merges the disturbing and gruesome Charles Manson murders with a growing intolerance for hippie culture while being a huge magnum opus that becomes a passionate and caring ode towards Tinseltown.
The films main protagonist, Rick Dalton (Leonardo DiCaprio) is a fictional character who is a fading movie start that represents the Old Hollywood. His longtime stunt double Cliff Booth (Brad Pitt) is his best friend. They often go driving together in Rick's yellow Cadillac and stop and get whiskey sours and Bloody Mary's. Rick is a hard-drinking, insecure fading actor that mostly plays cowboys. He was once the hero and star in many leading roles, and now he is cast to play villains on TV pilots. The truth hits Rick hard after a hot-shot Hollywood producer named Marvin Schwarzs (Al Pacino) who loves Rick's acting and movies informs him that he is being washed away by Hollywood when he plays the villain to put other actors over.  Cliff Booth is his longtime stunt double, that lost his jobs for holding a bad reputation that includes getting into a fight with Bruce Lee (Mike Moh) on set. Now Cliff is Rick's chauffeur and assistant who gets paid for driving Rick around to bars, to set and even takes care of Rick's house repairs.
Rick also lives on Cielo Drive, right next door to iconic filmmaker Roman Polanski, who's now an acclaimed and renowned filmmaker from the success of "Rosemary's Baby". Roman who we all know is married to actress Sharon Tate (Margot Robbie), who also happens to be pregnant. Roman Polanski and Sharon Tate are the talk of Tinseltown, they are invited to all the lavish parties at the Playboy mansion. Miles away are a commune of hippies, the Manson Family that reside in a desert that use to be a movie ranch. Just as history suggests, the hippy women that are ruled under Charles Manson and led by a woman named Squeaky (an unrecognizable Dakota Fanning) manipulate George Spahn (Bruce Dern) into staying on his property.
Throughout the film we get a great build-up and structure that consists of Rick acting on set, a scene stealer involves Rick acting in a western with co-stars Wayne Maunder (Luke Perry) and a young actress named Trudi (Julia Butters) who reassures Rick that he is indeed a great actor, a huge compliment considering the young actress takes acting very seriously. Rick even opens up to her about a book he is a reading that is clearly a reflection of himself.  Meanwhile Cliff Booth drives around L.A. and he keeps running into a flirty teenage girl that calls herself Pussycat (Margaret Qualley, daughter of Andie McDowell), who is hitchhiking back to Spahn movie ranch where the Manson family now reside. Cliff agrees to take her back which leads to a greatly staged confrontation with the Manson Family.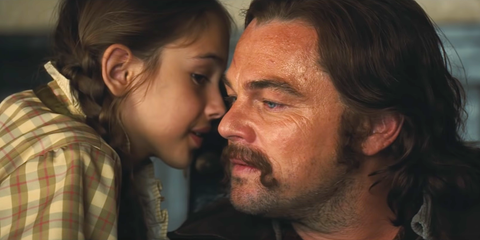 Events occur and unfold as history has told us, yet Tarantino crafts his own version and events in a respectful and equally astonishing way. The Manson Murders shocked the world as a hippie commune went off the rails, and like Nicholas Winding Refn's "Too Old to Die Young", Tarantino takes his time to tie everything all together, but once you get there you will be completely blown away as it defies your expectations.
This is a complete auteur and meta style film that has all of Tarantino's cinematic vision on display that includes his love for westerns, spaghetti westerns, martial arts, and sudden bursts of graphic violence, non-linear flashback structure, sharp narration, a large ensemble of characters that fade in and out, amazing cars, with a intimate and vivid ode to a certain time and place, and of course we get the Tarantino foot fetish. Just as Refn was accused of being "self-indulgent" in "Too Old To Die Young", it will be easy to see some accuse Tarantino of the very same thing. However audiences and viewers more open to artistry will completely embrace lingering camera shots that consist of Tarantino following Tate and capturing slices of her life before her fate awaits her. The way Tarantino explored Tate's routines and lifestyle echoed the school shooting victims in Gus Van Sant's 2003 "Elephant", and even Gaspar Noe's lurid "Irreversible", this approach makes you feel for Tate even more. Robbie doesn't have many lines as Tate, but she doesn't need them.
We see Tate living her life in Los Angeles and enjoying life as she goes out for dinner, picks up a pleasant hitchhiker, and even sneaks into a movie theater to see herself on the big screen in the movie "The Wrecking Room" that co-starred Dean Martin, its a sincere moment where she feels great joy by making audiences laugh and feel warm in her role. These elements are resonant and even visually charming  that only makes the mayhem await her even more shattering.
Tarantino fulfills these themes with a lot of self-reflexive that reaches a level of being fully realized, and the way each of Tarantino's characters are indeed emotionally invested, perhaps the most mature writing he's had with his characters since "Kill Bill Vol. 2" and even "Jackie Brown". While Tarantino indeed does revert back to what he's known for, shocking and sudden bursts of graphic violence and chaos, it is the buildup to the events that pays everything off off with deep philosophy of the relationship of violence between culture and entertainment.
These themes and ideas turn into a substantially darker second half, that cuts to August 1969 during the height of the Manson Family murders. As the identity and culture of Hollywood continues to change, Tarantino takes a mournful turn as the Rolling Stone's chilling song "Out of Time" plays over imagery of Dalton and Booth returning back to LA from Italy as Sharon Tate prepares the home and room of her child.
The commentary by Tarantino examines how some levels of violence are in fact more existential, that arise from vast differences of time and culture. Tarantino's love letter to this time period is very layered and greatly ambitious. It is a product of a comfortable filmmaker working with great collaborators that truly understand his vision and grace. The structure and execution Tarantino has accomplished here, by making the first half more exuberant and nostalgic that quickly declines to depression and alcoholism swiftly shows a new generation is pushing the old generation out, and the tensions that are born out of it is profoundly structured and told by Tarantino.
Once the climax occurs you can sense this is Tarantino's fairy tell love letter becomes a place of alternate endings and fantasies that we only wish happened. This may irritate some, especially the types that say "that's not historically accurate", yet Tarantino has always been a stylized filmmaker that embraces artifice and the sheer joy of movies. Tarantino dismantles and deconstructs a film that merges history with fantasy, while being respectful at the same time. Tarantino turns elements into cinema, and the result is a remarkable achievement. Ultimately "Once Upon a Time In Hollywood" is a great indication that American cinema still has the capability of moving in more unique and exciting directions.